This month, DirecTV launched its all 3-D network, 3net. The new network is a partnership between Discovery, Sony and IMAX. HD Guru viewed the first three programs on a Panasonic TC-P50GT25 50-inch 1080p 3-D Plasma
. All were documentaries, broadcast in the side-by-side 1080i format.
First the good news, all 3net programs have excellent 3-D image quality with no visible artifacts, no eyestrain-inducing segments and only one very brief instance of slight crosstalk (ghosting) during one program. This corporate triumvirate really knows how to shoot and choose well-produced 3-D.
Now the bad news: Just because a program is a professional 3-D production does not mean the video content is compelling. For example, the debut program "China Revealed," about the Great Wall of China, consists of long, drawn-out shots of the wall or a drawing. See the side of a flat wall in 3-D, panned to the right, followed by a shot of an archway, panned from top to bottom, followed by a view of the wall from the top. Almost all shots last about 30 seconds. For anyone raised on the quick cuts of MTV, it's excruciatingly drawn out. Interspersed between the shots of the wall are pans of a Chinese line drawing. Boring!
I am no expert on making a documentary; however, to me it appeared to be about 20 minutes of 3-D content stretched into an hour program. The spoken narration sounded like (and probably was) the reading of a textbook: informative, but as dry as the mortar between the wall's bricks.
The second program, "Into The Deep,"is the best of the three premier programs. It has gorgeous 3-D underwater shots of sea life in the kelp forests off the coasts of California and Mexico.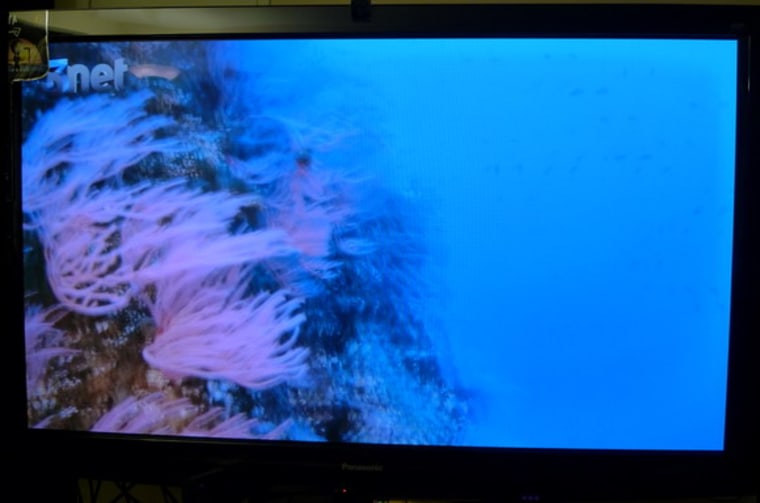 3net plans to add a new 3-D programs every night for the remainder of February. Titles include "Magnificent Desolation: Walking on the Moon"; "Ghost Lab"; "Dinosaurs: Giants of Pangonia" "3-D Sun"; "Oceana Air Show"; "Puppy Bowl VII"; "High Octane" and "Bugs! A Rainforest Adventure." Based on the descriptions and promos, many appear to be interesting and visually dramatic.
Let's hope so, because at this point, drama is assuredly lacking.
The third program that aired, titled "Forgotten Planet,"is the depressing story of the contaminated ghost towns of Pripyat, Ukraine, done in by the nuclear disaster at the nearby Chernobyl power plant and the former lead mining town of Picher, Okla. The 3-D video mainly consists of a variety of shots of abandoned building interiors and exteriors. We found these to be slightly more compelling than watching water boil.
Have a question for the HD Guru? Send us an .