/ Source: msnbc.com news services
After anti-government unrest spread to the Libyan capital and protesters seized military bases and weapons Sunday, Moammar Gadhafi's son went on state television to proclaim that his father remained in charge with the army's backing and would "fight until the last man, the last woman, the last bullet."
Seif al-Islam Gadhafi, in the regime's first comments on the six days of demonstrations, warned the protesters that they risked igniting a civil war in which Libya's oil wealth "will be burned."
The speech followed a fierce crackdown by security forces who fired on thousands of demonstrators and funeral marchers in the eastern city of Benghazi in a bloody cycle of violence that killed 60 people on Sunday alone, according to a doctor in one city hospital. Since the six days of unrest began, more than 200 people have been killed, according to medical officials, human rights groups and exiled dissidents.
Libya's response has been the harshest of any Arab country that has been wracked by the protests that toppled long-serving leaders in neighboring Tunisia and Egypt. But Gadhafi's son said his father would prevail.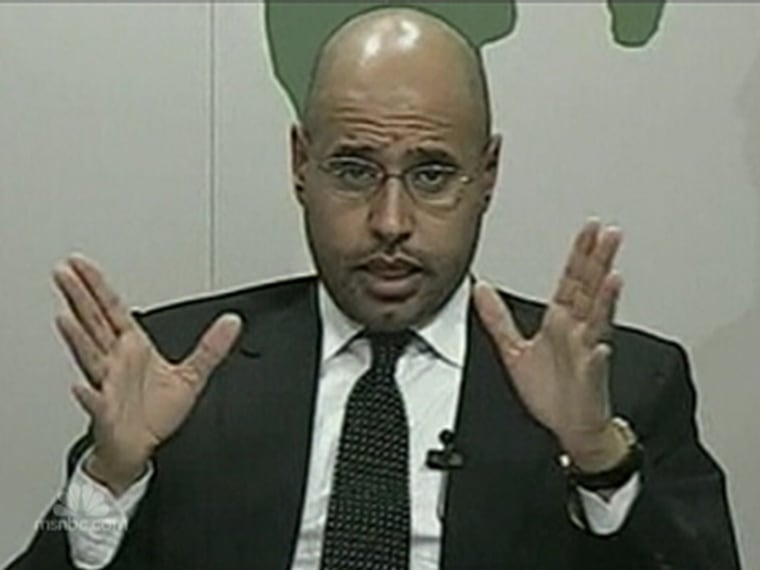 "We are not Tunisia and Egypt," he said. "Moammar Gadhafi, our leader, is leading the battle in Tripoli, and we are with him.
"The armed forces are with him. Tens of thousands are heading here to be with him. We will fight until the last man, the last woman, the last bullet," he said in a rambling and sometimes confused speech of nearly 40 minutes.
Although the elder Gadhafi did not appear, his son has often been put forward as the regime's face of reform.
Western countries have expressed concern at the rising violence against demonstrators in Libya. British Foreign Secretary William Hague said he spoke to Seif al-Islam by phone and told him that the country must embark on "dialogue and implement reforms," the Foreign Office said.
In his speech, the younger Gadhafi conceded the army made some mistakes during the protests because the troops were not trained to deal with demonstrators, but he added that the number of dead had been exaggerated, giving a death toll of 84.
He offered to put forward reforms within days that he described as a "historic national initiative" and said the regime was willing to remove some restrictions and begin discussions for a constitution. He offered to change a number of laws, including those covering the media and the penal code.
Dressed in a dark business suit and tie, Seif al-Islam wagged his finger frequently as he delivered his warnings. He said that if protests continued, Libya would slide back to "colonial" rule. "You will get Americans and European fleets coming your way and they will occupy you.
He threatened to "eradicate the pockets of sedition" and said the army will play a main role in restoring order.
"There has to be a firm stand," he said. "This is not the Tunisian or Egyptian army."
Protesters had seized some military bases, tanks and other weapons, he said, blaming Islamists, the media, thugs, drunks and drug abusers, foreigners — including Egyptians and Tunisians.
He also admitted that the unrest had spread to Tripoli, with people firing in central Green Square before fleeing.
Armed security forces were seen on rooftops surrounding central Green Square, a witness said by telephone, speaking on condition of anonymity for fear of reprisal. The witness added that a group of about 200 lawyers and judges were protesting inside a Tripoli courthouse, which was also surrounded by security forces.
Crowds in the capital were throwing rocks at billboards of Gadhafi and troops were trying to subdue them with tear gas and gunfire.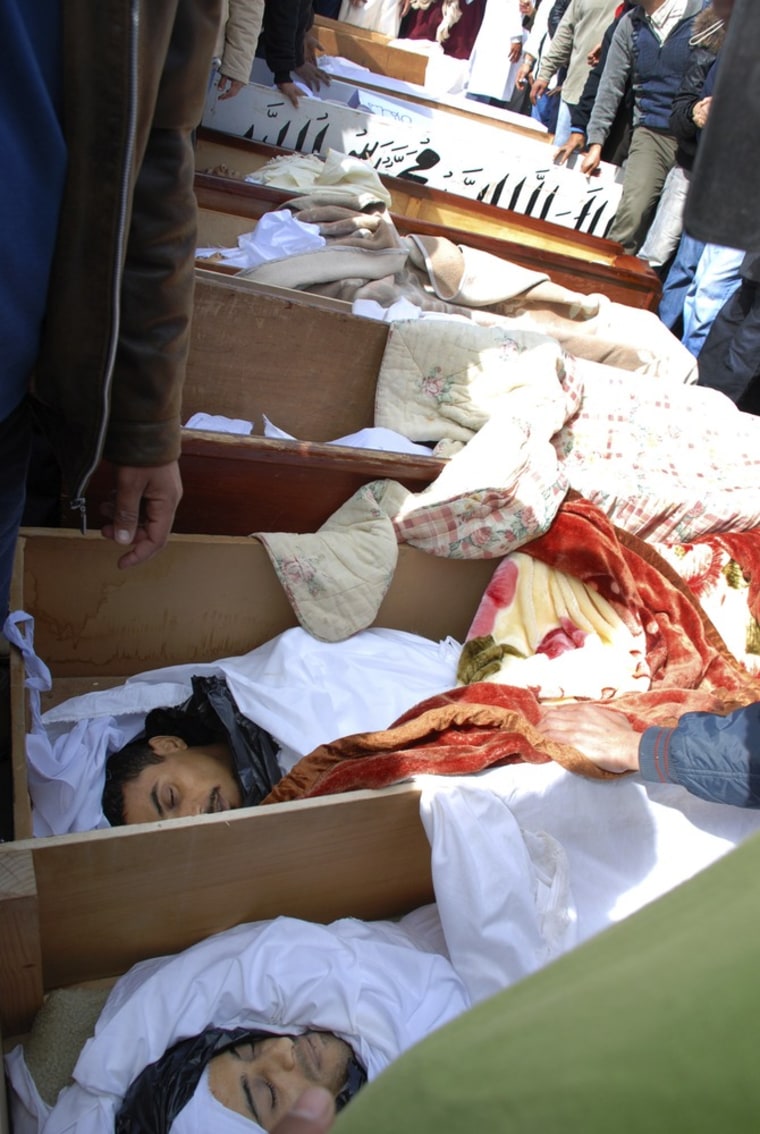 A doctor told Al Jazeera that forces had fired on protesters in Tripoli, killing an unspecified number, and Al Jazeera reported residents saying they could hear gunfire in the city. Other sources told Al Jazeera that clashes between pro- and anti-Gadhafi sources in central Tripoli involved thousands of people.
A doctor in the eastern city of Benghazi told Reuters that at least 50 people were killed and 100 others seriously wounded in Benghazi Sunday afternoon and evening. There were unconfirmed claims that the opposition had taken control of the city, with Gadhafi's forces holed up in a walled compound.
"Today has been a real tragedy. ...  Since 3 p.m. (1300 GMT) and up to 9:15 p.m., we received 50 dead, mostly from bullet wounds," Habib al-Obaidi, who heads the intensive care unit at the main Al-Jalae hospital, said by telephone. "There are 200 wounded; 100 of them are in very serious conditions."
A doctor earlier said 200 dead had arrived at the hospital in the unrest through Saturday.
Libyan forces fired machine guns at mourners marching in a funeral for anti-government protesters in Benghazi, a day after commandos and foreign mercenaries loyal to longtime leader Moammar Gadhafi pummeled demonstrators with assault rifles and other heavy weaponry.
Libya's rebellion by those frustrated with Gadhafi's more than 40 years of authoritarian rule has spread to more than a half-dozen cities. Benghazi has been at the center of unrest.
But getting reliable information about the chaotic situation is difficult. Journalists cannot work freely. Information about the uprising has come through telephone interviews, along with videos and messages posted online, and through opposition activists in exile.
Two residents of Benghazi said members of a Libyan army unit said Sunday they had defected and "liberated" Libya's second city from troops supporting Gadhafi.
Al-Obaidi and lawyer Mohamed al-Mana told Reuters members of the "Thunderbolt" squad had arrived at the hospital with soldiers wounded in clashes with Gadhafi's personal guard.
"They are now saying that they have overpowered the Praetorian Guard and that they have joined the people's revolt," al-Mana said by telephone. It was not possible to independently verify the report.
Al Jazeera TV reported that Abdel Moneim al Honi, Libya's permanent representative to the Arab League, had resigned his post over treatment of protesters. Libya's ambassador to India also told the BBC that he had resigned.
The head of the Al-Zuwayya tribe in eastern Libya threatened to cut off oil exports unless authorities stop what he called the "oppression of protesters," Al Jazeera quoted him as saying on Sunday.
Jamal Eddin Mohammed, a 53-year-old resident of Benghazi, said thousands marched Sunday toward the city's cemetery to bury at least a dozen protesters. They feared clashes with the government when they passed by Gadhafi's residential palace and the regime's local security headquarters.
"Everything is behind that (Gadhafi) compound; hidden behind wall after wall. The doors open and close and soldiers and tanks just come out, always as a surprise, and mostly after dark," he told The Associated Press by telephone.
A man shot in the leg Sunday said marchers were carrying coffins to a cemetery and were passing by the compound when security forces fired in the air and then opened up on the crowd.
The United States said Sunday it is "gravely concerned" by credible reports of hundreds of deaths and injuries during protests in Libya, and warned its citizens to delay travel to the country.
"Libyan officials have stated their commitment to protecting and safeguarding the right of peaceful protest," said Philip Crowley, assistant secretary of state, in a statement. "We call upon the Libyan government to uphold that commitment and hold accountable any security officer who does not act in accordance with that commitment." A U.S. official ssaid that Seif al-Islam Gadhafi's televised statements were being analyzed to see if there were prospects for meaningful reform.
The department said U.S. Embassy dependents were being encouraged to leave the country and U.S. citizens were urged to defer non-essential travel to Libya.
The latest violence in Benghazi followed the same pattern as the crackdown on Saturday, when witnesses said forces loyal to Gadhafi attacked mourners at a funeral for anti-government protesters. They were burying 35 marchers who were slain Friday by government forces.
Defiant mourners chanted: "The people demand the removal of the regime," which became a mantra for protesters in Egypt and Tunisia.
The U.S.-based Arbor Networks reported another Internet service outage in Libya just before midnight Saturday night. The company said online traffic ceased in Libya about 2 a.m. Saturday, was restored at reduced levels several hours later, only to be cut off again that night.
People in Libya also said they can no longer make international telephone calls on their land lines.