/ Source: msnbc.com news services
Libyan leader Moammar Gadhafi on Thursday blamed the uprising in his country on al-Qaida followers who give young Libyans hallucinogenic pills in their coffee to get them to revolt.
In a rambling phone call to Libyan state TV, Gadhafi said those revolting are "loyal to bin Laden ... This is al-Qaida that the whole world is fighting." Al-Qaida militants are "exploiting" teenagers, giving them "hallucinogenic pills in their coffee with milk, like Nescafe," the embattled leader said.
Referring to violent clashes in Zawiya, which lies about 30 miles from the capital Tripoli, Gadhafi said the unrest in that town is a "farce. ... Sane men don't enter such a farce." He called on citizens to "leave the country calm."
'I only have moral authority'Gadhafi urged Libyans to take weapons away from protesters who have assumed control of large parts of the country.
"The constitution is very clear: take the weapons from them," Gadhafi said. "I only have moral authority," said the leader, who has traditionally sought to present himself as a leader of a revolution that is led by the people, rather than a traditional executive head of state.
Army units and foreign mercenaries loyal to Gadhafi struck back against rebellious Libyans who have risen up in cities close to the capital, attacking the Zawiya mosque where many were holding an anti-government sit-in and battling with others who had seized control of an airport. At least 23 died at the mosque.
The assaults aimed to push back a revolt that has moved closer to Gadhafi's bastion in the capital, Tripoli. The uprising already has broken away most of the eastern half of Libya and unraveled parts of Gadhafi's regime.
In the latest blow to the Libyan leader, a cousin who is one of his closest aides, Ahmed Gadhaf al-Dam, announced that he has defected to Egypt in protest against the regime's bloody crackdown against the uprising, denouncing what he called "grave violations to human rights and human and international laws."
Mosque attacked
In Zawiya, an army unit attacked the city's Souq Mosque, where regime opponents had been camped for days in a protest calling for Gadhafi's ouster, a witness said. The soldiers opened fire with automatic weapons and hit the mosque's minaret with fire from an anti-aircraft gun, he said. Some of the young men among the protesters, who were inside the mosque and in a nearby lot, had hunting rifles for protection.
A doctor at a field clinic set up at the mosque said he saw the bodies of 10 dead, shot in the head and chest, as well as around 150 wounded.
A witness said that a day earlier an envoy from Gadhafi had come to the city and warned protesters, "Either leave or you will see a massacre." Zawiya is a key city near an oil port and refineries.
Al-Jazeera television broadcast pictures on Thursday of what it said was a burning police station in Zawiya.
The brief, grainy images of Zawiya were followed by footage of around 20 bodies, most with their hands tied behind their backs. The satellite station said the men had been killed for refusing to shoot protesters.
Battle in Misrata
In Misrata, pro-Gadhafi militiamen — a mix of Libyans and foreign mercenaries — assaulted a small airport outside Libya's third largest city, about 120 miles from the capital.
Militiamen with rocket-propelled grenades and mortars barraged a line of government opponents who were guarding the airport, some armed with rifles, said one of the rebels who was involved in the battle.
During the fighting, the airport's defenders seized an anti-aircraft gun used by the militias and turned it against them, he said.
At the same time, officers from an air force school near the airport mutinied and, along with residents, overwhelmed an adjacent military air base where Gadhafi loyalists were holed up, a medical official at the base said. The air force personnel disabled fighter jets at the base to prevent them from being used against the uprising, he said.
The medical official said five people were killed in the fighting at the airport — four from the opposition camp and one from the attackers — and 40 were wounded.
"Now Misrata is totally under control of the people, but we are worried because we are squeezed between Sirte and Tripoli, which are strongholds of Gadhafi," he said.
The uprising has virtually wiped out Libya's oil exports, said the head of Italy's ENI, Libya's biggest foreign oil operator. The unrest has driven world oil prices up to around $120 a barrel, stoking concern about the economic recovery.
Oil traders cited a rumor Thursday that Gadhafi was dead for pushing oil prices down. The U.S. government said it has no reason to believe the rumor was true.


World reaction
World leaders condemned Gadhafi's bloody crackdown on the week-long revolt that has split Libya, but did little to halt the bloodshed from the latest upheaval reshaping the Arab world.
President Barack Obama spoke Thursday with with President Nicolas Sarkozy of France, Prime Minister David Cameron of the United Kingdom, and Prime Minister Silvio Berlusconi of Italy to continue consultations and coordinate responses to Libyan developments, the White House said in a statement reported by NBC News. The leaders want to ensure appropriate accountability.
They agreed to maintain close consultations and affirmed support for the universal rights of the Libyan people, including the right to peaceful assembly, free speech, and the ability of the Libyan people to determine their own destiny, the White House said.
Earlier, the White House said it would not rule anything out in its response to the Libyan government's crackdown.
"I'm not ruling out bilateral options,'' White House spokesman Jay Carney told reporters when asked whether the United States was considering military options. "I'm not ruling anything out.'" He said the situation in the North African oil-producing nation "demands quick action."
The U.S. also said on Thursday it supported expelling Libya from the United Nations Human Rights Council, saying the government had violated the rights of its people in trying to crush protests.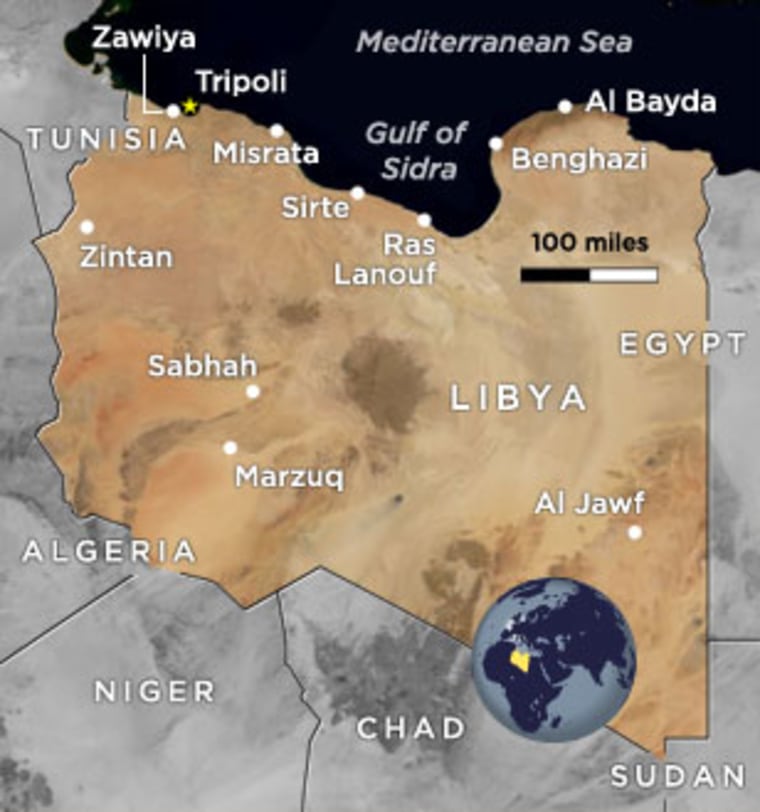 The State Department said Libyan officials have told U.S. diplomats that journalists who have entered Libya illegally to cover the violent unrest there will be treated like "al-Qaida collaborators."
Switzerland ordered the immediate freeze Thursday of any Swiss assets belonging to Libyan leader Moammar Gadhafi or his entourage, saying it wanted to prevent the possible misuse of state funds.


Seeking cooperation
In Tripoli, which remains largely closed to foreign media, locals said streets were calm but that they were too scared to go outside for fear of being shot by pro-government forces.

"I haven't heard gunshots, unlike in the last few days," said one resident living close to Green Square in the city center, a focus for gatherings.

He said Gadhafi supporters had gathered in the square. "They are mostly young men, but there were some older women too."
Pro-Gadhafi militiamen — a mix of Libyans and foreign mercenaries — have clamped down on the city since the Libyan leader went on state TV Tuesday night and called on his supporters to take back the streets. Residents say militiamen roam Tripoli's main avenues, firing the air, while neighborhood watch groups have barricaded side streets trying to keep the fighters out and protesters lay low.
At the same time, regular security forces have launched raids on homes around the city. A resident in the Ben Ashour neighborhood said a number of SUVs full of armed men swept into his district Wednesday night, broke into his neighbor's home and dragged out a family friend as women in the house screamed. He said other similar raids had taken place on Thursday in other districts.
"Now is the time of secret terror and secret arrests. They are going to go home to home and liquidate opponents that way, and impose his (Gadhafi's) control on Tripoli," said the witness.
Another Tripoli resident said armed militiamen had entered a hospital, searching for government rivals among the injured. He said a friend's relative being treated there escaped only because doctors hid him.
A witness in Tripoli told the AP after touring the capital that security around the city has been relaxed except for two locations that are very heavily guarded. The state TV and radio building was surrounded by dozens of heavily armed soldiers and several vehicles with heavy machine guns as well as the road leading to Gadhafi's residence. A number of residents have reported that the army deployed tanks Wednesday in Tripoli's eastern suburb of Tajoura.
The Libyan People's Committee for General Security issued a statement on state TV calling on protesters to surrender their weapons and offered rewards for those who inform on protest leaders.
"He who submits his weapon and shows remorse will be exempted from being pursued legally. The committee calls on citizens to cooperate and inform on those who led on the youth or supplied them with money, equipment or intoxicating substances and hallucinatory pills," the statement said.
The committee also said those cooperating would be given money.
Under opposition controlIn cities like Benghazi and Tobruk, troops and police have either withdrawn or have joined disparate opposition groups to start providing some order and services.
In Tobruk there was evidence of violent protest. An interior ministry building has been burned out, a Reuters correspondent there said, and the shells of about 15 vehicles lie in its central courtyard.
Breyek, 25, an unemployed graduate, said: "With 1,000 people dead, none of the clans will go back to Gadhafi. We don't know who will govern the country now but Libyans must act with one hand. No one should rule just the east or the west."
A prominent Benghazi protest organizer who works closely with the administration now running the city, said his camp was "trying to fight the propaganda that the regime is trying to send all over the world, that we are calling an independent state in the state or that we are calling for an Islamic state."
Gadhafi's son Saif claimed Thursday that the reported death tolls have been exaggerated, although he didn't provide his own figure. In a press conference aired on state TV, he said the number killed by police and the army had been limited and "talking about hundreds and thousands (killed) is a joke."
He also said a committee had been formed to investigate alleged foreign involvement in the protests.
Earlier Thursday, Libyan TV showed Egyptian passports, CDs and cell phones purportedly belonging to detainees who had allegedly confessed to plotting "terrorist" operations against the Libyan people.