Don't let anyone try to fool you. Setting-up a 5.1-channel home theater sound system is a giant pain in the neck! 
I've installed dozens (hundreds?) of two-channel, hi-fi system for friends over the years and have it down to a science. But recently, I've tried my luck at helping with 5.1, 6.1 and 7.1 channel surround-sound systems and I can't believe what it takes to do it right.
Without going into every painful detail, suffice it to say that you have at least 6 sets of wires going to your receiver (5 channels and the point-one for the subwoofer).  Next, all of the connections need to be correct (plus terminal to plus terminal, negative to negative) and you need to hide the wires as much as possible. You have to balance the system not only left/right, but front/back. Finally, you need to get the center channel just right while tweaking the subwoofer so that you don't hear it, only feel what it can do.
IF (that's a big if) you get it right, everything should sound terrific. Alternatively, you can forget about the hours of set-up time and buy a Niro 1.1 Pro.  
Niro is the inventor's first name. Nakamichi is his legendary last name. For more than a half-century the Nakamichi name has been synonymous with superior quality and performance: from open-reel tape decks to the world's first cassette tape player, early Dolby research to innovative CD and DVD changers.
Nakamichi-san has outdone himself this time.
Instead of the traditional 5.1 system of five speakers and a subwoofer, the Niro 1.1 Pro puts all five full-range, shielded speakers in one 9.5 pound enclosure. The non-Pro version includes three full-range, shielded speakers in a 6.6 pound box. Both systems use the same subwoofer: an 8-inch bass reflex driver in a 14.3 pound near-cube. 
The 1.1 Pro receiver contains five 30-watt (Class D) digital amplifiers for each "channel" and a 50-watt amp for the subwoofer.  The regular 1.1 has only 3 30-watt amps plus the 50-watt subwoofer amplifier.
Both boxes include an AM/FM tuner, a progressive DVD deck, analog audio and video inputs and outputs, one composite, one S-video and one set of component video outputs as well. All of this in a sliver of a box which weighs less than 10 pounds. And after hours of heavy use the top of the receiver was barely warm. 
Installation is a snap
To say that installing this system was a revelation would be an understatement. These were the installation instructions sent to reviewers:
Position the Niro 1.1 Pro speaker on or in front of your TV.
Put the subwoofer wherever it is convenient.
Plug in the two ribbon cables for speaker and subwoofer in the appropriate jacks.
Connect the video output from the Niro 1.1 Pro receiver to your TV.
Plug the receiver into the AC (mains).
I'm not kidding about this. It took much more time to unpack this equipment than to set it up.  You don't even have to place the subwoofer near an AC outlet; it gets its power, along with the musical signal from the receiver, via the ribbon cable.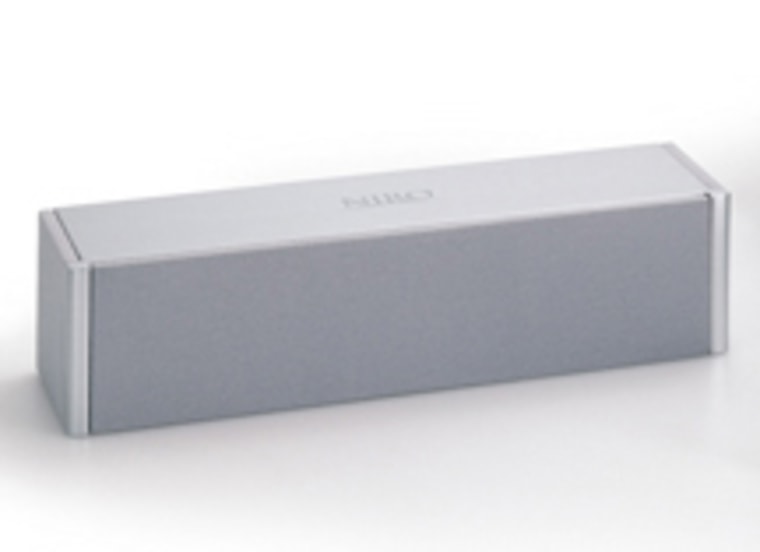 Of course, the real test is how it sounds. In a word, amazing.  No, one small-ish box cannot really put sound all around you, but if you think about it, when you go to a movie theater the surround speakers aren't placed in the corners but along the side walls. I can honestly tell you that the Niro 1.1 Pro system provides the same effect.
I'm not sure how it's done. The Niro 1.1 Web site explains it this way: "Niro Nakamichi's discovery of a technology that fixes sound at any point in space using only two channels (stereo) has led to the development of NIRO1.1. The 1.1 incorporates original software that enhances this groundbreaking phase-processing algorithm."
I can tell you that the effect was very similar to some of the best sounds I heard at the Consumer Electronics Show last month. In the Magnepan room, they were demonstrating the new flat-panel Magneplanar MGMC1 system. The four "corner" speaker panels were lined up on the front wall, with a Magneplanar CC3 center channel speaker directly under the plasma TV. The reproduction of Diana Krall's "Live in Paris" DVD was breathtaking.
The Niro 1.1 Pro came very close to that level of quality. The system is very well-balanced (at times it was a tiny bit bright when the speaker sits directly on top of the TV cabinet — but perfect after I raised it an inch or so). The remote control unit also allows you to make adjustments to the treble/bass/subwoofer balance if it's not to your liking. Out of the box, the subwoofer integration is among the best I've ever heard. 
The surround mode can be used on DVDs and CDs (but not the FM radio) with great results.  Put in an action DVD and you'll be amazed at what comes out of this system.  Put in a music CD, sit back and relax.
All is not perfect though. I did find two baffling problems. One concerns the Diana Krall DVD mentioned above. For some reason, the soundtrack sometimes gives the Niro 1.1 Pro fits and all of a sudden the treble disappears. It sounds something like what used to happen when people listened to reel-to-reel tapes and cassettes and the tape would sometimes bend or misalign. It was very annoying because it didn't happened all the time.  I thought it might be a DVD problem but I couldn't hear it on my other DVD players.
And the Niro wasn't crazy about continuous track CDs — such as a symphony or concert performance. The Niro added an audible break between tracks — even when there wasn't supposed to be a dead space.
But those were just two small, nitpicking problems compared to the hours of enjoyment the Niro has provided me and my guests. I've saved the best for last. The price. The Niro 1.1 Pro sells for $799. The Niro 1.1 sells for $599. 
The Niro 1.1 Pro may look simple but it is truly a class act. Compare it not to other surround systems in its price range, but to ones which sell for two to 3 times as much.  Add to that the ease of installation and you have a nearly unbeatable product.