/ Source: The Associated Press
Officials say Somalia has launched a coordinated offensive against al-Qaida-linked militants that has seen heavy fighting in the capital and skirmishes on the Kenya-Somalia border that have involved Ethiopian tanks.
Kenyan troops have been sent in to defend the border.
Somalia's defense minister announced the new offensive on Wednesday. Somalia's prime minister, Mohamed Abdullahi Mohamed, said his troops are prepared for "war."
The push in Mogadishu is by 8,000 African Union peacekeepers and thousands more Somali forces who are working to defeat al-Shabab, Somalia's most dangerous militant group.
In the capital Mogadishu, at least 40 civilians have been killed and more than 120 wounded in four days of fighting, said Ali Muse, the chief of Mogadishu's ambulance service, on Thursday. Heavy fighting broke out last weekend after AU troops discovered a trench used by al-Shabab — Somalia's most dangerous militant group — to move supplies and fighters.
Prime Minister Mohamed Abdullahi Mohamed has said 17,000 African Union and Somali troops will fight until al-Shabab's hold on Mogadishu is severed.
"Today's attack was the beginning of an anti al-Shabab offensive across Somalia," Defense Minister Abdihakim Haji Fiqi said. "The enemy suffered a great deal of casualties and we shall continue the fighting until we re-liberate Somalia."
Militants fight back
The Islamist militants on Wednesday paraded the bodies of five African Union peacekeepers. They also claimed they captured an AU soldier from Burundi. Still, AU and Somali troops were able to capture the former Somalia ministry of defense building, which had been serving as the militants' base.
"This is the first time we are taking this building from them. It has been serving as the logistical and planning site for them for a long time," said Maj. Barigye Bahoku, the spokesman of African Union troops.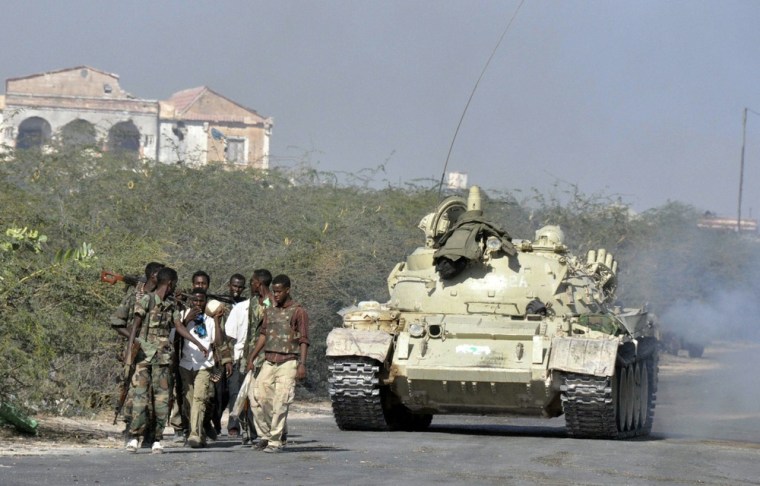 He said peacekeepers have been killed and wounded but declined to give figures.
Al-Shabab includes militant veterans of the Afghanistan and Iraq conflicts who have trained Somalis in tactics like suicide bombs and sniper fire. The group carried out a double suicide bombing in Uganda in July that killed 76 people.
A Nairobi-based diplomat said reports indicated that up to 10 African Union troops were killed and dozens were wounded in Wednesday's fighting. The diplomat said he could not be quoted by name because his organization does not allow it.
Militias allied with the government failed to make many inroads in two Ethiopian-backed offensives in the country's west.
In Belet Weyne near the Ethiopian border residents said pro-government forces backed by Ethiopian troops and tanks fought al-Shabab militants for two days.
Surprise attack
The fighting started Tuesday night when the militants launched a surprise attack on a pro-government force in Jawil village, said Tawane Abdi, a resident. But pro-government forces backed by Ethiopian tanks fought back, he said. The casualties were not known.
In Belet Hawo, a Somalia-Kenya border town, fighting erupted Wednesday morning when pro-government forces attacked al-Shabab positions. Al-Shabab on Thursday displayed the bodies of eight men they said were the attackers, said resident Ahmed Abdullahi. The militants also publicly slit the throat of a man, he said.
The heavy exchanges of artillery shelling and mortars set fire to about 20 houses and sent hundreds of people across the border to Kenya, said Abdullahi.
On the Kenyan town of Mandera about 300 Somalis sought refuge, said Emmanuel Nyabera, a spokesman for the U.N.'s refugee agency.
Kenyan Minister of Internal Security George Satioti told a parliamentary committee in Nairobi that eight Kenyans were injured in fighting involving "elements believed to be al-Shabab."
Kenyan troops are manning the border to ensure the fighting does not spill over into Kenya.
"There have been some skirmishes in the Somali side, two warring parties, so we have strengthened security at the border," said government spokesman Alfred Mutua. "We don't want them running into the country and the others following and fighting. We will repel them."
Somalia's government controls only a small slice of its seaside capital, Mogadishu. The government has been promising a full-scale war against militants for years, but coordination among its poorly trained and seldom paid government forces has held up that push.
"I could not bear with that fighting because tanks and mortars were being fired indiscriminately," said Mohamed Hassan, one of hundreds of Mogadishu residents who fled to refugee camps outside the capital.
Mogadishu has been the epicenter of the country's two decades of violence. A fully functioning government hasn't been in power since 1991.