/ Source: OurAmazingPlanet
What may be the earliest European representation of Mount Everest has been unearthed in the archives of Kew Gardens, just outside London.
The spidery sketch of the storied peak was done in 1848 by Joseph Hooker, a world-traveling botanist, who served as Kew's director from 1865 to 1885, and was one of Charles Darwin's closest friends.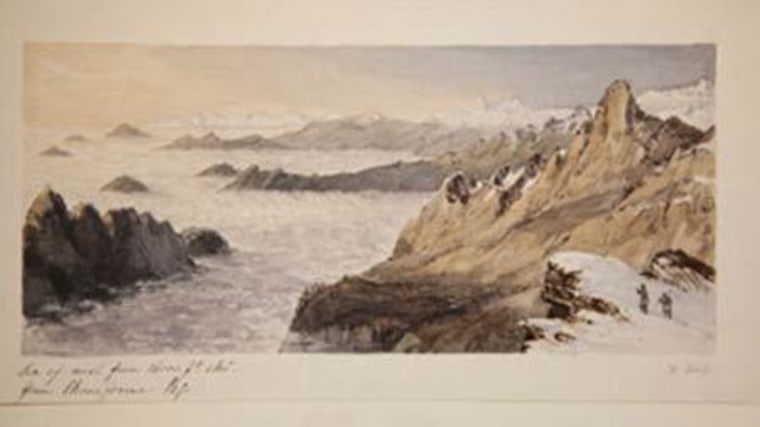 Hooker spent several years traveling through India and Nepal in the mid-1800s, studying the local flora and collecting botanical specimens, among them the first rhododendrons and azaleas ever seen in the West.
Despite many subsequent visits to Mount Everest, some of them ending in tragedy, humans wouldn't conquer the mountain until more than a century later, in 1953, when New Zealander Edmund Hillary stood atop the unforgiving mountain for the first time.
Unexpected find
Although Hooker's delicate drawing has been in Kew's possession for decades, it was only identified at the end of last year, when filmmaker Peter Donaldson was doing research in the institution's extensive archives.
Donaldson, who is following in Hooker's footsteps for a documentary, was examining the sketch, and a watercolor that accompanied it.
"I was passing through the reading room, and he called me over," said Julia Buckley, the illustrations assistant at Kew's Herbarium, Library, Art & Archives. "He said, 'I've been to this area,' and showed me a picture."
Donaldson showed Buckley photos he'd taken of a similar view, while retracing Hooker's exotic travels through the Himalayas, and pointed out that there, in the background, was Mount Everest, the tallest mountain in the world. Hooker's sketch shows the same peak.
Buckley said the discovery was exciting, and particularly so because 2011 is the centenary of Hooker's death. "So to make this find 100 years after his death really shows how the work he did at that time is still proving to be a valuable resource," Buckley told OurAmazingPlanet.
The drawing is small, about the size of a sheet of paper folded in half, and is one of more than 200,000 illustrations in Kew's massive collection. All together, Kew's archive holds about 7 million pieces of paper.
"It is always wonderful when we turn up a hidden gem of such historical importance," said Stephen Hopper, director of the Royal Botanic Gardens, Kew. "To our knowledge there are no other earlier representations of Everest by a European, in which case this discovery could be one of the most important findings in Kew's archives."
No surprise
Christopher Mills, head of Kew's Library, Art & Archives, said that it's perhaps not surprising that the image of the famous mountain turned up among Hooker's work.
"If you imagine someone like Hooker in the Himalayas, he would have been largely on his own, or with people not easy to communicate with," Mills told OurAmazingPlanet.
The wandering scientist spent lots of time recording the things around him in words and pictures: plants, of course, but also landscapes, maps, artifacts, experiences — things that "sometimes had nothing to do with botany," Mills said.
Mills explained that the institution has been careful to qualify the drawing as possibly the first European image of Everest, since it's likely there's a sketch somewhere in Asia that dates from before 1848.
"But still we haven't had anyone present an earlier drawing," Mills said. "It's a fairly interesting example of things that turn up in this collection that aren't really expected."
Reach Andrea Mustain at amustain@techmedianetwork.com. Follow her on Twitter @AndreaMustain.