/ Source: The Associated Press
Police attacked rebels holed up in a slum in the port city of St. Marc on Tuesday and armed civilians loyal to President Jean-Bertrand Aristide stoked fiery barricades to keep insurgents out of Haiti's second-largest city, Cap-Haitien, in efforts to stem a revolt that has killed at least 42.
In Gonaives, where the uprising began last Thursday, rebels controlled crowds fighting over dwindling gasoline supplies and quashed rumors that police were advancing in an attempt to retake the city.
Radio reports said gunmen had torched two northern police stations on Monday, forcing police to flee from the town of Limbe and the remote hamlet of Bassin Bleu. Police stations have been a major target of the revolt — which the government calls a coup attempt — because they symbolize Aristide's authority and officers are accused of siding with government supporters in increasingly violent protests that began mid-September.
The Democratic Platform, a group including opposition political parties, civic and business groups and grassroots and human rights organizations, said it was trying to get government permission for a peaceful demonstration in the capital, Port-au-Prince, on Thursday. Critics have accused Aristide's government of blocking such protests and using its supporters to attack protesting opponents.
Aid organizations on Wednesday warned of a looming food crisis, saying deliveries to some 270,000 people dependent on food aid are being blocked by barricades. Several towns already are without electricity and gasoline.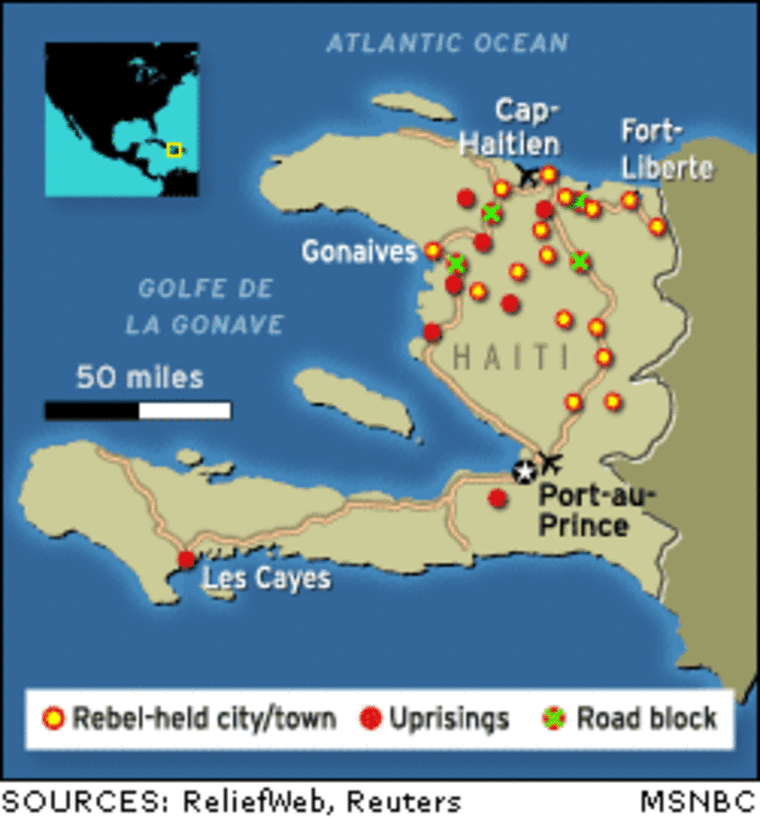 Dozens of barricades, made up of burned-out trucks, commandeered cars, boulders, felled trees and blazing tires set atop heaps of garbage, have blocked the road to northern Haiti at Gonaives, 60 miles north of Port-au-Prince, the capital.
Brandishing pistols, bands of drunken pro-Aristide youths threw rocks at passing cars in the northern port city of Cap-Haitien. They said they were protecting the half-million residents of Haiti's second-largest city, a former Aristide stronghold where his support has dwindled.
On the diplomatic front, the United States and the 15-member Caribbean Community ruled out military intervention, urging Aristide to negotiate a peaceful resolution.
The New York Times reported Wednesday that the Bush administration is suggesting that it might support Aristide's stepping down as part of a political settlement.
That angered Aristide officials: "We do not understand how the United States could think of questioning an essential element of democracy, which is the term of an elected president," said Jonas Petit, the acting head of Aristide's Lavalas Family party.
In Trinidad, Prime Minister Patrick Manning said the Caribbean Community would not impose itself on a member state. He said the community remained willing to send peacekeepers, but Aristide's government rebuffed that offer last month.
In Washington, Defense Secretary Donald Rumsfeld said Tuesday that the U.S. military has "no plans to do anything." The United States sent 20,000 troops to Haiti in 1995 to end a military dictatorship, restore Aristide to power and halt an influx of Haitian refugees.
U.S. State Department officials said they were on the alert for any possible new rush of Haitian boat people. U.S. Coast Guard spokesman Lt. Tony Russell said so far the numbers have remained steady with about 1,500 Haitians stopped at sea every year since 1998.
"They haven't taken to the sea yet. We're standing at the ready," Russell said.
Haiti, the most volatile and impoverished country in the Western Hemisphere, has suffered increasing violence since Aristide's party swept 2000 legislative elections that international observers said were flawed. All major opposition parties boycotted subsequent presidential balloting, leaving Aristide to win on a very low voter turnout.
International donors have blocked millions in aid, and deepening poverty is lessening support for Aristide, a former priest who promised to champion the poor, while strengthening opponents who refuse to participate in new elections unless Aristide resigns.
The political opposition this week distanced itself from the bloody uprising that has affected 11 towns in northern and western Haiti, saying they want a peaceful solution. The rebels are led by several factions, including former Aristide supporters and former soldiers who helped oust Aristide in 1991.
In St. Marc, witnesses reported that police had moved in on rebels holed up in a midtown slum and a firefight was going on.
Rebels seized the important port city on Sunday and hundreds of residents took advantage of the chaos, looting TV sets, mattresses and sacks of flour from shipping containers.
On Monday, after sporadic gunbattles, police reoccupied the town.
Haiti has suffered more than 30 coups in 200 years, the last in 1991 when Aristide was ousted just months after becoming the Caribbean nation's first freely elected leader. President Clinton sent 20,000 U.S. troops in 1994 to restore Aristide.