/ Source: NBC, msnbc.com and news services
Libya's rebels were urgently training to use anti-aircraft weapons as Moammar Gadhafi's warplanes attacked two towns for a second day Thursday.
Witnesses told Reuters that jets had bombed the strategic oil town of Brega, about 460 miles east of Tripoli, and Ajdabiya, 50 miles further along the coat, where rebels were shoring up the town's defenses.
However the rebels claimed to have driven back Gadhafi's forces from Brega — which they took briefly Wednesday — toward Ras Lanuf, home to another major oil terminal and 375 miles east of Tripoli.
The Libyan Human Rights League estimated Wednesday that the death toll in the conflict so far stood at 6,000, the Egyptian newspaper .
As international negotiations continued with the Arab League discussing a proposed peace plan by Venezuelan leader Hugo Chavez, the rebels called for the international community to take steps to prevent attacks by Gadhafi's air force.
Meanwhile, President Barack Obama called on Gadhafi to leave power and said he has approved the use of U.S. military aircraft to pick up Egyptians on the Libya-Tunisia border.
At a White House news conference, Obama said Gadhafi has lost the legitimacy to lead and "he must leave."
Obama also said he had approved the use of U.S. military planes to help move Egyptians who fled to the Libya-Tunisia border to get home.
However, the Libyan dictator has warned foreign powers of "another Vietnam" if they intervene in the uprising against his 41-year rule.
And on Thursday Dutch officials revealed that three of its marines were being held by authorities in Libya after they were captured by Gadhafi's forces while trying to rescue stranded workers.
Dutch hostages?Asked if the Netherlands, which is a member of NATO, considered the marines to be hostages, Dutch Defense Ministry spokesman Otte Beeksma told The Associated Press simply: "They are being held by Libyan authorities."
The trio were surrounded by armed men and captured Sunday after landing near Sirte in a Lynx helicopter that was on board the navy ship HMS Tromp, which is anchored off the Libyan coast to help evacuations.
Beeksma said that Dutch officials were in "intensive negotiations" with Gadhafi's government to secure the marines' release, he said, adding that they were "doing well under the circumstances."
Two people the marines were trying to rescue also were captured but have since been released and have left Libya.
Meantime, Gadhafi's militant response to anti-government protests could lead to international charges.
In The Hague, International Criminal Court prosecutor Luis Moreno-Ocampo said Gadhafi and members of his inner circle could be investigated for alleged crimes committed against civilians by security forces since the uprising broke out in mid-February.
"We have identified some individuals in the de facto or former authority who have authority over the security forces who allegedly committed the crimes," Moreno-Ocampo said. "They are Moammmar Gadhafi, his inner circle including some of his sons, who had this de facto authority."
In Ajdabiya, home to a military arms dump, rebel fighters were trying to work out how to use more advanced weapons.
A rebel officer said Thursday that a rebel position in Ajdabiya was bombed again Thursday.
At one entrance to the town, rebels worked through the night to consolidate defenses, adding rocket launchers, anti-tank weapons and anti-aircraft guns. They also manned three tanks.
One rebel fighter said he had four days training in how to use an anti-aircraft gun.
"Praise God we have weapons," said another fighter, Drees Abdulwahid, 42, smiling and raising both hands to the sky.
Bombs 'just to frighten' rebelsOthers struggled to load the belts of 10-inch long bullets into the weapon. One young man staggered under the weight of the belt.
Gadhafi's warplanes also bombed Brega in attacks that his son Saif al-Islam told the U.K.'s Sky News were designed "just to frighten them to go away ... not to kill them."
"I'm talking about the harbor and the oil refinery there. Nobody would allow the militia to control Brega. It's like allowing someone to control Rotterdam harbor in Holland," he said.
Opposition activists called for a no-fly zone, echoing a demand by Libya's deputy U.N. envoy, who now opposes Gadhafi.
"Bring Bush! Make a no-fly zone, bomb the planes," shouted soldier-turned-rebel Nasr Ali, referring to a no-fly zone imposed on Iraq in 1991 by then President George Bush.
In Benghazi, the rebel National Libyan Council also called for air strikes, but said it was opposed to foreign troops on the ground.
The U.S. government is cautious about imposing a no-fly zone over Libya, stressing the diplomatic and military risks involved, but has moved warships into the Mediterranean.
"Let's just call a spade a spade: A no-fly zone begins with an attack on Libya to destroy the air defenses," Defense Secretary Robert Gates told a congressional panel.
The Pentagon could get the job done if ordered by the president, he said, but noted that an attack would require more air power than a single U.S. aircraft carrier, which typically carries about 75 planes.
As the conflict continued, Arab League Secretary-General Amr Moussa said a peace plan for Libya from Venezuela's President Hugo Chavez was under consideration.
"We have been informed of President Chavez's plan but it is still under consideration," Moussa told Reuters by telephone on Thursday.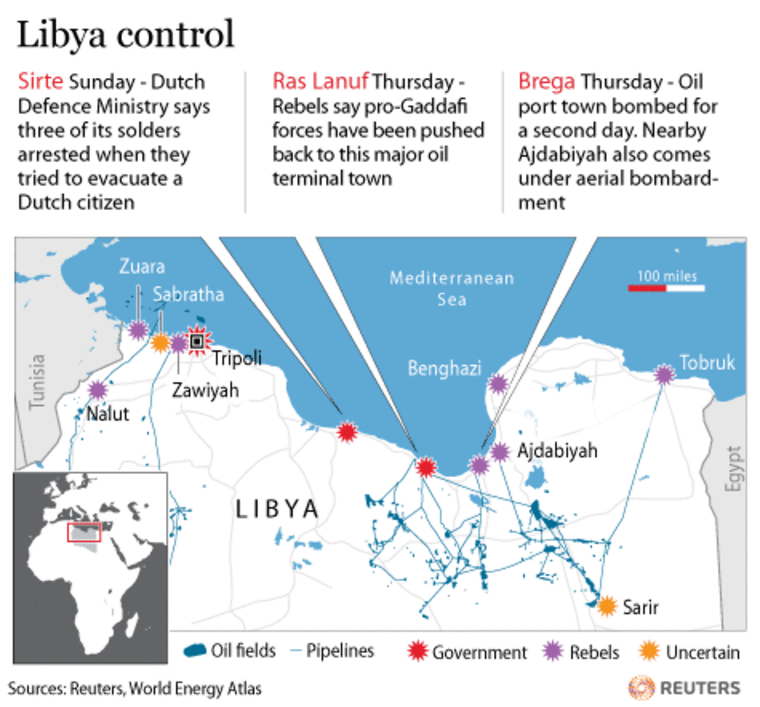 When asked if Gadhafi had accepted the plan, Moussa said: "I don't know, how am I supposed to know that?" When asked if he had agreed to the Chavez plan, Moussa said: "No."
Oil prices fell on news of the mediation plan. Brent crude fell more than $3 as investors eyed a possible deal brokered by OPEC-member Venezuela. Chavez is a close friend of Gaddafi. The revolt has knocked out nearly 50 percent of Libya's 1.6 million barrels per day output. Oil is the bedrock of the country's economy.
that Gadhafi had accepted Chavez's deal. However, Hoda Abdel-Hamid, an Al-Jazeera correspondent in the rebel stronghold of Benghazi, said the opposition was unlikely to accept any plan approved by Gadhafi.
"The only mediation they will consider is to find an exit strategy for Gadhafi and his family and all his close aides. They said there is no time anymore for dialogue. Mediation, unless it's with an exit strategy, will be quite difficult," he said.
Mass exodus of migrantsMeanwhile, Italy said it was preparing for a potential mass exodus of migrants escaping turmoil in North Africa after a rise in flows of illegal immigrants from Tunisia, the initial destination for tens of thousands who have fled violence in Libya.
Save The Children and Medecins Sans Frontieres said they were struggling to get medicines and care to Libya's needy, with gunmen blocking roads and civilians too scared to seek help.
Meanwhile, U.S. intelligence agencies reported that Gadhafi's forces had stepped up security around Libya's principal remaining stockpile of agents used in chemical weapons.
But U.S. agencies are unsure they know where all of the Libyan chemical stockpiles are located, officials said.
By the same token, international experts say that years ago, Libya destroyed most if not all of the weapons systems which would enable troops to fire chemical agents in combat. This means that even if some of the agents were pilfered, it would be hard for those who stole them to use them.
An official familiar with U.S. government analyses said Wednesday Washington had indications that in recent days security around the main chemicals cache had been "upgraded." Officials declined to say how the U.S. knows security had been improved.
International watchdogs said last month that Libya retained 9.5 tons of deadly mustard gas but lacked delivery systems.
One U.S. official said it was "not entirely clear that the Libyan government is in full control of all the remaining stockpiles."
Michael Luhan, a spokesman for the Organisation for the Prohibition of Chemical Weapons (OPCW), an international watchdog based in the Netherlands, said his agency could not confirm whether the security of Libya's remaining chemicals stockpile had recently been bolstered.
"We have seen nothing to indicate that security has changed," Luhan told Reuters, adding that his agency's mandate "is inspection and verification rather than security, which is the responsibility of the government concerned."
Last month the OPCW reported that, in 2004, Libya destroyed its inventory of aerial bombs that could be used to deliver chemical agents.
It also said that Gadhafi's government last year had destroyed a large amount of mustard gas — about 54 percent of its stockpile — and agreed to destroy the rest by this May.