/ Source: The Associated Press
Bahrain on Friday tore down the 300-foot monument at the heart of a square purged of Shiite protesters this week, erasing a symbol of an uprising that's inflaming sectarian tensions across the region.

The monument — six white curved beams topped with a huge cement pearl — was built in Pearl Square as a tribute to the Sunni-ruled kingdom's history as a pearl-diving center. It became the backdrop to the Shiite majority's uprising after protesters set up a month-long camp at Pearl Square in the capital, Manama.

Security forces overran the camp on Wednesday, setting off clashes that killed at least five people, including two policemen. At least 12 people have been killed in the month-long revolt.

Bahrain's foreign minister, Khalid bin Ahmed Al Khalifa, told reporters in Manama that the army brought down the monument because "it was a bad memory."

"We are not waging war, we are restoring law and order," Khalid said at a press conference in Manama.
Shiite anger rose sharply around the Mideast on Friday as large crowds in Iran and Iraq cursed Bahrain's Sunni monarchy and its Saudi backers over the violent crackdown on protesters demanding more rights.

Amateur video footage of security forces shooting and beating protesters has spread across the internet and fueled fury in predominantly Shiite Iraq and in Iran, where a senior cleric on Friday urged Bahraini protesters to keep going until victory or death.

Thousands of Bahrainis gathered for the funeral of Ahmed Farhan, a 29-year-old demonstrator slain Tuesday in the town of Sitra hours after the king declared martial law in response to a month of escalating protests. Sitra, the hub of Bahrain's oil industry, has been the site of the worst confrontations.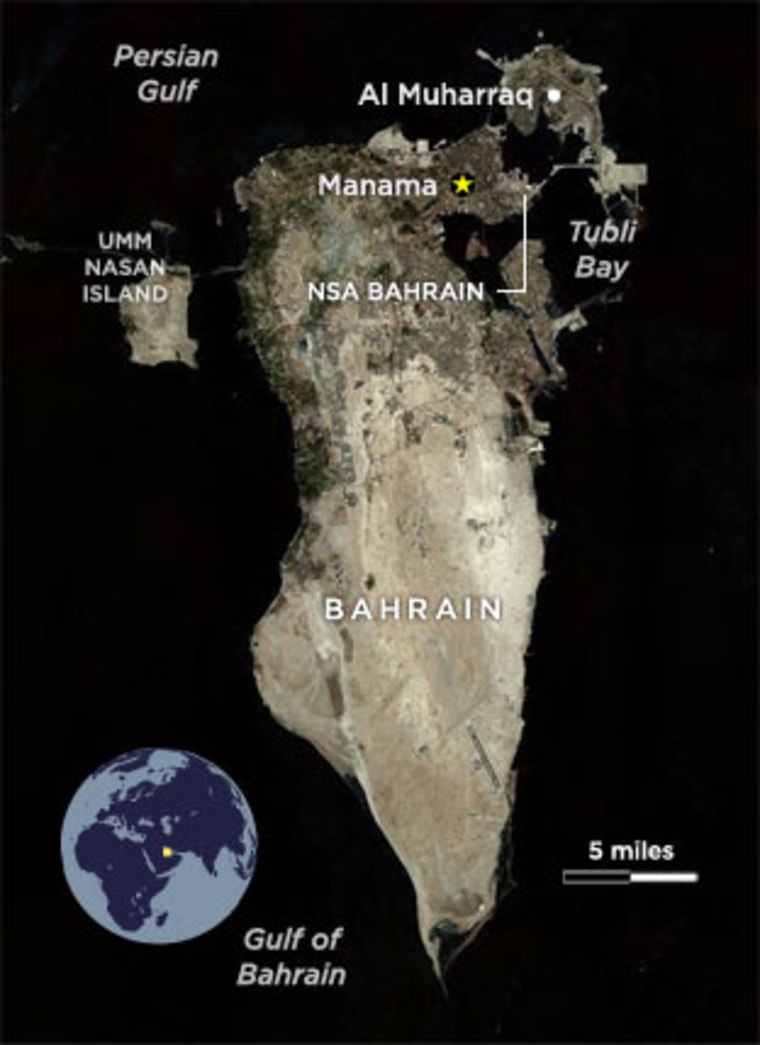 A funeral for Abdul-Jaffer Mohammed Abdul-Ali, 40, took place in the village of Karranah, west of the capital. His brother Abdul-Ali Mohammed told The Associated Press that Abdel-Jaffer was killed on Wednesday morning on his way to Pearl Square to reinforce the protesters' lines during the military assault on the encampment.

"My brother was not a political man, but he participated in the protest every day to have a better future for his four children," Abdul-Ali said.

"When he heard the Pearl Square was under attack, he went there," he added. "Our country is under siege and he wanted to help liberate it."

Shiites account for 70 percent of the tiny island's half-million people but they are widely excluded from high-level posts and positions in the police and military of the country, whic is home to the U.S. Navy's 5th Fleet.
"Brothers and sisters" in Bahrain should "resist against the enemy until you die or win," Iranian Ayatollah Ahmad Jannati told worshippers at Friday prayers at Tehran University, a nationally televised forum seen as expressing the views of Iran's ruling Shiite clergy.

Worshippers chanted angry slogans against Saudi Arabia's royal family, which has sent troops to back Bahrain's king.

"There is no God but Allah, Al Saud is God's enemy," some chanted in Arabic. One Persian banner read, "Death to Al Saud."

Across Iraq, thousands rallied in mostly Shiite cities in the country's largest demonstrations since a wave of dissent spread across the Middle East in the wake of Tunisia's overthrow of its autocratic president.

Grand Ayatollah Ali Sistani — Iraqi-based Shiism's highest ranking cleric in the Mideast — suspended teachings at religious schools across Iraq on Friday in a show of solidarity with the protesters.

A representative of al-Sistani warned during his Friday sermon in the holy city of Karbala that the brutal images of what is happening in Bahrain will inflame passions and lead to sectarian problems in the region.

Bahrain's rulers invited armies from other Sunni-ruled Gulf countries this week to help root out dissent as the month of protests spiraled into widespread calls for an end to the Sunni monarchy. In declaring emergency rule, the king gave the military wide powers to battle the uprising.

There are no apparent links between Iran and Bahrain's Shiite opposition but the U.S. and Sunni leaders in the Persian Gulf leaders have expressed concern that Iran could use the unrest in Bahrain to expand its influence in the region. Iran has recalled its ambassador from Bahrain to protest the crackdown.

The United States bases the 5th Fleet in Bahrain partly to counter Iran's military reach around the region.