/ Source: The Associated Press
Prince Charles met with earthquake survivors in the flattened city of Bam after talks with President Mohammed Khatami earlier Monday in the first visit to Iran by a member of the British royal family in 33 years.
The prince surveyed reconstruction work and spoke to survivors of the quake that struck Bam on Dec. 26, killing more than 41,000 people and injuring 15,000 others.
In Tehran, the prince met Khatami in his office and inquired about his recent back pain, which had confined him to his home for several days.
"It's due to old age," the 61-year-old president said with a smile, standing straight and with no visible signs of pain.
Khatami has been under pressure over Feb. 20 legislative elections that he says will be unfair because more than 2,000 pro-reform candidates have been banned from running by a hard-line council.
There was no immediate comment from Khatami's office about his hour-long private discussions with Prince Charles.
In Bam, Charles discussed efforts to restore irrigation canals after thousands of wells were damaged by the quake.
The prince later visited the site of the world's largest mud-brick fortress known as Arg-e-Bam, or Citadel of Bam. The quake destroyed the 2,500-year old citadel.
Political implications
Charles' trip prompted speculation of political motives, perhaps to further improve relations strained after the 1979 Islamic revolution. But the British Embassy said the trip had no political implications.
Charles and Sir Nicholas Young, head of the British Red Cross, would assess how to help the survivors and try to resume agricultural life, said Andrew Dunn, first secretary at the British Embassy in Tehran.
The last time a member of the British royal family visited Iran was in 1971, when Prince Philip, duke of Edinburgh, and Princess Anne attended celebrations marking 2,500 years of monarchy in Iran. They were hosted by pro-Western Mohammad Reza Shah Pahlavi, who was toppled by the 1979 Islamic revolution, led by anti-American clerics.
Now, three decades later, Charles is visiting a completely different Iran, ruled by hard-line clerics who routinely have denounced British support of the former shah.
People on the streets of Tehran were surprised by the visit.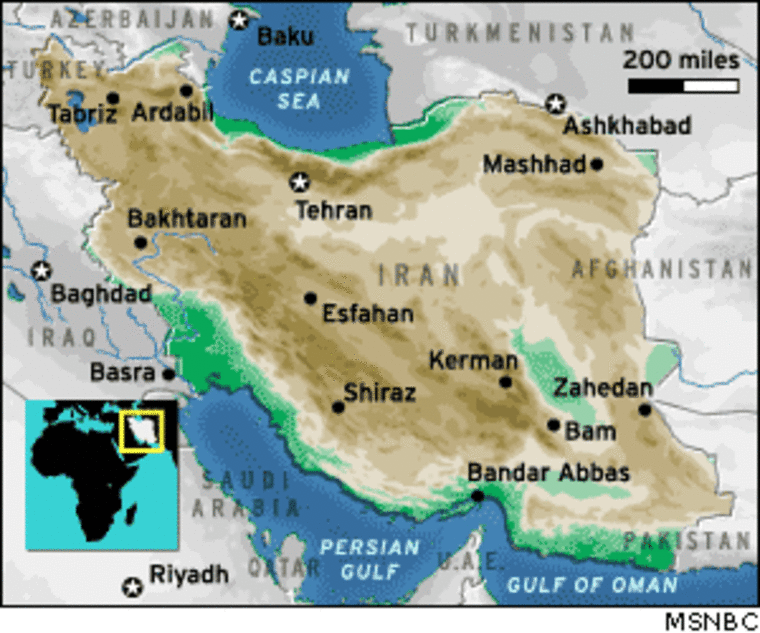 "I won't believe a British royal figure is in Iran unless I see it by my own eyes," said Hadi Taqipour, a store clerk.
After the revolution, bilateral ties were strained by a 1989 fatwa, or religious edict, issued by revolution founder Ayatollah Ruhollah Khomeini, against British author Salman Rushdie. The fatwa ordered Muslims to kill the novelist because he had allegedly insulted Islam in his best-selling novel, "The Satanic Verses."
In 1998, the Iranian government declared it would not support the fatwa, but said it could not rescind the edict as, under Islamic law, that could be done only by the person who issued it. Khomeini died in June 1989. The government declaration, however, paved the way for upgrading ties to ambassadorial level a few months later.
The prince arrived in Tehran late Sunday after visiting British troops in the southern Iraqi city of Basra. There, dressed in desert camouflage and boots, he sipped tea with soldiers and praised their role.