/ Source: NBC, msnbc.com and news services
A coalition of American and European forces bombed Libyan targets by air and sea Saturday in the start of a military campaign to drive Moammar Gadhafi from power. The defiant Libyan leader vowed to resist the "crusader" aggression to the end.
French warplanes fired the first shots in the broadest international military effort since the Iraq war, destroying government tanks and armored vehicles in the region of the rebels' eastern stronghold, Benghazi. Hours later, British and U.S. warships and submarines launched more than 110 Tomahawk missiles against Gadhafi's air defenses around the capital Tripoli and the western city of Misrata, which has been besieged by Gadhafi's forces, Pentagon officials said.
Early Sunday morning, several loud explosions were heard in Tripoli, followed by what sounded like bursts of anti-aircraft fire. Foreign aircraft were reported over the Bab al-Azizia military compound in Tripoli's southern suburbs, but targets were not immediately clear.
Libyan state TV on Sunday quoted the government's armed forces command as saying 48 people were killed and 150 wounded in the allied assault. The statement said most of the casualties were children. The report could not be independently confirmed.
The aim of the coalition's operation, dubbed Odyssey Dawn, was to enforce a United Nations-sanctioned no-fly zone over Libya and stop Gadhafi from attacking overwhelmed rebel forces in the east.
"This is not an outcome the U.S. or any of our partners sought," President Barack Obama said from Brazil, where he is starting a five-day visit to Latin America. "We cannot stand idly by when a tyrant tells his people there will be no mercy."
Less than two hours after Obama spoke, Gadhafi, who has ruled Libya for 41 years, said in a telephone call to Libyan state TV that he will arm civilians to defend Libya from "colonial, crusader" aggression.
"It is now necessary to open the stores and arm all the masses with all types of weapons to defend the independence, unity and honor of Libya," Gadhafi said.
"We call on the peoples and citizens of the Arab and Islamic nations, Latin America, Asia and Africa to stand by the heroic Libyan people to confront this aggression, which will only increase the Libyan people's strength, firmness and unity."
He also said the Mediterranean and North Africa were now a battleground, and that the interests of countries in the region would be in danger from now on.
Libya later called for an emergency meeting of the U.N. Security Council, Arabic satellite channels reported on Sunday.
The Western coalition included the U.S., Britain, France, Canada and Italy.
About 20 French fighter jets carried out "several strikes," military spokesman Thierry Burkhard told The Associated Press. He said earlier that one of the planes had fired the first shot against a Libyan military vehicle.
"All our planes have returned to base tonight," he said, and denied a Libyan TV report that a French plane had been hit.
He would not elaborate on what was hit or where, but said French forces focused on the Benghazi area and U.S. forces were focused in the west.
The British Ministry of Defense said that in addition to firing Tomahawk missiles from a submarine, Royal Air Force Tornado G4 fast jets flew 3,000 miles from RAF Marham, in Norfolk, and back to carry out bombing runs using Stormshadow missiles. It did not give details but noted the mission was the longest since the Falklands war with Argentina in 1982.
In Washington, Navy Vice Adm. William E. Gortney told reporters the cruise missiles were fired from several American destroyers and submarines and one British sub. He said they hit more than 20 air defense sites along the Mediterranean coast, many in the western half of the country that is Gadhafi's stronghold.
The U.S. vessels involved in launching the Tomahawks were two destroyers — USS Barry and USS Stout — and three submarines — USS Providence, USS Scranton and USS Florida. One British sub, the Westminster, also launched missiles.
A U.S. national security official told Reuters the barrages "severely disabled" Gadhafi's air defenses. "It's too soon to predict what he and his ground forces may do in response to today's strikes,'' the source said on condition of anonymity.
The commencement of the allied military campaign came on the eight-year anniversary of the start of the war in Iraq. On March 19, 2003, President George W. Bush addressed the nation at 10:16 p.m. from the Oval Office, telling Americans that coalition forces "have begun striking selected targets of military importance to undermine Saddam Hussein's ability to wage war."
Earlier Saturday in Libya, Gadhafi's troops pushed into the outskirts of Benghazi after a unilateral cease-fire declared by his government failed to materialize, prompting western leaders meeting in Paris to announce the start of military intervention.


"Those taking part agreed to put in place all necessary means, especially military, to enforce the decisions of the United Nations Security Council," French President Nicolas Sarkozy said after meeting Western and Arab leaders.

Sarkozy said the operation, also backed by Arab nations, would continue unless the Libyan leader ceased fire.

"Col. Gadhafi has made this happen," British Prime Minister David Cameron told reporters after the meeting. "We cannot allow the slaughter of civilians to continue."

He later appeared on television to say that British forces were in action over Libya.


Canadian Prime Minister Stephen Harper suggested that outside powers hoped their intervention would be enough to turn the tide against Gadhafi and allow Libyans to force him out.

"It is our belief that if Mr. Gadhafi loses the capacity to enforce his will through vastly superior armed forces, he simply will not be able to sustain his grip on the country."

Gadhafi had said Western powers had no right to intervene.

"This is injustice, this is clear aggression," government spokesman Mussa Ibrahim quoted Gadhafi as saying in a letter to France, Britain and the United Nations. "You will regret it if you take a step toward interfering in our internal affairs."

The Libyan government blamed the rebels, who it says are members of al-Qaida, for breaking a cease-fire around Benghazi.

In Tripoli, several thousand people gathered Saturday at the Bab al-Aziziyah palace, Gadhafi's compound that was bombed by U.S. warplanes in 1986, to show their support.

"There are 5,000 tribesmen that are preparing to come here to fight with our leader. They better not try to attack our country," said farmer Mahmoud el-Mansouri.

"We will open up Libya's deserts and allow Africans to flood to Europe to blow themselves up as suicide bombers."

France and Britain have taken a lead role in pushing for international intervention in Libya and the United States — after embarking on wars in Afghanistan and Iraq — has been at pains to stress it is supporting, not leading the operation.
In Benghazi, residents set up makeshift barricades with furniture, benches, road signs and even a barbecue in one case at intervals along main streets. Each barricade was manned by half a dozen rebels, but only about half of those were armed.
Hundreds of cars full of refugees fled Benghazi toward the Egyptian border after the city came under a bombardment overnight. One family of 13 women from a grandmother to small children, rested at a roadside hotel.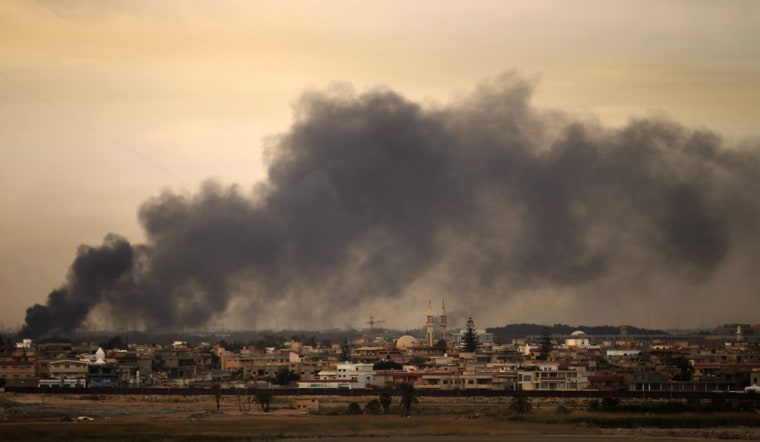 "I'm here because when the bombing started last night my children were vomiting from fear," said one of them, a doctor. "All I want to do is get my family to a safe place and then get back to Benghazi to help. My husband is still there."

In the besieged western city of Misrata, residents said government forces shelled the rebel town again on Saturday and they were facing a humanitarian crisis as water supplies had been cut off for a third day.

"I am telling you, we are scared and we are alone", a Misrata resident, called Saadoun, told Reuters by telephone.

As explosions shook Benghazi on Saturday morning, rebels said they were forced to retreat from the outskirts of the city, but later claimed victory after holding back the advance.

"We revolutionaries have taken control of four tanks inside Benghazi. Rebel forces have pushed Gadhafi's forces out of Benghazi," said Nasr al-Kikili, a lawyer who works for the rebel media center in Benghazi, as crowds celebrated by firing guns in the air and parading on top of a tank.