/ Source: The Associated Press
Piroz Nasser Zanganeh has moved from one refugee camp to another for 16 years, ever since Saddam Hussein's security agents drove her from this northern Iraq city.
Now she ready to come home.
But Zanganeh and her relatives can only get as far as a tent at the edge of the city because the U.S.-led coalition says it's too soon for them to come back.
More than 4,000 Kurdish families are in the same situation, creating friction among the factions vying for control of Kirkuk, as well as with the U.S.-led administration in the Iraqi city.
U.S.-led forces are trying to keep Kurds who lost their homes in Saddam's campaign of ethnic cleansing from coming back too quickly, hoping to avert humanitarian and political problems.
Kirkuk, which sits on some of the world's largest oil reserves, is considered a difficult case in the political tangle of the new Iraq. Its inhabitants are made up of Kurds, Turkomen, Arabs and Christians. Rivalry among the three Muslim ethnic groups has led to bloodshed in recent months.
Saddam sought to 'Arabize' city
Saddam brought Arabs to Kirkuk, sometimes given homes of displaced Kurds to "Arabize" the city. Many Kurds want the Arabs who came during Saddam's rule to return to where they came from, something the Coalition Provisional Authority opposes.
Some Turkomen leaders accuse the two dominant Kurdish parties, the Patriotic Union of Kurdistan and the Kurdistan Democratic Party, of encouraging the Kurds' return to increase their numbers in time for a possible referendum on the future of the city or strengthen their bargaining position in the future.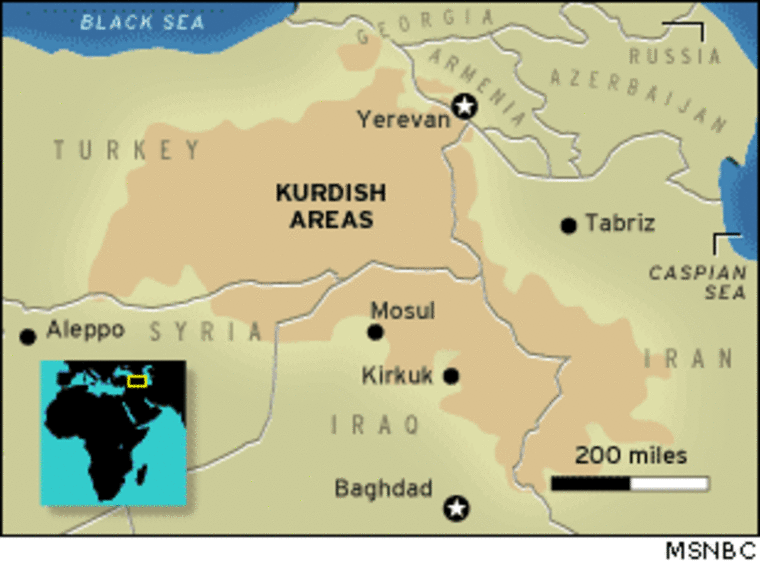 The Kurdish parties say they are not encouraging returns, just providing humanitarian assistance when needed.
The U.S.-led coalition asked the PUK to stop supplying tents to the returnees to discourage them from coming back.
"If all come back at the same time, the city simply can't cope in terms of providing services," said Paul Harvey, a Briton, who heads the coalition office in Kirkuk.
But Zanganeh, whose husband was taken away by Saddam's security agents, cannot understand why she is not welcome.
'We've been homeless for too long'
"For so many years Saddam denied us from living in this city," said Piroz, 36. "We've been homeless for too long."
She, her three sons, her mother, two sisters, four nieces and two nephews left their previous camp — in Chamchamal, 24 miles to the east — on April 14, a day after Kirkuk fell to the U.S. Army, and moved into a tent on the edge of the city.
Zanganeh's son, Amin, 20, fears that promises that eventually they will be allowed to settle in the city may fall through. "The sooner we return and have a foothold here the better because this way we are more assured that we will stay and won't be uprooted. This is my home. This tent is erected on my land, the land of my ancestors," he said.
Kurdish officials accuse coalition officials of lacking sympathy.
"It is their right to return the moment they desire to do so," said Hassib Rozbayani, a Kurd and Kirkuk's deputy mayor.
Harvey said the return — especially of those whose property was confiscated and handed to Arabs — could take more than a year.
The Iraqi Governing Council in Baghdad has ordered the creation of a claims commission in each of the country's 18 governorates to address property disputes, due to start work by the end of the month.
"But it will take time to process those claims," said Harvey. "There's no instant fix."
Some confiscated homes resold
Complicating matters, some confiscated homes have been sold and resold multiple times.
"You will have somebody in their property today who bought it in good faith and to tell them that they have to move out is a problem," Harvey said.
The absence of international aid agencies, including the United Nations, has also slowed resettlement. Relief organizations withdrew from Iraq last year following a series of suicide bombings at U.N. and International Red Cross headquarters.
The few agencies who are here are trying to provide the 60 sites where returnees are staying with electricity, clean water and sanitation.
The home of Rabiya Abdullah Amin, 73, in the village of Qarahanjir, about 30 miles northwest of Kirkuk, has been fixed up. But she can't occupy the property until work is completed on 800 more houses scheduled to be repaired — so everyone can move in at once.
She and other families are squatting nearby to make sure they don't lose their homes again.
"I am afraid someone would come and occupy it again and never give it back," said Amin. "As soon as they give the key, I will take my old man and move into our house."