/ Source: msnbc.com news services
U.S. ships and submarines unleashed a barrage of cruise missiles at Libyan missile storage facilities in the Tripoli area late Monday and early Tuesday, an official said.
Later Tuesday, missiles targeted the tightly guarded residence of leader Moammar Gadhafi and military targets in the suburb of Tajura as NATO-led coalition aircraft were seen in the skies.
The official, who spoke on condition of anonymity to discuss U.S. military details, said 22 Tomahawk cruise missiles were launched from the Mediterranean — the most in at least several days.
In 24 hours before noon ET Tuesday, U.S. Naval forces launched 22 Tomahawk cruise missiles at Libyan military targets from the Mediterranean — the most in at least several days. That brought the total number of Tomahawks to 221, NBC News reported, noting 214 were U.S. missiles; seven, British. At $1.5 million per Tomahawk, that's $321 million.
In addition, coalition forces flew 200 missions, bringing the total number of sorties to 1,802, NBC News said.
President Barack Obama said in a series of interviews Tuesday on NBC, ABC and CBS that the objective of a U.S. and allied military campaign is to apply steady pressure on Libyan leader Muammar Gadhafi.
"And so our expectation is that as we continue to apply steady pressure, not only militarily but also through ... other means, that Gaddafi will ultimately step down," the president told NBC.
The bulk of U.S. and NATO missile and bomb attacks on Libya have targeted air defenses, ammunition bunkers and other facilities that support Libyan ground forces and enable NATO to maintain a no-fly zone over the country.
President Barack Obama said on Tuesday the objective of a U.S. and allied military campaign is to apply steady pressure on Libyan leader Muammar Gaddafi so he will "ultimately step down" from power.
The attack came hours after Libyan government tanks and rockets blunted a rebel assault on Gadhafi's hometown of Sirte on Tuesday and drove back the ragtag army of irregulars.
Rockets and tank fire sent Libya's rebel volunteers in a panicked scramble away from the front lines, before the opposition was able to bring up truck mounted rocket launchers of their own and return fire.
The latest rebel setback emphasizes the see-saw nature of this conflict and how the opposition is still no match for the superior firepower and organization of Gadhafi's forces, despite an international campaign of deadly airstrikes.
The two sides traded salvos over the small hamlet of Bin Jawwad amid the thunderous crash of rockets and artillery shells as plumes of smoke erupted in the town. The steady drum of heavy machine gun fire and the pop of small arms could also be heard above the din.
"There aren't a lot of us in Bin Jawwad right now," said Faisal Ali, a 20-year-old-rebel who had retreated from the town.
"If (Gadhafi) has enough firepower and forces using tanks, he will surely take over Bin Jawwad," he added, noting that the rebels' special forces, one of their few trained units, had not yet retreated.
A Reuters correspondent saw dozens of cars carrying civilians speeding away from Nawfaliyah — between Sirte and Bin Jawwad — passing a group of rebel fighters resting near their pick-ups.
One man stopped his car to berate them. "Get yourselves up there and stop posing for pictures," he shouted, meeting little response.
Rebels out-flankedOther rebel fighters and their civilian supporters said they believed settlements on the approach to Sirte pose a potential threat because their inhabitants back Gadhafi.
"The Gadhafi guys hit us with Grads (rockets) and they came round our flanks," said Ashraf Mohammed, a 28-year-old rebel wearing a bandolier of machine-gun bullets.
The scene Tuesday was reminiscent of the rebels' rout last week, with panicked volunteers jumping into their pickup trucks and attempting to speed away from a bombardment by Gadhafi's forces.
The mad scramble of vehicles kicked up dust clouds, choking the narrow coastal highway.
Sirte is dominated by members of the Libyan leader's Gadhadhfa tribe and was used as a second capital by Gadhafi. Its loss would be a symbolic blow and open the way to the capital Tripoli.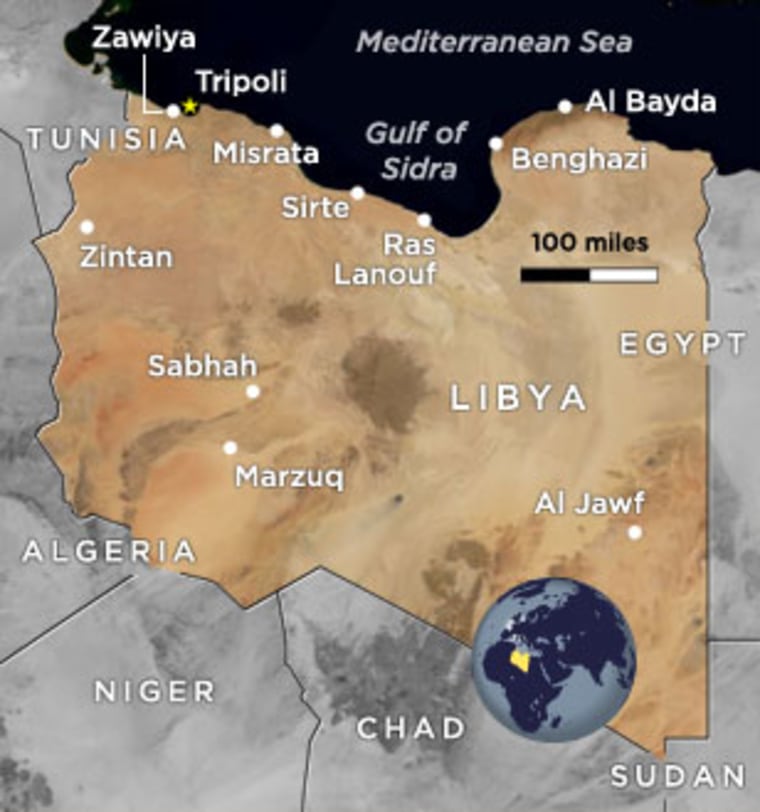 Gadhafi's forces also launched fresh offensives on the rebel city of Misrata in the country's west Tuesday.
"Gadhafi's forces tried this morning to get into Misrata through the western gate but the youths repelled them," the spokesman, called Sami, told Reuters by telephone from the city.
"They (Gadhafi's troops) tried an hour ago to get into the town through the eastern gate. The youths are trying to push them back. Fighting is still taking place now. Random bombardment is continuing ... Eight civilians were killed and several others wounded last night," he said.
Earlier another rebel spokesman said 124 civilians had been killed in nine days of fighting in Misrata. Ahmed Khalifa, a spokesman for the rebel movement in the eastern city of Benghazi, said the count was based on numbers obtained from hospitals in the city.
He told a news conference that medicine was running low but two boatloads of supplies had reached the coastal city on Monday. He said one came from Italy, but did not give further details.
Khalifa said rebels had destroyed two tanks in the south of Misrata and captured several mercenaries and a Libyan army colonel during fighting, though he did not give precise dates. He also said Gadhafi had sent a bus-load of people in civilian clothes to the city who opened fire when they got out.
It is impossible to verify reports about the fighting in Misrata because Libyan officials have prevented journalists from reporting independently from the city.
U.S. attacks Libya vesselsThe U.S. Navy reported that two of its aircraft and a guided missile destroyer attacked a number of Libyan coast guard vessels in Misrata's port after they began "firing indiscriminately" at merchant ships.
USS Barry, an A-10 Thunderbolt attack aircraft and a navy patrol plane engaged the Libyan coast guard vessel Vittoria and two smaller craft after "multiple explosions" were seen in the port, according to a statement.
Vittoria was left "ineffective" after the attack by the navy plane and was beached. One of the smaller vessels was destroyed and the other was abandoned after the A-10 opened fire, the statement said.
International military forces have also been dropping leaflets and broadcasting messages urging troops loyal to Gadhafi to turn against him.
A U.S. propaganda plane — that conducts information operations and psychological operations  — is flying over the country to make TV and radio broadcasts to Moammar Gadhafi's forces, U.S. military officials said.
The message: Refuse to obey Gadhafi's orders, stop fighting, go home to your families.
Coalition planes have dropped leaflets a number of times, most recently Sunday near Gadhafi ground troops near Misrata, military officials said on condition of anonymity because they are not authorized to speak publicly about the effort.