As he prepares to launch a campaign for president, Newt Gingrich is counting on the backing of an unusually powerful behind-the-scenes donor: a billionaire casino mogul whose business empire stretches from the Palazzo on Las Vegas's famous Strip to the Chinese gambling hub of Macau. 
Gingrich's financial angel is the publicity-shy Sheldon Adelson, chairman of the Las Vegas Sands Corp., and the fifth wealthiest man in America as recently ranked by Forbes Magazine.
Adelson, who has an estimated net worth of over $23 billion, has personally pumped $7 million over the past five years into Gingrich's main political advocacy organization, American Solutions for Winning the Future. His contributions account for more than 10 percent of all the organization's funds and have helped the former speaker promote his conservative causes and stay in the public eye.     
Adelson has also provided Gingrich the use of his aircraft for travel at times, according to by the Center for Public Integrity.
And, according to Republican Party sources close to both men, Adelson is now expected to be a key fundraiser for Gingrich's expected presidential campaign, steering funds from two lucrative groups with whom he has influence — Las Vegas casino executives and wealthy Republican Jewish donors.
"They talk to each other all the time," said one veteran Republican Party operative who is familiar with Adelson's relationship with Gingrich. "He's part of the kitchen cabinet." 
But while Adelson's backing could prove a big asset for Gingrich in his presidential bid, it could also create fresh problems for the former House speaker — especially among the constituents he is courting the hardest these days, evangelical Christians.
Investigations launched
Adelson and his gambling company have been plagued by legal troubles in recent months. The Sands recently disclosed that it is being investigated by the Justice Department and the Securities and Exchange Commission for possible violations of the Foreign Corrupt Practices Act.
Nevada and Hong Kong regulators have opened their own probes, according to company disclosures.
The inquiries grow out of a wrongful termination lawsuit filed last fall by Steven Jacobs, the former top Sands executive in Macau where Adelson's Venetian casino has become a major profit center for his company.
Jacobs alleged in court papers he was fired because he objected to Adelson's "repeated and outrageous" demands that he use  "improper leverage" with Chinese officials to obtain valuable government concessions and that he retain the services of a Macau lawyer who was also a local government official.
(The Foreign Corrupt Practices Act, which has been vigorously enforced by the Justice Department in recent years, bars U.S. companies from making payments to foreign officials to obtain favorable treatment.)   
Adelson's company has also faced other troubles in Macau. Last December, on the very day Adelson was visiting his Venetian casino there, the local anti-vice squad raided the resort and arrested over 100 alleged prostitutes and pimps who were allegedly operating a sex ring. 
Ronald Reese, a spokesman for the Sands, said the hotel firm's management fully cooperated with the Macau police on the vice squad raid. As for the Justice and SEC probes, he said "we are cooperating fully with the investigations."
Reese also pointed to recent comments by Adelson to an investment forum in which the Sands chairman denounced the lawsuit that led to the probes as "pure threatening, blackmailing and extortion."
Adelson told the investment conference that government investigators "want to get all my emails" but suggested they are likely to be frustrated because "I don't have a computer. And I don't use emails."
"When the smoke clears," he added, "I am absolutely, not 100 percent, but 1,000 percent positive that there won't be any fire below it."
(Reese said that Adelson would not be available to talk about his relationship with Gingrich because he "doesn't comment on his political activities.")
Rick Tyler, Gingrich's spokesman, described Adelson as an "old friend" of Gingrich's, but he declined any comment about the legal troubles facing the Sands — or whether Gingrich has discussed them with Adelson.
Asked whether Gingrich has flown on Adelson's aircraft, Tyler said there have been "no political trips on the Sands aircraft," but would not comment on any other use of Adelson's planes by the former House speaker.
As for the role Adelson is likely to have in any Gingrich presidential campaign, Tyler said he expects that the Sands executive "will write a check for $2,500" — the legal limit that any donor can give to a presidential candidate.
Potential pitfalls
The close relationship with Adelson illustrates the potential contradictions and pitfalls that Gingrich faces as he appears to inch closer to formally declaring his run for presidency — an announcement that could come as early as next month.
So far, his biggest problem has been winning over social conservatives who are uncomfortable over a messy personal life that includes two divorces and three marriages.
Most difficult of all have been the painful details of his marriage to his current wife, Callista Gingrich. According to testimony that surfaced during Gingrich's 1999 divorce proceeding — and which were publicly confirmed by his lawyer at the time — Gingrich's relationship with Callista began in 1993, when she was a young staffer on the House Agriculture Committee. (Gingrich was House minority leader at the time.)
The relationship continued throughout the four years that Gingrich served as speaker — a period during which he promoted an agenda that often championed family values and called, in 1998, for President Bill Clinton's impeachment for lying about his relationship with Monica Lewinsky.
Gingrich has publicly acknowledged his "weaknesses" and "failures" during numerous interviews in recent weeks.
And he has also sought to win over evangelical Christians through a non-profit group he first set up two years ago with the declared mission of preserving and promoting "America's Godly heritage," according to its initial tax filing.
The Renewing American Leadership group, along with a political affiliate, has raised more than $5 million in the past two years, according to Gingrich's spokesman. 
Among the group's activities: a 40-day "fast and prayer" campaign last fall that called on candidates for office in the 2010 election to sign a pledge to uphold, among other values, "the sacredness of marriage."
At the same time, the political arm of the group provided $150,000 to help bankroll a successful campaign to oust three Iowa Supreme Court judges who had voted to uphold same sex marriage.
Tyler said the funds for the Iowa effort came from a single donor solicited by Gingrich. But he declined to identify who the contributor was, saying that Renewing American Leadership, as a non-profit group, does not identify its donors.
Bob Vander Plaats, a prominent Iowa Republican activist who served as spokesman for campaign to oust the state judges, said the funds from Gingrich's group were key to the success of that effort.
"There's no doubt — if we did not have that initial funding there's no way we could even get started," Vander Plaats said in an interview. "There's no way you could even get out of the starting gate. So that was crucial resources."
Renewing American Leadership is only one arm of what is informally known as Newt Inc.,  a sprawling network of non-profits, businesses and political groups that promote Gingrich's books, videos, speeches and policy positions. The network includes a communications company, a media company and a consulting company that markets Gingrich's advice to health care companies.
But its largest and most visible branch is American Solutions, which has raised over $52 million since it was founded in 2006. That's more money than the political advocacy groups or political action committees of any other potential GOP candidate or member of Congress, according to the Center for Responsive Politics.
The group has promoted a wide variety of Gingrich's conservative causes, ranging from lower taxes and more domestic oil drilling to opposition to President Obama's health care proposals.
The fundraising success of American Solutions has enabled Gingrich to assemble a mailing list of over a million donors that he can now use for his presidential campaign, according to a source close to Gingrich.
Although substantial sums have also come from corporate interests — including close to $2 million from giant energy companies Peabody Energy, Arch Coal and Devon Energy — Adelson's $7 million in contributions makes him far and away the biggest single donor.
Strong backing of Israel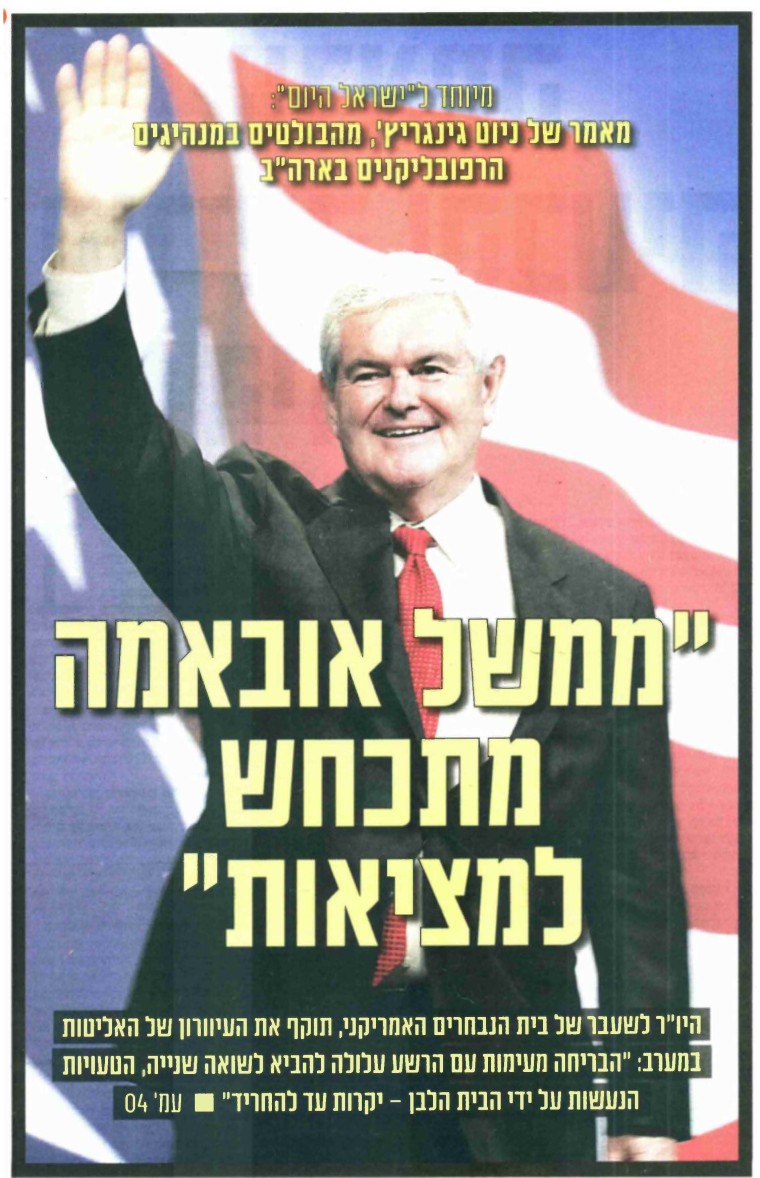 Sources close to both men say their close relationship dates back to the 1990's, when Gingrich was House speaker. The two bonded in part over Gingrich's strong backing of Israel — a cause about which Adelson, whose wife is Israeli, is passionate.
The casino mogul, a close friend of Israeli Prime Minister Benjamin Netanyahu, owns the largest circulation newspaper in Israel, called Israel Hayom.
Last May, the paper printed an article by Gingrich in which the former GOP House leader criticized the White House's Mideast policies and warned of a "second Holocaust." A large photo of Gingrich appeared on the cover, accompanied by a headline in Hebrew: "The Obama administration is denying reality." 
When, as most expect, Gingrich announces his candidacy next month, Adelson will be unable to write the kind of seven-figure checks to a presidential campaign that he has been accustomed to sending to American Solutions.
Instead, as Tyler pointed out, he will be limited — like everyone else — to contributions of $2,500 for the Republican primary campaign.
But that is hardly the limit of Adelson's ability to help Gingrich financially, three GOP fundraising sources said, all of whom asked for anonymity.
In recent years, Adelson has become among the most influential of all Republican Party donors, especially among wealthy Jewish contributors who share his views about Israel and the threat of radical Islam, these sources said. Adelson is also the single biggest donor for a group called the Republican Jewish Coalition, which has taken many presidential candidates on trips to Israel and regularly holds its meetings — as it did last week — in one of Adelson's Las Vegas hotels.
When it comes to donating to politicians, "there's a whole group of people — lawyers, bankers, investors and others — who are prepared to follow Adelson's lead," said one of the GOP fundraisers.
And that could be just what Gingrich needs to overcome his difficulties, at least so far, in winning over Christian conservatives.
This story includes reporting by Peter Stone of the Center for Public Integrity.