/ Source: NBC, msnbc.com and news services
One passenger said it was a "real quick blast, like a gun." Another called it "pandemonium." Still another described watching a flight attendant and another passenger pass out, their heads striking the seats in front of them as they lost consciousness.
Southwest Airlines on Saturday grounded 79 aircraft of its fleet of Boeing 737s for inspection after a hole in a jet's fuselage appeared, forcing a pilot to make a rapid descent and an emergency landing in Arizona on Friday. The airline canceled 300 flights Saturday to allow the inspections and could cancel the same number Sunday.
Federal officials said it was a "fuselage rupture" that led to a loss of cabin pressure on Friday and a terrifying but "controlled descent" from 36,000 feet to an emergency landing at a military base in the Arizona desert.
No serious injuries were reported among the 118 aboard, the carrier said. The FBI indicated it was a "mechanical failure," not an act of terror or other foul play. The cause of the hole was not immediately known. Southwest and Boeing engineers will inspect the aircraft to try to determine the cause, Southwest said in a statement.
Passenger Brenda Reese said Flight 812 had just left Phoenix Sky Harbor International Airport for Sacramento, Calif., when a "gunshot-like sound" woke her up. She said oxygen masks dropped for passengers and flight attendants as the plane dove.
Ian Gregor, a Federal Aviation Administration spokesman in Los Angeles, said the pilot "made a rapid, controlled descent from 36,000 feet to 11,000 feet altitude."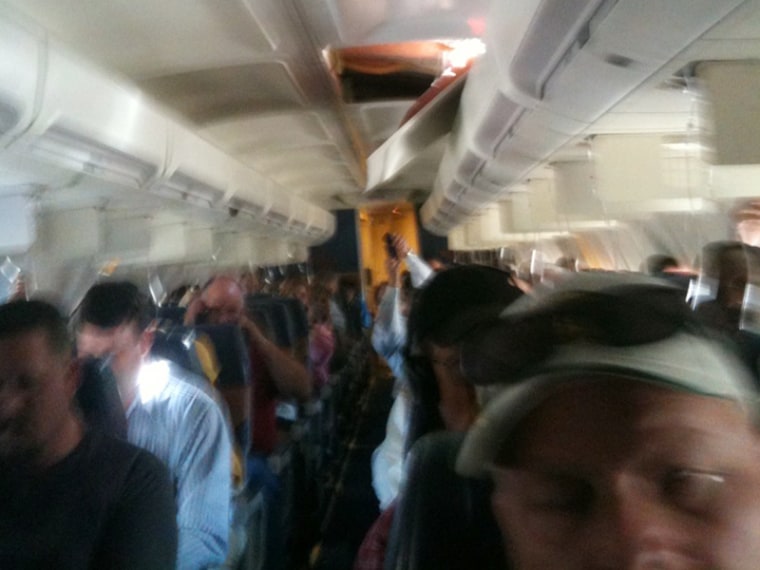 A Sacramento resident told CBS13 she received a text message from her husband, who was aboard the flight: "Plane going down. Love you."
She said she heard from her husband a few minutes later after the plane landed safely. The woman's husband said there was an explosion or a hole in the plane, the TV station said.
Shawna Malvini Redden, another passenger aboard the flight, tweeted after landing: "One flight attendant was injured and a couple passengers passed out but nothing major."
Don Nelson, who was seated one row from the rupture, said it took about four noisy minutes for the plane to dip to less than 10,000 feet, which made him "lightheaded."
During the rapid descent, "people were dropping," said Christine Ziegler, a 44-year-old project manager from Sacramento who watched as a crew member and a fellow passenger nearby faint, hitting their heads on the seats in front of them.
'Blue sky' visible
Larry Downey, who was seated directly below the hole when it opened, told Phoenix TV station KPNX that "it was pandemonium."
"You could look out and see blue sky," he said.
Joshua Hardwicke said he was awakened by a "sound like you shook up a pop can and dropped on the ground. It was like a firecracker."
The 24-year-old motorcycle technician was seated seven rows from the hole, which Reese described as "at the top of the plane, right up above where you store your luggage."
"The panel's not completely off," she told The Associated Press. "It's like ripped down, but you can see completely outside... When you look up through the panel, you can see the sky."
Cellphone photographs provided by Reese showed a panel hanging open in a section above the plane's middle aisle, with a hole of about six feet long. Nelson compared the noise to a gun, "a real quick blast," and said when the hole "first blew out, you could tell there was an oxygen deficiency."
"They had just taken drink orders when I heard a huge sound and oxygen masks came down and we started making a rapid descent," a passenger named Cindy told Sacramento TV station CBS13.
"You could see the insulation and the wiring. You could see a tear the length of one of the ceiling panels," she added.
The plane landed at a military base in Yuma without any injuries reported, except for a flight attendant who was slightly injured, according to the airline.
Reese said the crewmember fell and injured his nose, and that some people passed out "because they weren't getting the oxygen."
The National Transportation Safety Board said an "in-flight fuselage rupture" led to the drop in cabin pressure aboard the 15-year-old plane.
A similar incident on a Southwest plane to Baltimore in July 2009 also forced an emergency landing when a foot-long hole opened in the cabin.
Four months earlier, the Dallas-based airline had agreed to pay $7.5 million to settle charges that it operated planes that had missed required safety inspections for cracks in the fuselage. The airline, which flies Boeing 737s, inspected nearly 200 of its planes back then, found no cracks and put them back in the sky.
Julie O'Donnell, an aviation safety spokeswoman for Seattle-based Boeing Commercial Airplanes, confirmed "a hole in the fuselage and a depressurization event" in the latest incident but declined to speculate on what caused it.
A total of 931 Boeing 737-300s are operated by all airlines worldwide, with 288 of them in the United States, the FAA said.
'No real panic'
Reese said there was "no real panic" among the passengers, who applauded the pilot after he emerged from the cockpit following the emergency landing at Yuma Marine Corps Air Station/International Airport, some 150 miles southwest of Phoenix and about 40 minutes after takeoff from Sky Harbor.
"It was unreal. Everybody was like they were high school chums," Ziegler said, describing a scene in which passengers comforted and hugged each other after the plane was on the ground. Southwest sent another airliner to take them to Sacramento later Friday.
"I fly a lot. This is the first time I ever had something like this happen," said Reese, a 37-year-old single mother of three who is vice president for a clinical research organization. "I just want to get home and hold my kids."
Gregor said an FAA inspector from Phoenix was en route to Yuma. The NTSB said it also was sending a crew to Yuma.
Holes in aircrafts can be caused by metal fatigue or lightning. The National Weather Service said the weather was clear from the Phoenix area to the California border on Friday afternoon.
In 1988, cracks caused part of the roof of an Aloha Airlines Boeing 737 to peel open while the jet flew from Hilo to Honolulu. A flight attendant was sucked out of the plane and plunged to her death, and dozens of passengers were injured.