/ Source: The Associated Press
On the 25th anniversary of Iran's Islamic revolution, its reformist president attacked the vast powers of ruling conservatives Wednesday, saying restrictions on political freedoms pose a "threat to the nation."
President Mohammad Khatami's warning could heighten the current political friction ahead of Feb. 20 parliamentary elections that many reformers plan to boycott.
"Elections are a symbol of democracy if they are performed correctly," Khatami told crowds gathered in a huge square to celebrate the collapse of the Western-backed monarchy in 1979. "If this is restricted, it's a threat to the nation and the system. This threat is difficult to reverse."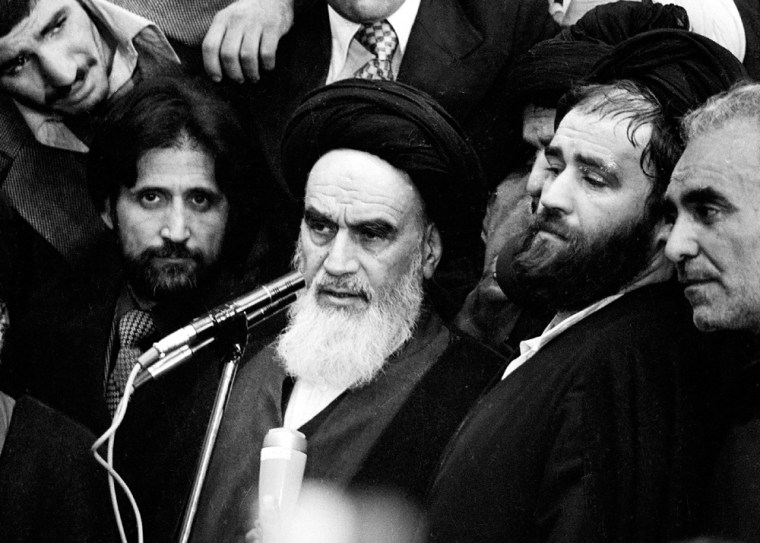 The setting for Khatami's remarks showed the depth of the nation's political turmoil. Normally, revolution anniversary events are dominated by predictable praise for the Islamic struggle and denunciations of "enemies" led by the United States.
But Khatami broke with tradition by using the nationally broadcast forum to discuss his frustration about hard-line tactics that have pitched Iran into one of its most serious political crises since the revolution.
Reformist candidates disqualified
More than 3,000 reformist candidates for Iran's 290-seat parliament, or Majlis, were disqualified from the election by the hard-line Guardian Council, which claimed the candidates lacked the criteria to stand for office.
The disqualified candidates included 80 sitting members of parliament.
Liberal lawmakers countered with sit-ins and protests. The council later reinstated about 1,100 candidates, but reformists said that was insufficient.
Khatami bowed to pressure from the powerful theocracy and agreed to hold the elections, but he said the polls will be unfair.
"For the prosperity of the nation, I don't know any path other than reforms," he said. "Whether I succeed or not and whether obstacles keep preventing me from fulfilling my promises or not, I know no other path and won't choose a path other than reforms."
A major boycott — urged by a wide-ranging coalition from activists to academics — likely would return control of parliament to conservatives.
The backlash, however, could lead to huge political rifts and greater street demonstrations calling for ruling clerics to relinquish some of their virtually unlimited controls.
Khatami calls for 'third way'
In his speech, Khatami called for a "third way" avoiding Western-style models and a Taliban-like system led by "those who don't consider the rights of the people ... and oppose freedom and democracy using religion."
"Blocking the demands of the people and their right to vote ... causes frustration, especially among the young," he said.
Iran's largest reformist party, Islamic Iran Participation Front, has joined the boycott camp. The party is led by the president's younger brother, Mohammad Reza Khatami, who is deputy speaker of parliament and one of those barred from the election.
State media has urged voters to ignore the boycott and turn out in large numbers.
Reformists won control of parliament in 2000 for the first time since the 1979 revolution, which deposed Shah Mohammed Reza Pahlavi and brought a conservative clerical government led by Ayatollah Ruhollah Khomeini to power.
But hard-liners have used their control of unelected bodies such as the 12-member Guardian Council to thwart attempts to liberalize Iran's political system and relax its strict Islamic social code.
Anniversary celebrations
Most events scheduled for the anniversary celebration gave little hint of Iran's current political crisis. Millions of Iranians held marches around the country, waving banners and flags.
In Tehran, some of the banned reformist candidates even joined the rallies — attempting to contrast the revolution's dream of greater freedoms with their current showdown against forces some dissidents have called an "Islamic dictatorship."
A statement distributed by a pro-reform group, Organization of the Islamic Revolution, said, "Unfortunately the people ... are struggling for the freedom that was promised them but never implemented."
Tens of thousands of people streamed to Azadi Square to hear Khatami or gathered in other areas that had a street-fair flavor with food stalls and music.