It has been a difficult journey for the Anderson family since they learned their eldest daughter, a 24-year-old English-language teacher living in Japan, died in the massive earthquake and tsunami that ravaged the nation's northeastern coast on March 11.
Their odyssey past the shoals of fear, despair and grief toward the distant shores of acceptance is one that is shared by tens of thousands of Japanese families, as well of those in many other countries whose citizens died in the twin disaster that befell Japan on that fateful Friday afternoon.
"We're just starting into it. We've got a long way to go," her dad, Andy Anderson, a 53-year-old real estate developer, told msnbc.com before a memorial at her alma mater, Randolph-Macon College, in Ashland, Va. on Thursday.
"Every time I get to talk about her, it makes me feel better. The hole will always be there, but we've got a lot to be proud of and a lot to talk about. To the extent her spirit is carried on into other people and their lives are better for it, that's great."
Jeanne Anderson said that despite her death, her daughter still is very much present in their lives.
"Sometimes it's easy, sometimes it's hard," she said. Asked about recalling a favorite memory or moment, she said, "That happens all day long. I mean in our home we see something that reminds us of her … it happens all the time, she's just, you know, she just pops in."
First steps on a long road
The Andersons' journey toward accepting Taylor's untimely death already has been a long one.
Since learning of her death, her father and her boyfriend traveled to Japan to collect her remains and mementos from her apartment, attended four memorial services and started a foundation in her name to help her second home of Ishinomaki, in hard-hit Miyagi prefecture.
Taylor was last seen riding her bike away from the elementary school where she worked after helping to evacuate her students to the playground and waiting for their parents to pick them up.
"Shortly thereafter, the tsunami warning sirens started to sound. She probably had 10, 15 minutes of bike riding before the water hit," her father said.
Unable to reach her after the disaster, the family – her parents, younger sister Julz and brother Jeff – mounted a long-distance hunt via the Internet for clues, contacting the U.S. Embassy in Japan and local officials, talking to her friends and colleagues to learn details about her routines, and the routes she would take home while rotating between eight schools through the . They also galvanized an online campaign to find the lifelong student of Japanese culture, who liked making origami, singing karaoke and teaching Japanese adults English through an organization called the "Kiwi Club."
Their spirits were briefly buoyed by a false report in the chaotic days immediately after the tsunami that Taylor had been spotted at a junior high school.
Then came the moment they had dreaded, when they received word on March 21 that her body had been found 1.2 miles from the school.

"It was an area that just got overrun by the tsunami so, you know, they could just tell us the general area where they had found her with a lot of other people," Andy Anderson said. "There was 2,200 – last count that I heard had died in that area in Ishinomaki."
'She was thinking of them first'
Anderson said Thursday that he drew some comfort from an interview with her fellow teachers that aired on Japan's NHK network Thursday, in which they recalled that Taylor tried to help calm the students in the moments after the 9.0 earthquake hit offshore.

"She was thinking of them first," he said.

Anderson met some of Taylor's students and their parents while he was in Japan. They exchanged gifts according to Japanese tradition – him giving them sweets that Taylor had in her apartment, which was still standing, and receiving teacups, flowers and some pictures with Taylor.

He also was provided with a copy of a Japanese TV piece in which students at Mangokuura Middle School, where Taylor was teaching on the day of the quake, remembered their late teacher. "She was always full of life," said one. Another student remembered how "she looked happy eating Japanese food."

"Miss Taylor was a very kind teacher. She was really easy to talk to. She was upbeat and everybody loved her. When we did a speech competition during our English class, Miss Taylor gave me her handmade award certificate and that made me so happy. She was a very kind teacher," read another.

In her apartment, her father found her diaries, an external hard drive with many photos on it, her books, and a special keepsake for her loved ones.

"She had what she called the 'wall of love,' which was covered with notes from students or pictures -- her mother's picture was up there -- and she'd rotate things through, you know, depending on what she'd gotten from kids or from other people," Andy Anderson said. "We took down the wall and brought all that home. … We took pictures of it all before we took it down, too, so we could have that memory."
A talent for overcoming reluctance
Anderson also met Aaron Jarrad, a fellow JET teacher in the area and friend of Taylor's, who had written to the Andersons recalling how good she was getting him to join in things he was not initially a fan of – such as karaoke, which he now loves. She also persuaded him to travel to a kindergarten summer festival that he hadn't planned to attend.

"I miss Taylor every day. She was such a wonderful person to be around and I am lucky to have been able to share these three short years here with her," he wrote in an email.

Anderson identified his daughter's body in Ishinomaki. They held a Buddhist service for her with her boyfriend, James Kenney, who traveled to Japan with Anderson, and some of her friends.

"We had a service for her up on the hill above her apartments," he said. "It was really so we could have the people who were still there … have a ceremony, and send her spirit up into the sky."

They later held another ceremony for Taylor at the crematorium in Tokyo with friends, people with JET, U.S. and Japanese officials. He said he shed some tears on the trip, adding that one of her friends helped him through the rough patches by talking about Taylor's daily life.

"The more you can talk about the stories, the things she's doing, the memories, you know, the easier it made it to do it, to do what we had to go through," he said.

The family held a memorial on Saturday at a church near their home in Richmond, Va., then the  one at her alma mater on Thursday. There, the family put up a poster of pictures in all stages of her life -- in a school play, wearing various costumes, on family vacations, skiing in Japan with friends and one of her holding a cardboard sign reading 'Will rite papers 4 food.' A recent portrait by a local artist also was displayed.
'She glowed'
"She was always someone you could take a picture of, always had a good smile," Anderson said.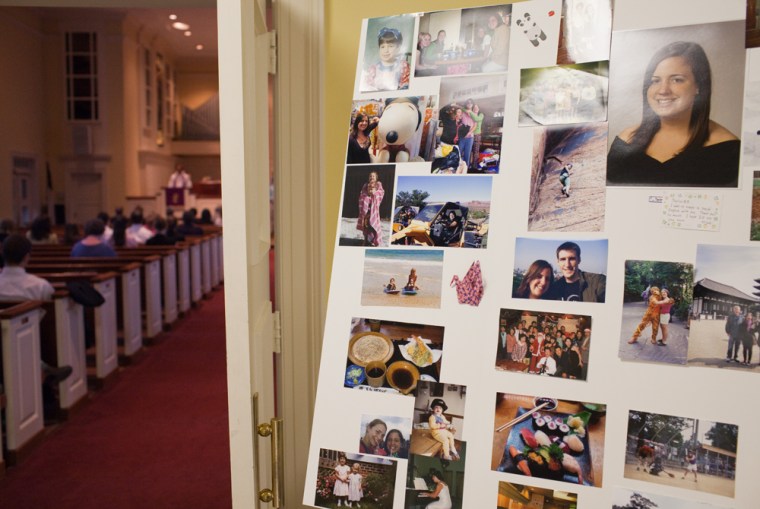 Her mother, Jeannne, shared a similar thought before the service, saying Taylor "treated everyone like she would want to be treated. She cared a lot for people. … She was a happy person, she glowed."

Jeanne Anderson recalled visited Taylor in Japan last year, dining with the Kiwi Club. "They just seemed crazy about her, they loved her. … It was like her home, she was very comfortable there."
Taylor started learning Japanese when she was in middle school, and eventually minored in Asian Studies at college, where she also took two years of Japanese language instruction. She graduated in 2008 – leaving for Japan in August of that year.
"She ranks among the very best students I've had in my eight years in the college," Todd Munson, an assistant professor in the college's Asian Studies program and Taylor's academic adviser during most of her years there, said at the memorial, which was punctuated by tears, sniffles and some laughter. "She was a model of enthusiasm and diligence, and good humor."

Munson, noted that her favorite author, Japan's Haruki Murakami, did not shy away from themes of tragedy, loss and death – "especially the death of characters who should have so much more living to do. The irony is not lost of course that Taylor's own life has now come to resemble a very sad Murakami short story."
Like a character from a Murakami story
But Munson shared an uplifting Murakami story at the memorial, "Super-Frog Saves Tokyo," written in the wake of the devastating 1995 Kobe, Japan, earthquake, which he said he felt exemplified Taylor's character.

"Taylor Anderson was an ordinary person in many respects. … In the tragedy that was the earthquake and tsunami of March 11, she was just one of thousands perhaps as many as tens of thousands of innocent souls lost forever to their loved ones," Munson said. "And yet we remember her today because, like Katagiri in 'Super-Frog Saves Tokyo,' Taylor Anderson was an extraordinary person. … Taylor was precisely the sort of person whom we would enlist to our aid in such a crisis."

National Police figures from Monday show that more than 12,000 people died in the disaster – the world's fourth largest quake since 1900 – and some 15,500 people are missing.

Taylor was the first confirmed death of an American in the double tragedy. The other death of an American confirmed by the U.S. State Department was that of a fellow JET teacher, , of Anchorage, Alaska.

The Andersons have started the , which has received more than $70,000 in donations. Its aim is to help her Japanese hometown.

"What we think she would want is to help rebuild the area -- or help rebuild the schools and help the families -- so her legacy would be that for years, generations perhaps, that Japanese students would see the example of Taylor and how much she wanted to help them and the area recover from the tsunami," said Andy Anderson.
Follow Miranda Leitsinger on