White House chief economic adviser Greg Mankiw found himself on the hot seat last week as he learned first-hand exactly how sensitive the issue of jobs can be in this presidential election year.
Mankiw, a Harvard economist who has been on the job less than nine months, was assailed by politicians from both parties after referring to the benefits that can accrue from "outsourcing" U.S. jobs to China and other low-wage countries. And he took heat for an aggressive – and confusing – projection that the economy will create at least 2.6 million jobs this year.
On outsourcing, Mankiw faced the wrath of Congress for the Washington sin of speaking the truth – or in this case at least a widely held economic theory.  "Outsourcing is a growing phenomenon, but it's something that we should realize is probably a plus for the economy in the long run," Mankiw told reporters in a briefing.
Virtually all mainstream economists agree with this position, and Federal Reserve Chairman Alan Greenspan expressed similar views in congressional testimony this week, although they were carefully couched in his enigmatic "Fedspeak."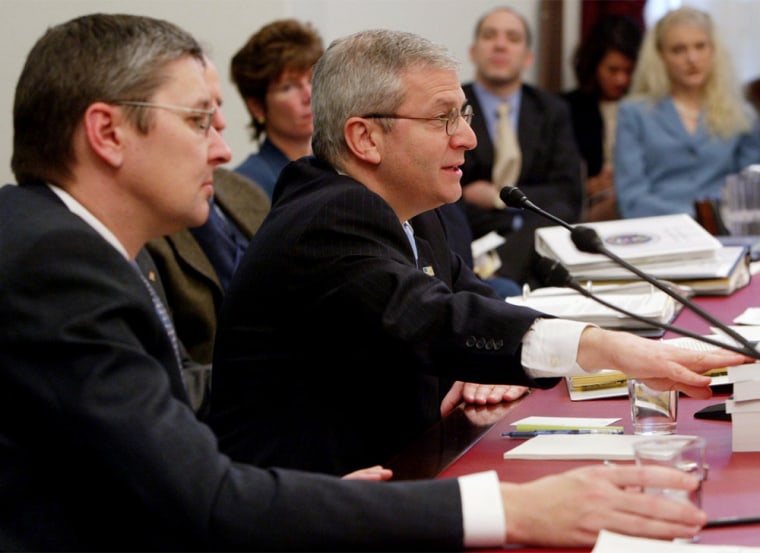 Mankiw's plain talk, by contrast, triggered howls of outrage and even calls for his resignation, which were dismissed as "laughable" by a White House spokesman. Democratic presidential front-runner John Kerry pounced on the gaffe, saying the administration already had presided over a loss of 3 million jobs (actually closer to 2.3 million), "and now they want to export more of our jobs overseas."
Commerce Secretary Don Evans defended Mankiw's comment, calling it an endorsement of "free and open trade." But President Bush, well aware that the upcoming election could hinge on jobs, carefully distanced himself from the idea that he is in favor of U.S. jobs going to China.
"There are still some people looking for work because of the recession," Bush said in a speech to high school students in Harrisburg, Pa. "There are people looking for work because jobs have gone overseas. And we need to act in this country. We need to act to make sure there are more jobs at home, and people are more likely to retain a job."
By the end of the week Mankiw had apologized, saying in a letter to House Speaker Dennis Hastert, "My lack of clarity left the wrong impression that I praised the loss of U.S. jobs."
High bar on job growth
Mankiw's projections of job growth were not so easily explained.
The projections were buried deep inside the White House's annual economic report, a 412-page treatise delivered to Congress Tuesday and prepared by the Council of Economic Advisers, which Mankiw heads. Nevertheless reporters quickly pounced on the figure, showing the council expects an average of 132.7 million people to be on U.S. payrolls over the course of 2004, an increase of about 2.6 million over last year's level.
But an analysis from two left-leaning think tanks in Washington figures the economy would have to add nearly 5 million jobs by the end of 2004 to hit the White House target. Assuming steady growth, the economy would have to add more than 400,000 jobs a month for the next 11 months to achieve an average of 132.7 million for the full year, according to the analysis.
Mankiw himself testified in Congress that he expects "about 3 percent growth in the number of jobs over the next year," which works out to about 3.9 million.
The White House, aiming to clarify the projection, said 3.8 million was an accurate representation of its forecast. "That's what you get when you do the reverse calculation," White House spokeswoman Claire Buchan told Reuters. But she said the 2.6 million figure was equally valid. "It's just a different way of looking at it," she said.
In any case, the figures are higher than what most private forecasters expect and set a high bar for an administration that has yet to live up to promises that its aggressive tax cuts would stimulate job growth.
"It is not just that they are off -- they are way off, on the wrong side, year after year," said Jared Bernstein, senior economist at the liberal Economic Policy Institute. He said the Bush administration is ignoring what he called the most important issue in today's economy – the gap between growth and jobs.
"All of the forecasts are underappreciating the impact of weak labor market itself on the economy and job growth," he said.
Unusual economic times
Bush administration economists have hardly been the only ones to miss the mark in trying to project job creation, which has been unusually slow to develop given that the recession technically ended more than two years ago.
"I don't recall a period even remotely like this," Greenspan said Wednesday in response to a question about the lack of job growth.
After shedding jobs steadily for more than two years, the economy has added an average of just 73,000 jobs a month over the past five months, compared with an average 216,000 jobs a month in the comparable period of the last expansion a decade ago.
Even in the best of times, trying to project employment numbers can be professionally hazardous, said Douglas Holtz-Eakin, director of the Congressional Budget Office. Although the CBO has a mandate to provide unbiased growth projections, the office's annual budget and economic outlook offers only a projected unemployment rate, not payroll job figures.
Holtz-Eakin, a former chief economist for the Council of Economic Advisers, in describing the difficulty of offering more specific forecasts, pointed out that job growth is essentially the difference between inflation-adjusted economic growth and any improvements in productivity.
"Forecasting the path of the economy is notoriously difficult. Forecasting productivity is twice as hard. So you can see there are certainly some pitfalls there," he said in an interview.
In general, the administration has been about as accurate as private forecasters and the non-partisan CBO, according to a CBO study issued last year. White House forecasters have neither been consistently more optimistic nor more pessimistic than private forecasters – and that goes for the Clinton administration as well, according to the CBO report.
But in this case, it appears the team of economists led by the respected Mankiw just blew it. Nariman Behravesh, chief economist for Global Insight, a forecasting firm, said he said he believes the White House job projection was a mistake, based on erroneous projections made in late 2003 and not corrected to reflect the latest data.
"I think they thought that the numbers coming in would be stronger than they were and sort of extrapolated a number," he said.
He projected the economy will add about 1.5 million jobs this year and suspects White House forecasters already are backing away from their far-higher projection. "It was somewhat sloppy on their part, but I don't think they now believe that is possible," he said.