/ Source: The Associated Press
A California Republican official who sent out an e-mail picturing President Barack Obama's face on the body of a baby chimpanzee issued an apology late Monday after a weekend of criticism that ended with a strongly worded public rebuke from the local Republican Party chairman, who also called for an ethics investigation into the incident.
Marilyn Davenport, a 74-year-old elected member of the Orange County Republican Central Committee, sent an email Monday afternoon asking for forgiveness for her "unwise behavior," just before the local Republican committee met for its monthly summit at a hotel in Irvine.
The email sent on Friday by Davenport to a small group of Republican committee members shows an image posed like a family portrait, of chimpanzee parents and child, with Obama's face superimposed on the young chimp. Text beneath the picture reads, "Now you know why no birth certificate."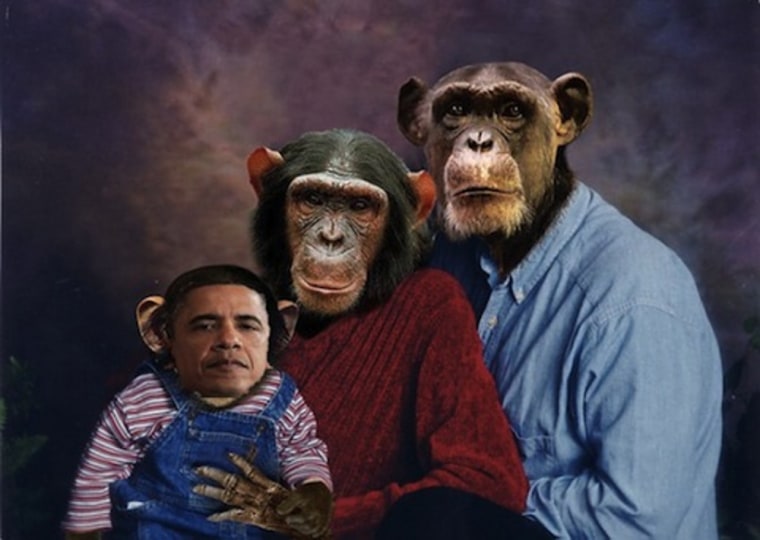 Some voters have maintained since the last presidential election that Obama is ineligible to hold the nation's highest elected office because, they argue, he was actually born in Kenya, his father's homeland. Obama's mother was an American citizen.
Hawaii officials have repeatedly confirmed Obama's citizenship, and his Hawaiian birth certificate has been made public. Courts have rebuffed lawsuits challenging Obama's eligibility.
"To my fellow Americans and to everyone else who has seen this email I forwarded and was offended by my action, I humbly apologize and ask for your forgiveness of my unwise behavior. I say unwise because at the time I received and forwarded the email, I didn't stop to think about the historic implications and other examples of how this could be offensive," Davenport's apology read.
Davenport, who was not present at the meeting, represents the 72nd Assembly District in Orange County on the committee, which is made up of volunteer officials elected for two-year terms. The group is tasked with fundraising, campaigning and debating policy for the Republican Party.
'Extremely racist'
The county's Republican chairman, Scott Baugh, told about 75 party members that despite Davenport's "sincere apology," he still condemned her actions and believed she should resign because her presence on the committee would remain controversial and provide a distraction.
"The email is without question extremely racist," Baugh said. "Depicting African-Americans as monkey is a longtime, well-known and particularly offensive slur because it denies them their basic humanity."
The body's ethics committee would investigate the incident, interview Davenport and make a report back to the executive committee within a week, Baugh said.
The reputation of the Republican Party — the party of Abraham Lincoln that was founded in the midst of slavery and discrimination — was on the line, he said, and he asked party members to put themselves in the place of a black American opening the email.
A phone message left for Davenport Monday evening was not immediately returned.
Tim Whitacre, a longtime conservative activist in Orange County and representative of the county's 69th Assembly District, spoke in support of Davenport and said he had visited her on Monday afternoon.
He said the "petite grandmother originally from Kansas" who taught Bible study classes and had a heart condition was terrified by the outcry and had taken her phone off the hook after receiving angry calls. He asked committee members to forgive her and accept her apology — but said she didn't intend to resign.
Earlier Monday, the president of the California branch of the National Association for the Advancement of Colored People decried the email as racist and dismissed Davenport's claims that it was intended as a harmless joke.
The White House didn't immediately reply to an email seeking comment.