/ Source: msnbc.com staff and news service reports
Moammar Gadhafi's son Seif al-Islam dismissed Monday a NATO airstrike that flattened a building inside the Libyan leader's compound as something that "will only scare children."
The attack on the Bab al-Aziziyah compound came after Gadhafi's forces unleashed a barrage of shells and rockets at the besieged rebel city of Misrata, in an especially bloody weekend that left at least 32 dead and dozens wounded, according to The Associated Press.
The attack left three people dead, a Libyan government spokesman said, calling it an assassination attempt on leader Moammar Gadhafi, who was unhurt.
The compound has been hit before, but NATO forces appear to have stepped up the pace of strikes in Tripoli in recent days.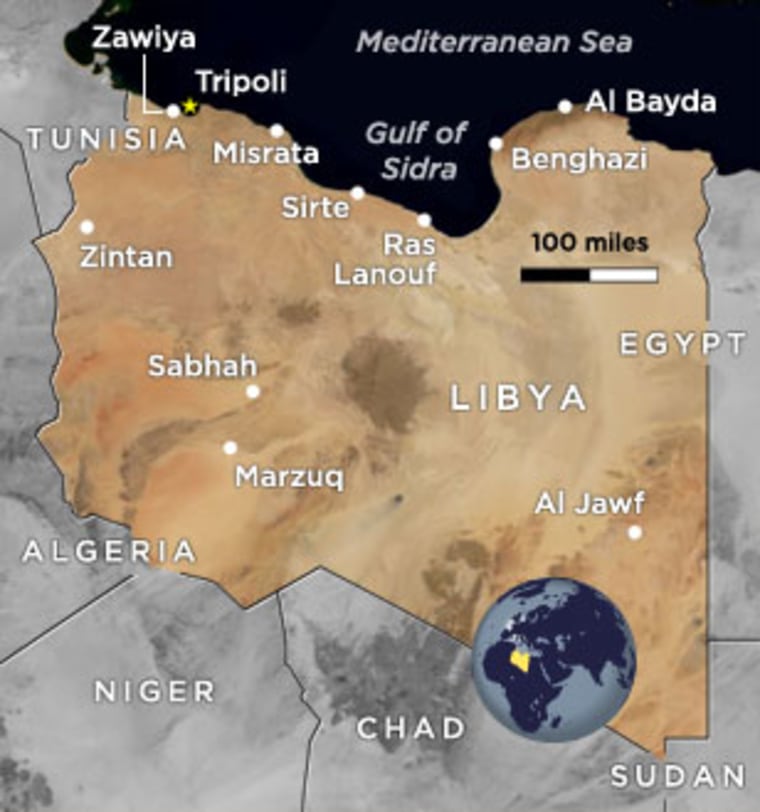 "You, NATO, are waging a losing battle because you are backed by traitors and spies," Seif al-Islam Gadhafi was quoted as saying by the Jana state news agency. "History has proved that no state can rely on them to win."
The Libyan government would not be cowed by such attacks, he said.
"The bombing which targeted Moammar Gadhafi's office today... will only scare children. It's impossible that it will make us afraid or give up or raise the white flag," al-Islam said.
A site near the damaged compound, which the government called a parking lot but which appeared to cover a bunker, was hit two days ago.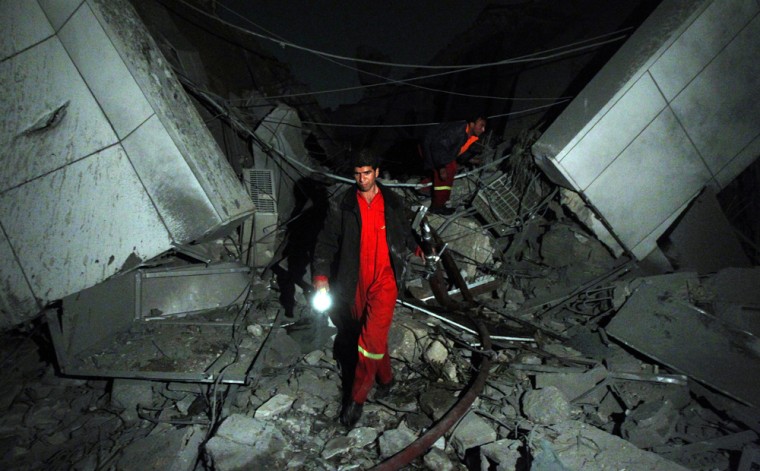 Firefighters were still working to extinguish flames in part of the ruined building on the compound a few hours after the attack, when foreign journalists were brought to the scene in Tripoli.
Government spokesman Mussa Ibrahim said those who died were office workers and security guards while 45 people were wounded. That could not be independently confirmed. He said the building housed political offices.
The United States, Britain and France say they will not stop their air campaign over Libya until Gadhafi leaves power.
Washington has taken a backseat role in the air war since turning over command to NATO at the end of March but is under pressure to do more. Last week it sent Predator drone aircraft, which fired for the first time on Saturday.
Meanwhile, Italy, which has been playing a reduced role in operations in Libya, decided on Monday that its air force will be allowed to bomb selected military targets in Libya. A statement from Prime Minister Silvio Berlusconi's office said he had informed U.S. President Barack Obama in a telephone conversation of the government's decision.
Misrata bombed
Government troops bombarded the western rebel bastion of Misrata again Sunday, two days after announcing their withdrawal following a two month siege.
The exact number of casualties could not be independently verified.
The Associated Press reported that at least 32 had been killed in shelling over the weekend; an engineer who works for a dissident radio station in Misrata, speaking to Al-Arabiya television that, said at least 30 people had died with 60 wounded.
"There is very intense and random shelling on residential areas. Burned bodies are being brought into the hospital," Ahmed al-Qadi told Al Arabiya.
A doctor at a hospital in Misrata said that among the dead from what he called heavy artillery and mortar shelling was a 8-year-old boy killed while he was sleeping at home.
"Doctors here are feeling very bad when they see this blood and this killing after midnight when people are sleeping," Dr. Aiman told msnbc.com. Aiman, who did not want his last name used out of fear for his safety, added that 120 people were injured Sunday and into Monday.
A government spokesman said the army was still carrying out its plan to withdraw from the city, but had fired back when retreating troops were attacked.
"As our army was withdrawing from Misrata it came under attack by the rebels. The army fought back but continued its withdrawal from the city," Moussa Ibrahim told reporters.
The government says its army is withdrawing and sending in armed tribesmen instead. Rebels say the announcement may be part of a ruse to mask troop movements or stir violence between rebels and locals in nearby towns.
Meanwhile, rebel leader Mustafa Abdel Jalil told a news conference in Kuwait that the Gulf state had agreed to give 50 million Kuwaiti dinars ($177 million) to his rebel council to help pay workers in the eastern part of the country under its control.
"This amount will help us a lot in paying the salaries of employees who did not receive their little salaries for two months," he said. "We are capable of only covering 40 percent of this amount. We are in need of urgent aid."
The rebels have been seeking international recognition as well as material support from the west and the Arab world.
Hampered by their lack of firepower, equipment and training, they have been unable to advance from eastern Libya but are fighting back and forth with Gadhafi's troops on the coast road between the towns of Ajdabiya and Brega.
Abdel Jalil also said the rebels had received weapons from "friends and allies," but did not name them.
At least three people were killed in the mountain town of Zintan, around 100 miles southwest of Tripoli, by fire from Gadhafi's tanks and rockets, residents said.