Forty years to the week that the Beatles invaded America with their music, another British band flew over the pond with the hopes of shaking things up here. Only this time, it was a band of scientists intent on changing the way the Bush administration deals with what British Prime Minister Tony Blair calls the biggest long-term threat to the planet: climate change.
The new lads -- Blair's chief science adviser, Sir David King, and three top climate scientists -- were part of a two-dozen strong British delegation to the annual meeting of the American Association for the Advancement of Science.
"Unique" is how one conference organizer called the British presence. Sure, other countries have sent delegations to America's premiere science conference -- the Soviet Union during glasnost, and Chinese scientists are regulars. But Blair's government came with a political hot potato as 6,000 scientists and journalists gathered in Seattle for the conference that ended Monday.
'Very deliberate action'
King had no qualms about carrying that hot potato over. "It's a very deliberate action, isn't it," King told MSNBC.com of the large British delegation.
"You don't have to second guess us" as to where we stand, he added. "The issue clearly is that the British government has taken a major step" toward reducing emissions tied to global warming while the Bush administration has not.
The reasons for action, he and the other British scientists explained, are scenarios that show major flooding and coastal erosion around Britain should the Earth continue to get warmer.
Britain's strategy is just as clear: using the American public and scientific community to pressure the Bush administration to change course.
"The issue is one of public perception," King said, hence his interest in traveling to the conference, where he delivered a keynote speech and led a workshop titled "Bridging the Climate Science–Policy Gap: A UK-US Dialogue."
In Britain, he told the workshop, climate science has bridged both major political parties. Blair's Labor Party, he said, is continuing a path first started by Margaret Thatcher and her Conservative Party government in the 1980s.
"I don't think it's a matter for discussion," he said of British climate policy. "It's a matter of frustration for scientists" that the United States hasn't followed the same path.
Bush's strategy so far
While Blair's government aims to reduce greenhouse gas emissions to below what's expected of it in a 1997 Kyoto climate protocol, the Bush administration withdrew from the U.N. process, saying mandatory cuts in carbon dioxide and other gases would severely cut into economic growth.
The Bush administration's course is to instead promote carbon-reducing technologies and to continue scientific research.
King and his peers acknowledged that technologies are important but added that even tougher action is warranted and that the cost is not prohibitive. Britain's economy, they noted, grew by 22 percent between 1997 and 2002 even as policies led to a 7.5 percent fall in greenhouse gas emissions.
Stabilizing the climate worldwide would probably cost around one percent of each country's gross domestic product, John Schellnhuber, research director at Britain's Tyndall Centre for Climate Change Research, told the workshop. The investment payback, he added, would include new jobs and technology. "I'm talking about an industrial revolution" driven by climate issues, he said.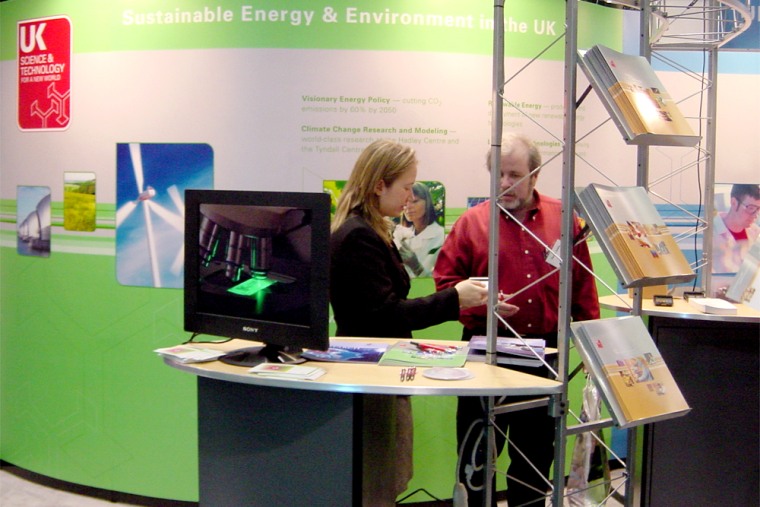 King kicked off the climate blitz with an op-ed piece last month in the AAAS's magazine Science. Then, en route to Seattle, King and his colleagues stopped in Washington, D.C., last week to brief congressional staff on the British position.
Speaking of "science diplomacy" over the long haul, King said the pressure won't stop there. "We're just picking up momentum," he said.