/ Source: NBC, msnbc.com and news services
Incredulous lawmakers are pressing Pakistan for answers to two simple questions: What did its army and intelligence agents know of Osama bin Laden's whereabouts and when did they know it?
It was more than a rhetorical question as lawmakers raised the possibility of cutting the almost $1.3 billion in annual U.S. aid to Pakistan if it turns out the Islamabad government knew where Osama bin Laden was hiding, the head of the Senate Intelligence Committee said Tuesday.
Sen. Dianne Feinstein, D-Calif., said she wants more details from CIA director Leon Panetta and others about the Pakistani government's role. A meeting is planned Wednesday, NBC News reported.
Feinstein asked if Pakistan showed "benign indifference or indifference with a motive" concerning bin Laden's compound.
The al-Qaida terrorist leader behind the Sept. 11 attacks lived and died in a massive, fortified compound built in 2005 and located on the outskirts of Abbottabad, some 60 miles from the capital of Islamabad. It was just a half-mile from the Kakul Military Academy, Pakistan's equivalent of West Point, and close to various army regiments.
"I think this tells us once again that, unfortunately, Pakistan at times is playing a double game," said Sen. Susan Collins, R-Maine, a Senate Armed Services Committee member who indicated that Congress could put limits on funds for Pakistan.
"It is very difficult for me to understand how this huge compound could be built in a city just an hour north of the capital of Pakistan, in a city that contained military installations, including the Pakistani military academy, and that it did not arouse tremendous suspicions," Collins said.
Sen. Lindsey Graham, R-S.C., said he wants to "know who did know" in Pakistan. He told reporters that the United States should review aid packages and ask questions but should proceed carefully when it comes to the nation's relations with Pakistan.
"You cannot trust them and you cannot abandon them," he said, NBC News reported.
The No. 2 House Democratic leader, Rep. Steny Hoyer, said if Pakistan does not ease doubts about its dedication to fighting terrorists, Congress should explore whether it makes sense to reduce U.S. aid to that country.
"I don't know whether it would be effective or counterproductive, we'll have to look at that," he told reporters, adding, "It needs to be looked into."
Sen. Allen West, R-Fla., released a letter urging a halt to Pakistan aid.
"I think it is quite clear that unless we get a clear explanation of what the Government of Pakistan knew about the whereabouts of Osama bin Laden, all foreign aid from American taxpayers to this nation needs to cease. We need to understand whether the Government of Pakistan was harboring Osama bin Laden for all these years. Further, did the Government of Pakistan always know where this terrorist was but instead did not want to bring him to justice in order to continue to receive foreign aid from the United States of America."
Pakistan president respondsPakistani President Asif Ali Zardari President on Tuesday addressed how the world's most-wanted militant was able to live for so long in comfort near Islamabad.
"Some in the U.S. press have suggested that Pakistan lacked vitality in its pursuit of terrorism, or worse yet that we were disingenuous and actually protected the terrorists we claimed to be pursuing," Zardari wrote in an opinion piece in the Washington Post. "Such baseless speculation may make exciting cable news, but it doesn't reflect fact."
"He was not anywhere we had anticipated he would be, but now he is gone," Zardari wrote.
A Pakistani official from its spy agency, Inter Services Intelligence (ISI), said on condition of anonymity that agents hunting for a top al-Qaida operative raided the house in 2003.
The house was just being built at the time of the ISI raid, but Abu Faraj al-Libi, al-Qaida's No. 3, was not there, said the officer.
U.S. officials have said al-Libi once lived in the house and that information from him played a role in tracking the al-Qaida chief down. Al-Libi was arrested by Pakistani police after a shootout in 2005 and he was later handed over to U.S. authorities.
"We're good, but we're not God," the official told the BBC, adding, "This one failure should not make us look totally incompetent. Look at our track record. For the last 10 years, we have captured Taliban and al-Qaida in their hundreds — more than any other countries put together."
The Pakistani government said Tuesday the raid "of unauthorized unilateral action cannot be taken as a rule."
"The government of Pakistan further affirms that such an event shall not serve as a future precedent for any state, including the U.S.," said the statement, calling such actions a "threat to international peace and security."
Intelligence partnersWhite House counterterrorism adviser John Brennan told NBC's TODAY on Tuesday that "clearly there was some kind of support network" for bin Laden inside Pakistan.
"Although the events of Sunday were not a joint operation, a decade of cooperation and partnership between the United States and Pakistan led up to the elimination of Osama bin Laden as a continuing threat to the civilized world."
However, he declined to blame the Pakistani government for that, calling Islamabad "a strong counterterrorism partner."
But he also said the Pakistani government was conducting its own investigation into how bin Laden dodged authorities for so long. Brennan said it is "unknown at this point" whether individuals inside the Pakistani government were helping bin Laden.
"We're not accusing anybody at this point, but we want to make sure we get to the bottom of this," he later told NPR.
Publicly, Secretary of State Hillary Rodham Clinton has thanked Pakistan for its cooperation and said the country "has contributed greatly to our efforts to dismantle al-Qaida." She said that "in fact, cooperation with Pakistan helped lead us to bin Laden and the compound in which he was hiding."
Pakistan also made a point of saying that ISI had been sharing information about the compound with the CIA and other friendly intelligence agencies since 2009 and had continued to do so until mid-April.
'In plain sight'Condoleezza Rice, who was President George W. Bush's national security adviser on 9/11 and later served as secretary of state, told TODAY about bin Laden that she was "surprised to learn where he was found."
"Obviously there are some tough questions here," she said. "I'm quite certain that the administration along with the Pakistanis want to understand why Osama bin Laden could be so close to Islamabad, really in plain sight."
Based on the location of the compound and its proximity to army regiments, Senate Armed Services Committee Chairman Carl Levin, D-Mich., said Pakistan's intelligence service and army has "got a lot of explaining to do."
Levin told reporters that "it's hard to imagine that the military or police did not have any ideas what was going on inside."
Senate Foreign Relations Committee Chairman John Kerry, D-Mass., who has traveled extensively to Pakistan, said candid conversations with the Pakistanis were necessary.
However, Kerry said it would be a mistake to forget "we've had people on the ground tracking this. There's some degree of assistance and cooperation of the Pakistanis."
Later Tuesday, in remarks reported by NBC News, Kerry said he spoke to Clinton the previous night about trying to leverage this moment into hitting a "reset" button between the two countries.
"We have to be thoughtful about trying to make lemonade out of lemons," he said.
"If you want a radical Islamist government having possession of nuclear weapons and running Pakistan then you can go off in a knee jerk way that makes matters worse. I'm not making matters worse. And I think we have to be very thoughtful about this," he added.
Caution in Europe
Wariness about Pakistan's role was echoed in Europe.
"I find it hard to believe that the presence of a person or individual such as bin Laden in a large compound in a relatively small town ... could go completely unnoticed," French Foreign Minister Alain Juppe told reporters in Paris.
Prime Minister David Cameron told BBC radio Britain would keep working with Pakistan to combat militancy but insisted bin Laden "must have had a support network in Pakistan." Islamabad must answer questions on the subject, he said.
U.S. officials said the information that ultimately led to bin Laden's capture originally came from detainees held in secret CIA prison sites in Eastern Europe. There, agency interrogators were told of an alias used by a courier whom bin Laden particularly trusted.
It took four long years to learn the man's real name, then years more before investigators got a big break in the case, these officials said. Sometime in mid-2010, the man was overheard using a phone by intelligence officials, who then were able to locate his residence — the specially constructed $1 million compound with walls as high as 18 feet topped with barbed wire.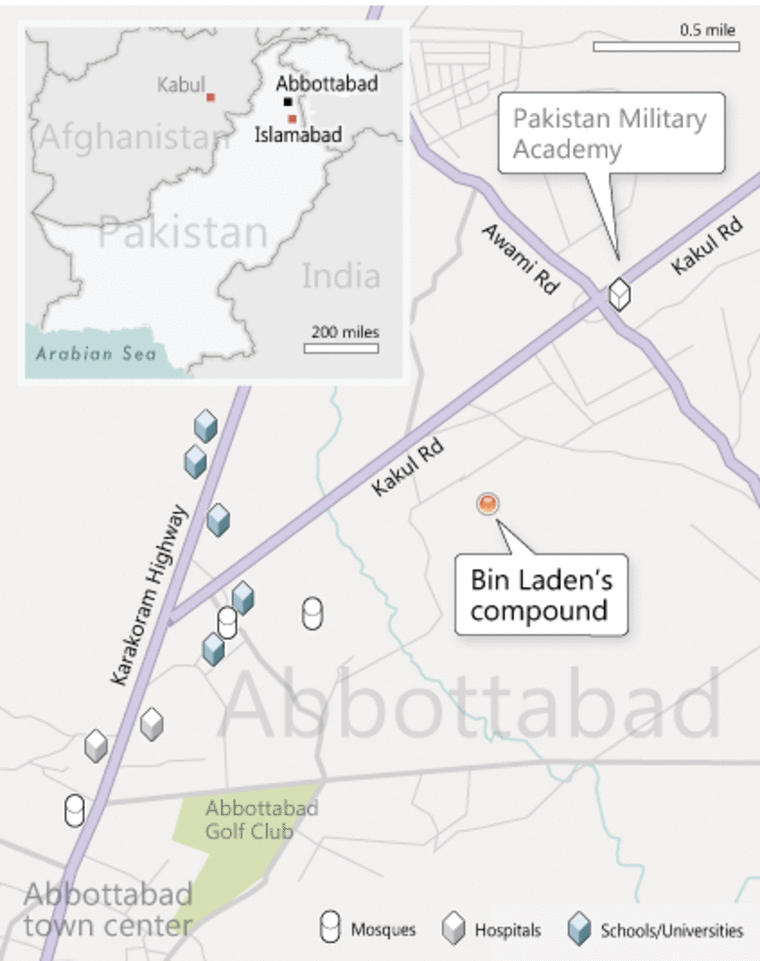 U.S. counterterrorism officials considered bombing the place, an option that was discarded by the White House as too risky, particularly if it turned out bin Laden was not there.
National Journal said U.S. authorities used intelligence about bin Laden's compound to build a replica of it and use it for trial runs in early April.
Obama held a crucial meeting last week in which his advisers debated three options for dealing with top-secret information about the luxury compound.
At a two-hour meeting in the ultra-secure Situation Room, the team discussed the pros and cons of a raid on the compound by a small group of elite U.S. forces, according to a senior administration official who spoke on condition of anonymity.
The two other alternatives were to conduct a strike or to wait for information that might lend greater clarity on whether the al-Qaida leader was indeed holed up there, the official said.
Obama's advisers were split at the Thursday meeting and the president took a night to think about the decision, the official said.
On Friday morning, just before leaving to visit tornado-hit Alabama, Obama revealed to a small group of aides that he had decided in favor of an immediate raid, the official said.
"It's a go," Obama told his advisers, as he ordered the operation that led to killing of the mastermind of the 9/11 attacks.
Obama signed an order on Friday for the team of SEALs to chopper onto the compound under the cover of darkness.
Obama and his aides feared delaying action too long would increase the risk that word of the surveillance might leak out and their target might flee, the official said.
On Sunday afternoon, Obama convened a meeting at the White House where the mood was "tense" and "anxiety-ridden" as the group monitored the unfolding operation on a screen, the official said.
'We got him, guys'
Those present included Brennan, Clinton, Defense Secretary Robert Gates and White House National Security Adviser Tom Donilon.
"We got him, guys," Obama said in reaction to the news of bin Laden's death.
In addition to bin Laden, one of his sons, Khalid, was killed in the raid, Brennan said. Bin Laden's wife was shot in the calf but survived, a U.S. official said. Also killed were the courier, another al-Qaida facilitator and an unidentified woman, officials said.