/ Source: The Associated Press
Thousands of volunteers flooded the hard-hit home of the University of Alabama with chainsaws, wrecking bars and food Saturday, offering help and hugs to tornado victims and causing traffic tie-ups reminiscent of a fall football weekend.
A long line of vehicles piled into a volunteer registration center where officials waived plans to make workers register because they couldn't keep up with the large number of people showing up to work.
Groups have had time since the storms struck April 27 to organize trips, and the turnout appeared far heavier than the first weekend after the twisters. With sunny weather and light winds, the governor's office asked volunteers to be patient with the heavy traffic.
Many volunteers wore Crimson Tide football gear, but Debra Wilson came more than 80 miles to help in an orange T-shirt, celebrating the national championship won by 'Bama archrival Auburn University.
Wilson said team allegiances don't matter at a time like this.
"I live in Alabama," said Wilson, of Dixon's Mills in southwest Alabama. "We just saw the destruction and felt the need and we wanted to be here to help."
Christian organizations including the Salvation Army and Samaritan's Purse set up operations to coordinate volunteers, along with numerous churches, but many people simply drove through hard-hit neighborhoods and got out where they saw a need.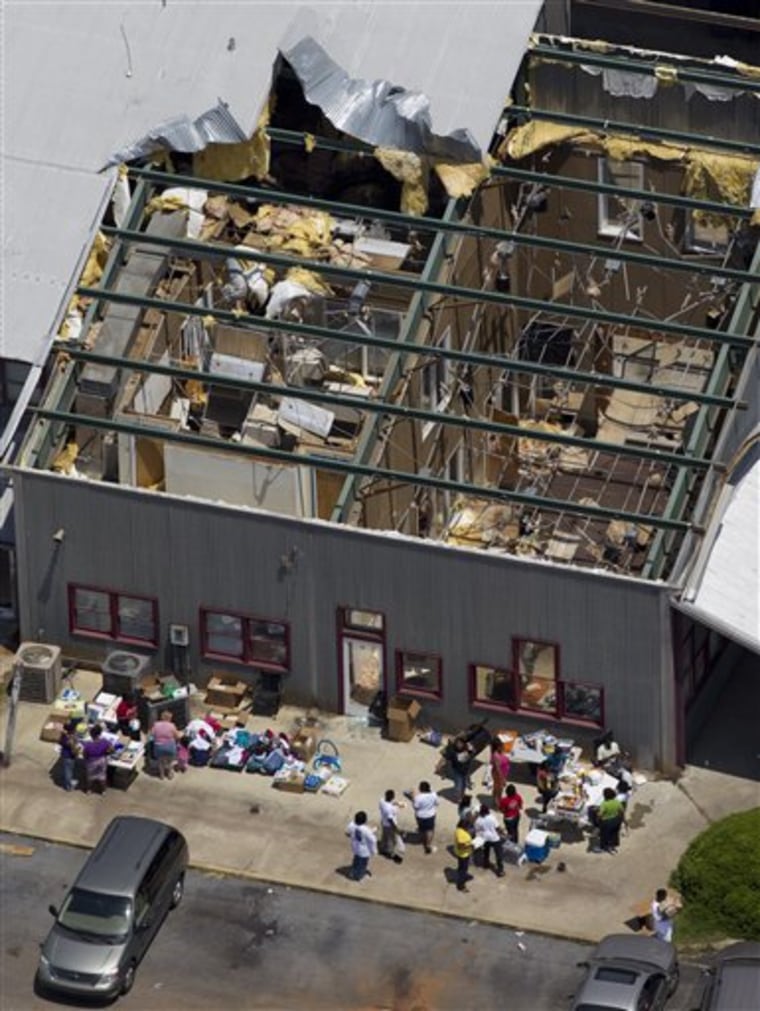 With volunteers swarming her property, single mother Sylvia Hannah watched as a group of strangers cut up hardwood trees that fell during the twister, crisscrossing her yard and knocking a hole in her roof. Hannah was overwhelmed by the aid, hugging sweaty men covered with sawdust.
"It's been a Godsend," she said, wiping away tears.
In another area, members of a church from Columbus, Miss., hugged and commiserated with Marilyn Latham, 75, after she finished talking with an insurance adjuster about her home, which was leveled to the foundation except for two small rooms in the back.
Not quite ready to begin cleaning up, Latham showed the group the remains of the house where she and her husband survived by lying down on the floor as winds up to 190 mph ripped apart the wood-frame structure.
"We're just trying to get ourselves together," she said.
The city said more than 2,600 volunteers registered to help with the cleanup by midday, and trucks, church buses and cars filled with workers clogged some roads in Tuscaloosa, a city of 94,000 where a tornado hit some of the most densely populated areas. Birmingham-area residents who loaded on to church buses and vans posted photos of volunteer work going on in towns including Pleasant Grove and Hackleburg; at least 18 died there.
Coordinating volunteers at an aid center in the parking lot of a small strip mall, Bell Gandy she didn't know how many people she'd helped or how many people had turned out to assist.
"We don't count. We just help," she said.