Basic goods are increasingly scarce in eastern Libya and the opposition government is rapidly running out of cash to fund its battle against Moammar Gadhafi, its Libyan-American finance minister said Monday.
The opposition Interim Transitional National Council (TNC) has been operating off money in the central bank and other private and public banks in rebel-held eastern Libya, said Ali Tarhouni, 60, a senior economics lecturer at the University of Washington before he rushed home to serve the opposition as minister of finance, oil and economics.
"We're running out of that money," he told msnbc.com in an interview in Washington, D.C., confirming a Reuters report that the opposition had three to four weeks of funds left. "No money is coming in from outside so far."
Among the challenges facing Tarhouni, who went into exile in 1974 and was sentenced to death in absentia by Gadhafi for his pro-democracy activities, are money-hoarding and foreign-exchange liquidity.
"We're faced with the same sanctions as Gadhafi," he said, referring to U.S. sanctions that have frozen more than $34 billion of Libyan government assets, in addition to U.N. and European sanctions. "I don't have access to any foreign exchange to cover any purchases, open lines of credits to merchants, so that's a very challenging aspect to what I do."
Part of the reason for his first U.S. trip since he left in late February to join the fledgling opposition council is to push for the quick unfreezing of some Libyan assets that the opposition has access to. U.S. Secretary of State Hillary Clinton said last weekend that the U.S. is willing to free up some of the funds, possibly $150 million in the short term.
'Time ... is of the essence'
"We need access to these sovereign funds, these frozen assets to finance the purchase of fuel, medicine, food — and it's an urgent matter, can't really wait," Tarhouni said. "… We're in a war, it's a question of speed, it's a question of time; time again is of the essence for this revolution."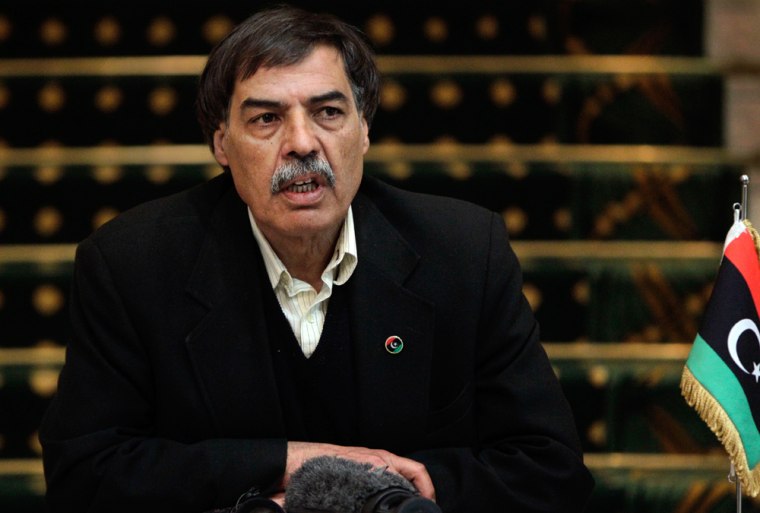 The oil fields under the council's control are producing, but only small amounts "that are not going to solve my economic problems," said Tarhouni, who is originally from the eastern city of Benghazi.
"My strategy for the oil sector is very simple: It's steady as she goes," he said, noting he had been in contact with many of the foreign oil companies and that all contracts would be honored — no matter who signed the deals. "I'm not looking at this sector now as a major producer of revenue to help our quest for liberating the rest of Libya."
Finding sources of income is "really the challenging aspect of what I am doing," he said. "Running an economy even during regular time is a challenging or tough assignment, but running it during a war with limited resources is that much more challenging."
Last week in Rome, the Libya Contact Group — 22 countries and organizations, including the U.S. — decided to create a fund that the rebels can use to provide for basic needs, The Associated Press reported. Nations have already pledged $250 million in humanitarian aid, Italy's Foreign Minister Franco Frattini said.
But humanitarian aid won't enable the opposition forces to gain the upper hand on the battlefield, since it can't be used to buy modern weaponry, Tarhouni said.
But the opposition leadership draws encouragement from the fact that Gadhafi's financial woes are almost as bad as theirs.
"It's very hard to make a case for his survival," said Tarhouni. "Here is a dictator who basically lost legitimacy globally, in the Arab world, the Islamic world, domestically. He is encircled. He can't really get access to any of money, at least in amounts that solve his problems. He can't get the armament that he wants … so basically he is getting squeezed. How could he survive; how could he last long? It's just a question of time."
Underestimating Gadhafi's strength
But Tarhouni, who holds a doctorate in economics and finance from Michigan State University, acknowledges that some members of the opposition thought Gadhafi would have been kicked out of the country sooner.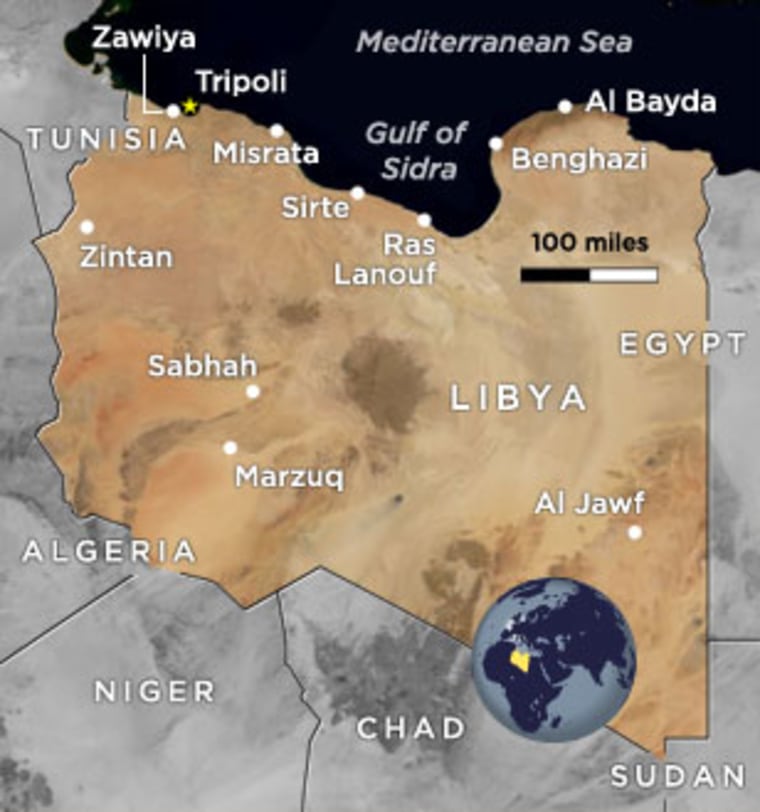 "We definitely underestimated his military strength and we also underestimated his ability to survive," he said. "The gamble was that all of the other cities would join in, and this didn't happen as fast, and he had a little bit of time to get himself ready."
The conflict has raged across Libya since mid-February. After a series of rebellions swept through numerous cities, Gadhafi's forces mounted a counterattack, allegedly using cluster bombs and anti-aircraft weapons against civilians. In mid-March, Gadhafi made a strong push across the country's east, until the U.N. Security Council approved a no-fly zone to protect civilians — and NATO stepped in to enforce it.
"He showed his face that for him to survive, for him to stay in power, there are really no limits," Tarhouni said, adding that he believed Gadhafi had been committing crimes against humanity during his 42 years in power.
Tarhouni, who said he clashed ideologically with Gadhafi while a member of a pro-democracy student union in Libya, left the country in 1974. He said his name was put on a hit list in the 1980s and that at least 20 people on that list were killed in Europe.
He also said that Gadhafi reached out to him at various times in apparent bids for reconciliation.
"Throughout the years, he sent different emissaries to me and to other opposition members, but I refused to talk to him," Tarhouni said. "I always thought they are illegitimate thugs who basically took a peaceful country and changed it to a cesspool for no reason whatsoever — and I took that personal."
After moving to the U.S. and lining up a teaching position, he said he had started to lose hope that a revolt would take place. But once it happened, he said he knew exactly what he had to do.
'The best decision I've ever made'
"I didn't hesitate, and I think that's the best decision that I ever made," he said, noting he had the support of his wife and four children — three sons and a daughter ranging in ages from 16 to 28. "I'm doing exactly what I want to do, what I dreamed of doing."
Despite the seemingly obvious risks, he said he wasn't taking any.
"I think the thousands of people who died are the ones who took the real risk," he said, adding that back home in Seattle the hardest decisions were deciding what to have for lunch or which highway to take. "It's amazing how we change over a short period of time."
He raised the risk-taking to another level when he hopped on a small fishing boat and made the perilous journey to the besieged city of Misrata, which lies on a road linking the key oil town of Sirte — the base of Gadhafi's tribe — in the east to Tripoli in the west.
The city, the country's third largest, has endured continuous attacks from Gadhafi forces, as well as shortages of food, fuel and medicine. Despite the onslaught and deprivation, opposition fighters have recently retaken much of the city.
"I went to Misrata to raise the morale of the people, yeah, and actually … they raised my morale," Tarhouni said. "It's a city that basically understands, not only that they are defending their city, they know exactly that they are defending the future of Libya. The strategic position of Misrata, his attempt to separate west from east, it's very clear for them. … They are brave people."
Seeking U.S. recognition
Tarhouni will visit with several high-ranking U.S. officials and members of Congress during his visit, where he plans to also push Washington to recognize the council as the legitimate government of Libya.
Last week, the council's prime minister presented plans for an interim government, including a committee to draw up a constitution that the people would vote on, and parliamentary and presidential elections, AP reported.
Still, Tarhouni doesn't expect the road to a unified Libya with a democratic government will be easy.
"It's going to be challenging. You need to build a lot of institutions from scratch. Having a constitution by itself doesn't mean that you have a democracy … you need to inform people and you need to teach people," he said. "… We will tackle this. … We will build a decent society for the next generations."
Follow Miranda Leitsinger on