/ Source: msnbc.com news services
Syria's government said the threat from a seven-week uprising against President Bashar Assad was receding as security forces tightened control on Tuesday over protest centers across the country.
Amid the tightening, the Obama administration edged closer to calling for an end to the long rule of the Assad family in Syria as activists said that they were losing hope of ousting the president.
"I hope we are witnessing the end of the story," presidential adviser Bouthaina Shaaban told a New York Times correspondent allowed into the country for a few hours while most foreign journalists have been banned.
"I think now we've passed the most dangerous moment."
Syrian forces released on Tuesday 300 people who had been arrested in Banias since tanks stormed residential areas in the coastal city last week, the Syrian Observatory for Human Rights said.
Water, telecommunications and electricity have been restored, but tanks remain deployed in major streets, the Observatory said. Another 200 people, among them pro-democracy protest leaders, remained in jail, the group said.
Assad, who has maintained Syria's authoritarian Baath Party rule since inheriting power from his father in 2000, held out the prospect of political reform when unrest first erupted in March but turned to the military two weeks ago to crush dissent.
"The military option has worked," said one activist from Damascus, who cannot be named for his own safety. "One way or another things are settled now. We have lost a golden and rare opportunity to do something. Now it is lost.
"The protests will continue but will not grow in popularity. The (security) operations will continue... Regardless of what people think, this regime has not used force yet, it can be more aggressive," he said.
Debate in Washington
In Washington, administration officials said Tuesday that a major policy shift that would amount to a call for regime change is possible. The first step would be to say for the first time that Assad has forfeited his legitimacy to rule.
The tougher U.S. line almost certainly would echo demands for "democratic transition" that the administration used in Egypt and is now espousing in Libya, the officials said. But directly challenging Assad's leadership is a decision fraught with problems: Arab countries are divided, Europe is still trying to gauge its response, and there are major doubts over how far the United States could go to back up its words with action.
If the Syrian government should persist with its harsh crackdown on political opponents, the United States could be forced into choosing between an undesired military operation to protect civilians, as in Libya, or an embarrassing U-turn that makes it look weak before an Arab world that is on the tipping point between greater democracy or greater repression.
The internal administration debate over a tougher approach to Assad's regime is occurring amid a backdrop of brutality in Syria. More than 750 civilians have been killed since the uprising began nearly two months ago and some 9,000 people remain in custody, according to a leading Syrian human rights group.
"We urge the Syrian government to stop shooting protesters, to allow for peaceful marches and to stop these campaigns of arbitrary arrests and to start a meaningful dialogue," State Department spokesman Mark Toner said Tuesday. He said Assad still had a chance to make amends, but acknowledged "the window is narrowing."
Killings listed
Ammar Qurabi, who heads the National Organization for Human Rights in Syria, said the group has lists of names, ages, causes of death and the area where the people were killed.
Qurabi added that thousands of people have been detained in the past two months, including about 9,000 still in custody.
He spoke to The Associated Press on Tuesday as Syrian forces conducted operations in several hot spots throughout the country.
An activist, speaking on condition of anonymity for fear of government reprisals, told The Associated Press that troops backed by tanks entered several southern villages near the flashpoint city of Daraa Tuesday.
The activist said heavy gunfire was heard when the troops entered Inkhil, Dael, Jassem, Sanamein and Nawa after midnight. It was not clear if there were casualties, he said.
The city, near the Jordanian border, has been cut off for the past two weeks.
Intense operations
The regime appeared determined to crush the uprising by force and intimidation, despite rapidly growing international outrage and the growing death toll.
Human rights activist Mustafa Osso said some of the most intense operations were taking place in the Damascus suburb of Maadamiyeh, which has been sealed for days.
He said telecommunications have been cut and checkpoints were preventing anyone from entering or leaving the area.
"Maadamiyeh is isolated from the rest of the world," Osso said.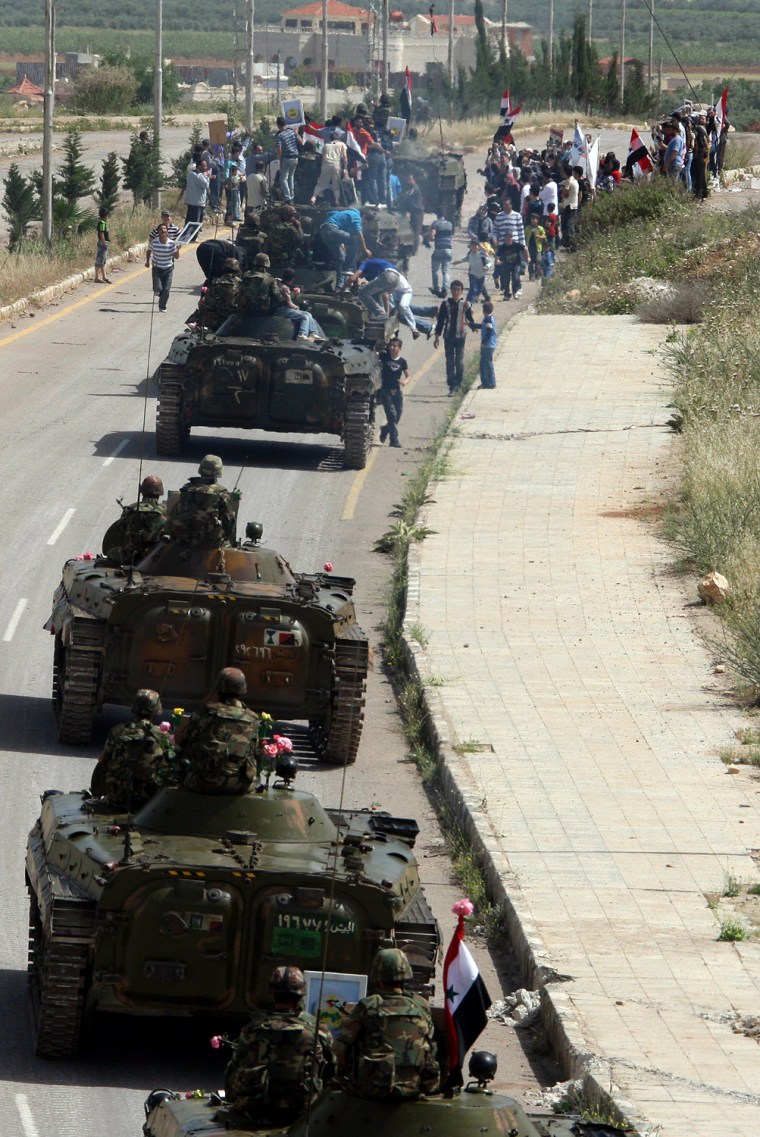 The army was also conducting operations in the coastal city of Banias, the central city of Homs, and the northern city of Deir el-Zor, Osso said.
"Any area where there are demonstrations, the government is sending the army," he said.
Rights groups said hundreds of people have been detained over the past few days in different areas.
Also Tuesday, a religious leader who resigned last month in disgust over the killings of protesters in the province of Daraa withdrew his resignation.
Sheikh Rizq Abdul-Rahim Abazeid, mufti of the Daraa region, resigned April 23 after shootings by security forces killed scores of people.
"I cannot tolerate the blood of our innocent sons and children being shed," Abazeid told The Associated Press after stepping down.
But in an interview with a Syrian satellite TV channel, Abazeid said his resignation was a result of "severe pressure and intimidation," including death threats.
In neighboring Jordan, Jordanian taxi driver Shadi Zouebi said he was mistreated while in Syrian custody for three weeks. The man, who ferries passengers and goods between Jordan and Syria, refused to provide details.
Beaten to point of suicide?
Jordanian newspapers reported that Syrian intelligence agents pushed his head into a toilet and beat him so badly that he considered committing suicide.
Zouebi is the first of 20 Jordanians held by Syria to be freed under negotiations by Jordan's Foreign Ministry.
Syrian authorities also released two veteran opposition figures who were arrested last month.