/ Source: The Associated Press
Groundbreaking Chinese artist Ai Weiwei appeared healthy but tense during his first meeting with family since he was detained more than a month ago, and authorities still haven't explained why he was seized, his wife said Monday.
Lu Qing told The Associated Press she was allowed to meet with her husband at an unknown location for around twenty minutes Sunday afternoon and that he seemed conflicted and upset, though insisted he was healthy and his physical needs were being met.
The avant-garde artist and fearless government critic was taken into custody April 3, and has been held incommunicado since though has yet to be charged with any crime. His case has prompted an outpouring of support for Ai in the art world and an outcry from officials in the U.S. and EU who said his treatment is a sign of China's deteriorating human rights.
The Foreign Ministry has said Ai is being investigated for suspected economic crimes, but his detention comes amid a crackdown on dissent apparently sparked by fears that anti-government demonstrations such as those in the Arab world could erupt in China. Ai had been keeping an informal tally on Twitter of the dozens of bloggers, writers and other intellectuals who were being detained or arrested in the campaign before he was taken away.
Lu said two other people were present during the brief meeting, including one person "who seemed to be in charge of Ai," and another who took notes.
"He seemed conflicted, contained, his face was tense," Lu said. "I could see redness in his eyes. It was obvious that without freedom to express himself he was not behaving naturally even with me, someone from his family."
Lu said Ai was not handcuffed and was wearing his own clothes instead of a detention center uniform. His trademark beard had not been shaven.
Lu said the people that arranged the visit, who showed her no identification, made it clear that no questions other than health-related ones were allowed.
"We could not talk about the economic charges or other stuff, mainly about the family and health," she said. "We were careful, we knew that the deal could be broken at any moment, so we were careful."
Residential surveillance
Ai, 53, suffers from high blood pressure and diabetes. He told his wife that he takes long walks everyday, has his blood pressure checked 7 times a day, is often weighted, and that he eats and sleeps very well.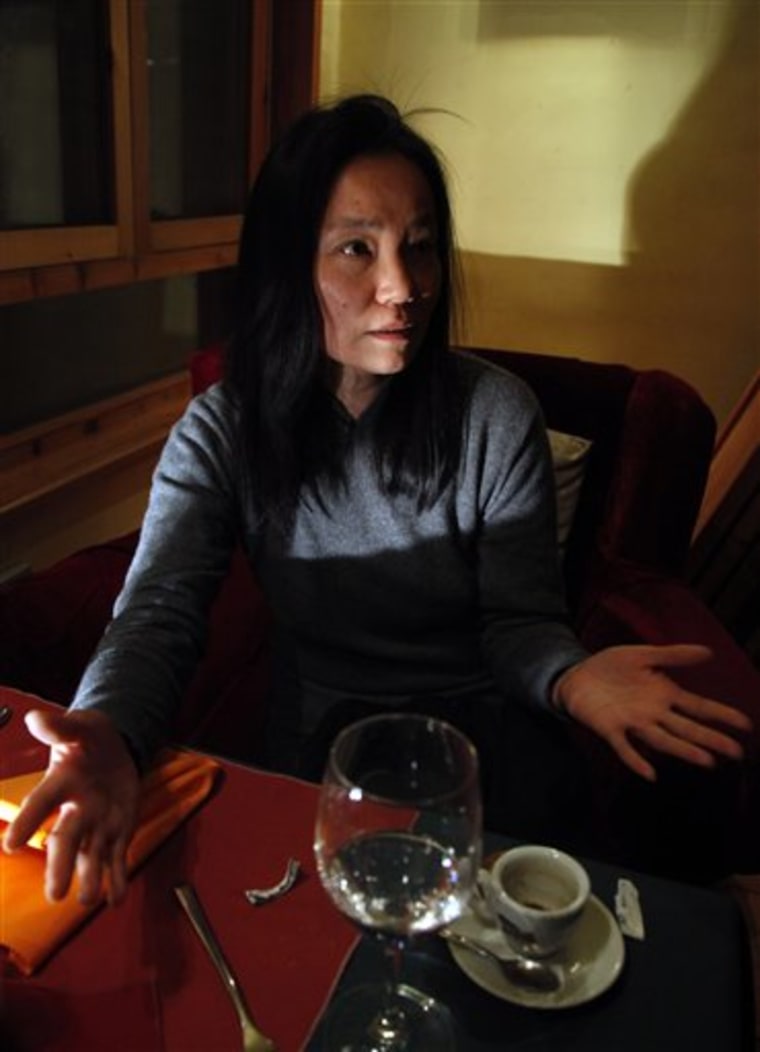 Despite the visit, much about Ai's case remains murky. Family visits are rarely allowed for suspects under criminal investigation until after they are formally charged.
Liu Xiaoyuan, a lawyer and friend of Ai's, said it sounded like Ai was being held under residential surveillance somewhere outside Beijing.
Chinese law allows police to impose residential surveillance for up to six months before requiring them to make a decision about how to proceed with a case, as opposed to 30 days under criminal detention, said Joshua Rosenzweig, a Hong Kong-based research manager for the U.S. human rights group Dui Hua Foundation.
Such surveillance usually takes place at the suspect's home and is "supposed to be a less restrictive measure than detention," Rosenzweig said in an email. "Instead, the police seem to be using residential surveillance as a way to legitimize extended, incommunicado detention outside of a regular detention facility."
Ai's elder sister Gao Ge said that her family is relieved to know that Ai is well, but hopes the government can clarify what is going on with his case.
"Now that we've seen that his health is OK, of course we are a bit less anxious, but that's not to say we want him to stay where he is," Gao said. "We really want this case to be dealt with as soon as possible and for the government to follow proper procedures in keeping with Chinese law."
Social activist
U.S. Secretary of State Hillary Rodham Clinton and officials from the European Union and elsewhere have called on China to release Ai and criticized Beijing for what they say is backsliding on human rights.
Ai is famous in artistic circles for performance pieces that explored the dizzying change of contemporary China and, more popularly, for being a designer on the iconic "Bird's Nest" national stadium for the 2008 Beijing Olympics.
Ai Weiwei, whose sculpture representing the mythical figures of the Chinese zodiac will be unveiled Monday in New York, has been detained by Chinese authorities and accused of serious crimes. Click to see photos of some of his most influential works.
One of his photo series shows him giving the middle finger to international landmarks such as Tiananmen Square in Beijing and the U.S. White House.
His influence has ranged far beyond that of the usual contemporary artist. His outrage at the deaths of so many students in the Sichuan earthquake in 2008 turned him into a social activist and tapped into anger among many Chinese at official corruption and indifference. He took to Twitter, prolifically tweeting not only his social criticism but his everyday doings, attracting more than 70,000 followers, even though Twitter is blocked by China's Internet filtering.
Art museums such as the Tate in London, collectors and artists have rallied behind him since he disappeared. At the launch of exhibition of Ai's sculpture earlier this month, New York Mayor Michael Bloomberg said fearlessness in the face of official intimidation spoke to "the indomitable desire for freedom that is inside every human being."