/ Source: msnbc.com news services
Israel's frontiers were quiet Monday after a violent day of border breaches, the military said.
I sraeli troops shot Palestinian protesters who surged toward its frontiers with Syria, Lebanon and Gaza on Sunday, killing on the day Palestinians mourn the establishment of Israel in 1948.
In the deadliest such confrontation in years of anniversary clashes usually confined to the West Bank and Gaza, Israeli forces opened fire in three separate border locations to prevent crowds of demonstrators from crossing frontier lines.
The new challenge to Israel came from the borders of Lebanon, Syria, Jordan and Gaza — all home to hundreds of thousands of Palestinians who fled or were driven out in 1948.
Elswhere, Egyptian riot police fired tear gas and live ammunition overnight to disperse thousands of pro-Palestinian protesters outside the Israeli Embassy in Cairo. A security official said Monday that at least 20 demonstrators were arrested.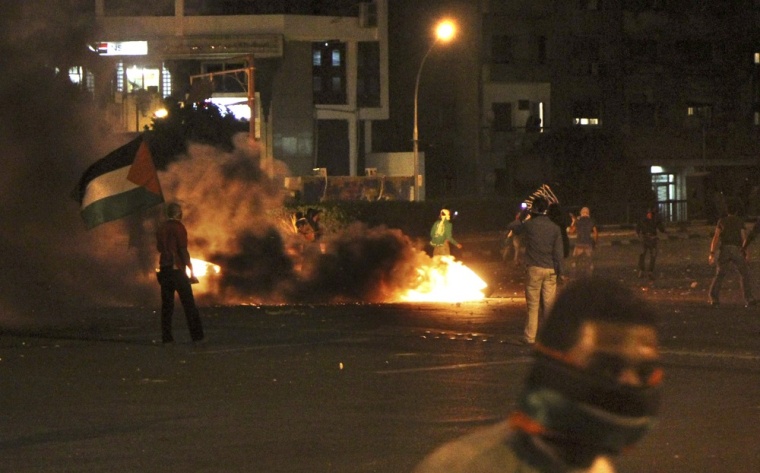 The rally in Cairo followed calls on Facebook for Arabs to march on Israel on Sunday in support of the Palestinians, who were holding annual ceremonies marking the "nakba," or "catastrophe" — the term Palestinians use to describe their defeat and displacement in the war that followed Israel's 1948 founding.
Egypt's Health Ministry said at least 353 people were hurt outside the embassy, mostly from smoke inhalation. A security official said that some protesters sustained bullet wounds and that one protester was in critical condition. The official spoke on condition of anonymity because he wasn't authorized to talk to the media.
Egypt's state-run news agency MENA said the protesters managed to push aside barricades placed around the embassy building and attempted to storm the embassy itself to tear down the Israeli flag, which prompted the police action.
The protesters set fire to an Israeli flag, chanted anti-Israeli slogans and called for the expulsion of Israel's ambassador and the closure of the embassy.
Combined with a public relations disaster last year over the killing of pro-Palestinian activists in a Gaza aid flotilla and a determined Palestinian diplomatic drive to win U.N. recognition of statehood in September this year, the bloody border protests raised the stakes further for Israel.
Israel's leaders condemned the incidents as provocations inspired by Iran, to exploit Palestinian nationalist feeling fueled by the popular revolts of the "Arab Spring," and to draw attention from major internal unrest in Syria, Iran's ally.