/ Source: msnbc.com staff and news service reports
Less floodwater than initially thought will end up swamping Cajun towns and farms, officials said Monday. That'll make the difference between wet or dry for some, but others — those who live in areas where up to 20 feet was expected — will still see flooded property.
"The crests have been lowered modestly in a number of places," Louisiana Gov. Bobby Jindal told reporters after being briefed by the Army Corps of Engineers. As a result, fewer flood gates at the Morganza Spillway will likely have to be opened.
But the possibility of "backwater flooding" for areas not protected by levees and earthen works was still high, he added. "We are still looking at a very significant amount of water," Jindal said. "We know it's going to impact households. We know it's going to impact families."
The Corps reported that Mississippi River floodwater "is not rising as quickly in the (Morganza) Spillway as they expected because their projections used 1973 data, which is not specifically geared to this exact situation, and because of drought conditions absorbing much of the water, which were not factored into their projections," Jindal's office said in a statement.
That slight piece of good news didn't stop crews and remaining residents from last-minute sandbagging and levee construction.
In towns like Amelia, about 100 miles south of the spillway that was opened Saturday, crews worked around the clock to build earthworks and reinforce levees ahead of water expected to reach the area by Tuesday.
"I hope they know what they are doing," said Hue Tran, who was watching the giant dump trucks.
The flooding earlier submerged parts of Memphis, Tenn., where President Barack Obama arrived on Monday to meet with impacted families before delivering a high school commencement address.
Other Louisiana towns, like Krotz Springs, Butte LaRose and Morgan City, also were making plans for severe flooding that could last for three weeks before the water works its way to the Gulf of Mexico.
A hand-painted sign in front a deserted Butte LaRose home said it all: "My slice of heaven force-flooded straight to hell. God help us all."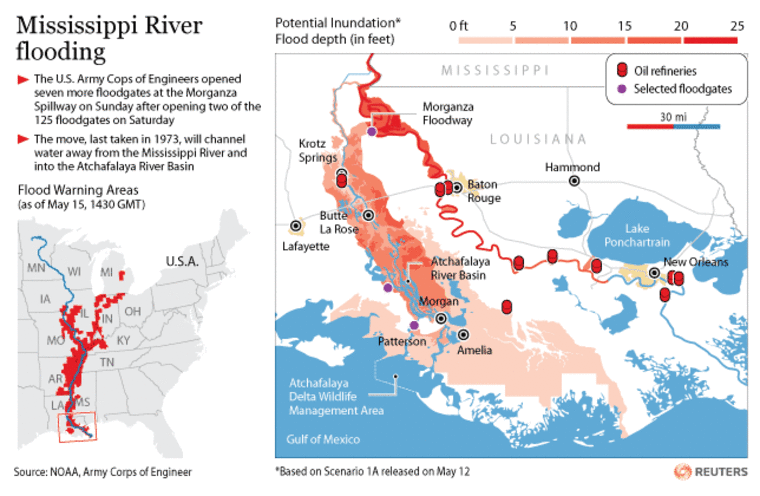 In Stephensville, a small town near Morgan City, Ronnie Wiggins and his neighbors furiously filled sandbags to protect their houses.
Wiggins had few kind words to say about the spillway's opening.
"It's all about saving Baton Rouge and New Orleans while they flood people down here," Wiggins said, pointing out that most people in his neighborhood did not carry flood insurance.
"So I guess it's all about saving the rich and burying the poor?" he asked.
In Krotz Springs, which will be among the first towns to feel the flood's effects, Kathy Reed-Eason spent the weekend moving her parents' belongings out of harm's way.
"My mom was crying," Reed-Eason said. "Mom said she'd go look at the river, and get out of the house."
About 2,000 people on Sunday were ordered to evacuate from St. Landry Parish, just south of Krotz Springs.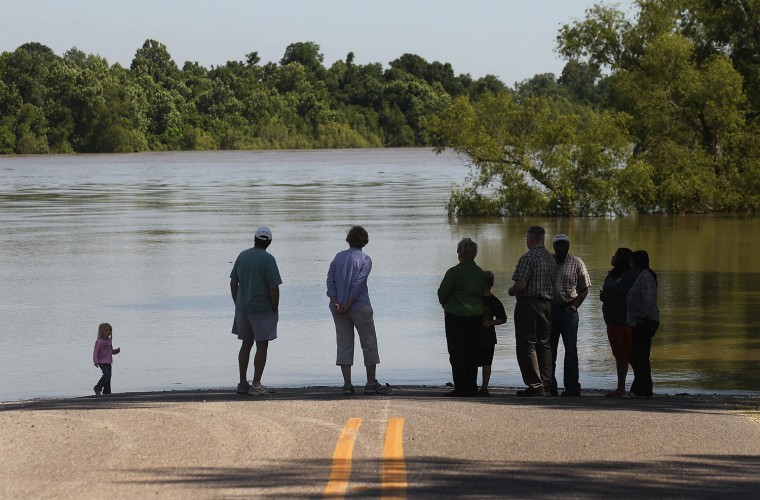 In Krotz Springs itself, locals were also urged to leave by Sunday afternoon.
Renee Ledoux cried when the National Guard and sheriff's deputies showed up at her front door.
But by the 5 p.m. deadline, the 44-year-old Ledoux and her boyfriend Billy Hanchett decided to ride it out one more night on air mattresses inside the empty home in Krotz Springs. They have a camper they plan to stay in on a friend's property outside the flood zone.
"We really don't want to go," Hanchett said. Ledoux added that she felt blessed that they had the camper because a lot of others have nowhere to go except shelters.
Despite the mandatory evacuation order, Krotz Springs town clerk Suzanne Bellau said it was unlikely the sheriff's office would force people to leave. For most, the worst part was wondering what may happen. National Guardsmen were building a second levee to bolster protection for the town.
"It's the unknown, that's the problem," Bellau said. "Is it going to come into their homes or not? And the people who are leaving, what are they coming back to?"
About 2,500 people live in the Morganza Spillway's flood path. Some 22,500 others, along with 11,000 buildings, could be affected by backwater flooding — the water pushed back into streams and tributaries that cannot flow normally into what will be an overwhelmed Atchafalaya River.

Some 3,000 square miles of land could be inundated in up to 20 feet of water for several weeks. When flows peak around May 22, the spillway will carry about 125,000 cubic feet per second, about one quarter of its capacity.
Deputies all over Louisiana Cajun country were warning residents to head for higher ground and most heeded it, even in places where there hasn't been so much as a trickle, hopeful that the flooding engineered to protect heavily populated New Orleans and Baton Rouge would be merciful to their way of life.
Days ago, many of the towns known for their Cajun culture bustled with activity as people filled sandbags and cleared out belongings.
By Sunday, some areas were virtually empty as the water from the Mississippi River, swollen by snowmelt and heavy rains, slowly rolled across the Atchafalaya River basin. It first started to come, in small amounts, into people's yards in Melville, about 11 miles north of Krotz Springs and where evacuations are mandatory.
Mary Ryder, her fiance and her fiance's father were loading up a trailer with as many belongings as they could fit to drive over the levee to stay with relatives on the other side of Melville.
"They say we have to leave town. We have nowhere to go," she said. "What are we going to do? I have no idea. We need help up here."
Some 18,000 acres of cropland could be flooded as waters rise, hitting their crest in about a week and remaining high for several weeks.

Failing to open the spillway would have put New Orleans at risk of flooding that, according to computer models, would eclipse that seen during Hurricane Katrina in 2005. About 80 percent of the city was flooded by Katrina and 1,600 people were killed.

In addition to threatening densely populated areas, lower Mississippi flooding was a risk for as many as eight refineries and at least one nuclear power plant alongside the river.

The refineries make up about 12 percent of the nation's capacity for making gasoline and other fuels.

The Army Corps of Engineers said the gradual opening of the spillway's gates would prevent an immediate rush of water.
Alon USA Energy was working on Sunday to build a levee around its 80,000 barrel-per-day refinery in Krotz Springs, which expects to be surrounded by water within 14 days of the spillway opening.



In Butte LaRose, some 50 miles downstream from the Morganza Spillway, Chalmers Wheat was among the few left — and even he was headed for his father's home in Baton Rouge outside the flood zone. He and his twin brother, Chandler, were making a few final preparations to protect his home with plastic lining and sandbags.
"It's almost like a ghost town," said Wheat.
It seemed animals didn't want to be stuck either: Deer, hogs and rabbits have started running from the water flowing near the floodgates, said Lt. Col. Joey Broussard of the Louisiana Department of Wildlife and Fisheries. An electronic sign on Interstate 10 warned of a possible animal exodus: "Wildlife crossing possible. Use caution," it read.
It will be at least a week before the Mississippi River crest arrives at the Morganza Spillway, where officials opened two massive gates on Saturday and another seven on Sunday. There are 125 in all. The Mississippi has broken river-level records that had held since the 1920s in some places.
The Army Corps of Engineers has taken drastic steps to prevent flooding. Engineers blew up a levee in Missouri — inundating an estimated 200 square miles of farmland and damaging or destroying about 100 homes — to take the pressure off floodwalls protecting the town of Cairo, Ill., population 2,800.
The Morganza flooding is more controlled, however, and residents are warned each year that the spillway could be opened. A spillway at the 7,000-foot Bonnet Carre structure in Louisiana also has been opened.