/ Source: msnbc.com staff and news service reports
The move to protect New Orleans and Baton Rouge has come at the expense of more rural haunts like Stephensville, about 46 miles south of Baton Rouge, where a tiny elementary school has a bayou in back, the Atchafalaya River levee in front — and Mississippi River water coming at it.
"When you have a swamp at your back door and the Atchafalaya levee at your front door, you really are between a rock and a hard place," said Dan Rawls, principal of Stephensville Elementary School, just north of Morgan City.

And that's the dilemma facing many who live in the basin after the Morganza Spillway was opened Saturday to divert Mississippi River water onto rural land.
While levees along the Atchafalaya River are expected to hold, water in tributaries and bayous like the waterway behind the Stephensville school can't flow into the larger swollen river, causing "backwater" flooding.

But rather than give up, school staff, disaster response crews and the National Guard spent the last two weeks building a dirt levee behind the school. As for classes, they've been canceled for the rest of the school year.

Rawls, sweaty and red-faced, said he expects the school to flood, but hopes to mitigate the damage.

"We have no guarantees, just prepare the hardest you can and the best you can," he said. "We were identified as one of the first sites to go under. At least we had two weeks — people hit by tornadoes might not even have a few minutes."
If it does flood, it won't be the first time disaster has struck. In 1992, Hurricane Andrew destroyed the school building.
The Mississippi River waters could get to Stephensville and nearby Morgan City by Friday, Louisiana Gov. Bobby Jindal said Tuesday.
Some 5,000 people have already evacuated and nearly 1,500 homes have had their power cut off as the controlled flooding meant to protect urban areas makes its way south toward the Gulf of Mexico, Jindal added.
In the first detailed assessment of the disruptions, Jindal added that Mississippi River waters were just a few miles north of the town Krotz Springs.
"Bottom line: The water's still heading our way," he told reporters, noting that many places will see high water for up to three weeks.
Some 14,000 homes and other structures could still be impacted, Jindal said.
No shelters have been opened, he noted, indicating that most people have moved in with relatives or friends.
A few families have moved into a farming community built for evacuees of Hurricane Katrina.
Twenty-six families have moved into the enclave because their towns were threatened by flooding from the Mississippi River and smaller rivers that spring from it.
The haven, informally known as Canadaville, was created by a Canadian industrialist and had a onetime population of around 200 residents displaced by the 2005 hurricane, but it had dwindled to just a handful by the time people from nearby towns began looking for a place to wait out the flood.
Tonya Nelson, 39, one of the few Katrina evacuees still there, said she recognized the look on their faces.
"I can understand what they're going through because I've been through it myself," she said.
The Mississippi River, swollen by snow melt and heavy spring rains, has caused widespread flooding as the crest of the water heads south.
The river is expected to rise nearly another foot in Vicksburg, Miss., before Thursday, when it should crest at 57.5 feet — 14.5 feet above flood level. On Monday, Vicksburg saw the level break the 56.2 feet record set in 1927.
The Yazoo Backwater Levee has a foot of earth remaining before waters begin lapping over it, said Marty Pope, senior hydrologist with the National Weather Service.
"You can see it right now ready to come over the top," said Ed McGuiness, a cattle farmer who lives near Vicksburg. "It is like a slow death."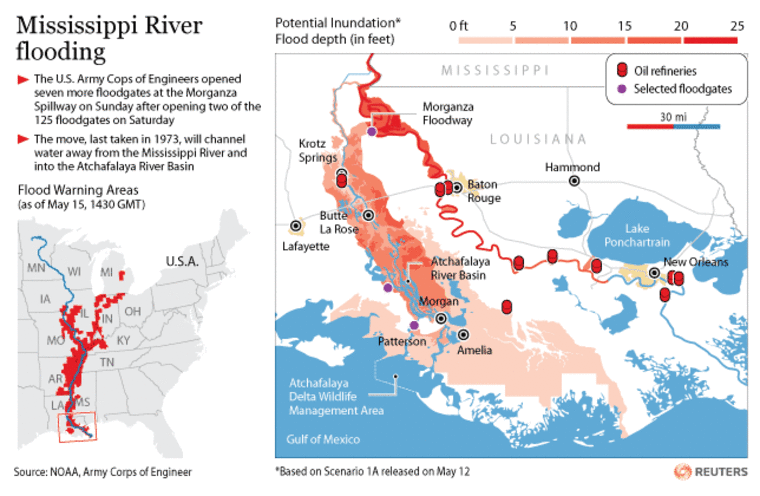 To take pressure off levees surrounding heavily populated New Orleans and Baton Rouge, the Army Corps of Engineers opened the key Morganza Spillway Saturday, choosing to flood more rural areas with fewer homes.
However, officials said Monday that less floodwater than initially thought would end up swamping Cajun towns and farms. That'll make the difference between wet or dry for some, but others — those who live in areas where up to 20 feet was expected — will still see flooded property.
Open gates at the spillway allow 30 percent of the Mississippi's water into the Atchafalaya River. So with the Mississippi at record levels, the Atchafalaya is high, too.
Some of the evacuees have flocked to Canadaville, a 900-acre development that was officially named Magnaville when it opened a few months after Katrina because it was created by the head of Canadian auto parts maker Magna International.
Hurricane-displaced families could live rent-free if they passed a background check and followed the rules.
Before the flooding, only four of the 49 houses were being used.
"I think we're going to fill up," said Shane Carmichael, a Magna official who oversees the project.
Ashley Michot said she, her husband, and their three children left the Marksville area Monday, two days after water began to be released at the Morganza Spillway.
They got the evacuation order over the weekend, though water hadn't yet reached their house. Officials say most residents have heeded the call to evacuate.
"It's crazy. My grandpa's home he built 27 years ago is going to get wiped away," she said.
Elsewhere, residents were still packing up. Bernadine Turner, who lives in a mandatory evacuation zone near Krotz Springs, spent a third day Monday moving her things out. Water was not expected to reach the town about 40 miles west of Baton Rouge for several days, but most residents were taking no chances.
"There's no doubt it's going to come up. We don't have flood insurance, and most people here don't. Man, it would be hard to start all over," she said.
In New Orleans, workers inspect the levees daily to look for potential trouble spots.
The levees there — which are not among those that failed along canals after Hurricane Katrina — have survived high water before and will survive this latest test, city officials said.