It's moving and mating season for Florida's estimated 1.3 million alligators, and experts are warning locals as well as tourists to stay out of the way.
Re-energizing after their winter lull, alligators each spring leave their watery homes in search of food, a mate and, eventually, sex.
Courtship typically is in April, followed by mating in May and June, according to the Florida Fish and Wildlife Conservation Commission.
There's more. "Females then seek out appropriate nesting habitats in which to build their nests and lay their eggs," says Kent Vliet, an alligator expert at the University of Florida. Moreover, "adult alligators will commonly kill juvenile or subadult alligators. So, these smaller animals are frequently moving in response to the movements of adults."
All that activity can lead to unwanted appearances and interactions with humans.
Florida averages about seven unprovoked bites a year that are serious enough for special medical treatment, the commission states. "The frequency of these serious bites is increasing at a rate of about 3 percent each year, or one additional bite every 4-5 years."
The agency does offer this more comforting fact: The likelihood of being seriously injured is only one in 2.4 million.
Still, in just the last few weeks, alligators have been more visible outside of the water and on land. Some examples:
Once on the path to extinction, the American alligator is now so healthy in Florida that it's present in all 67 counties.
To manage its alligator population, Florida has a hunting season as well as licensed trappers throughout the year.
A commission hotline to report "nuisance" alligators gets about 100-150 phone calls a day.
A hunting permit costs $271.50 for residents, $1,021.50 for out of staters). More than 6,000 are being issued for this season, which runs from Aug. 15 to Nov. 1.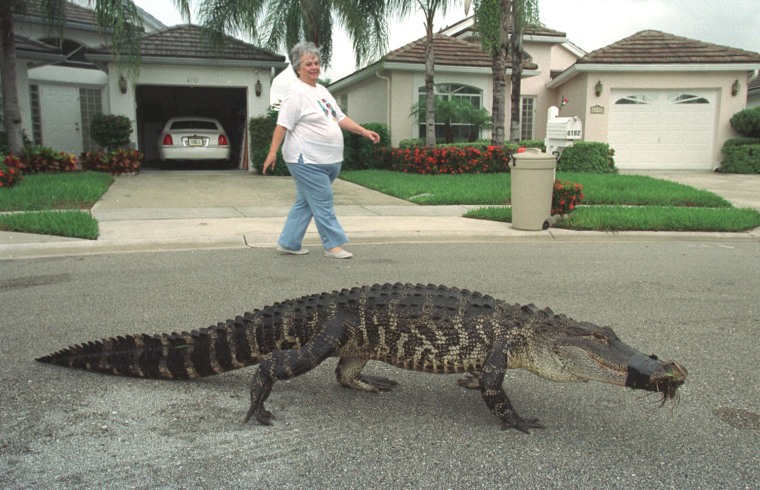 As for trappers, there appears to be a shortage in some counties. The wildlife commission recently issued a notice asking for people to apply for the jobs.
"Applicants must have a clean criminal history and no fish or wildlife law violations," it stated.
Vliet, the alligator expert, says Floridians have to learn to live with their native neighbors.
"Alligators, moving about at night, often find themselves in trouble when the sun rises — stuck along someone's fence, trapped in the front stoop or back porch of someone's home or, worse yet, pushing themselves through a screen door or pet door and ending up in the house," he says.
"People build their homes on lakes, canals and rivers, which is rightfully where alligators belong, so it should not be surprising that they show up where most people would rather not find them," he adds.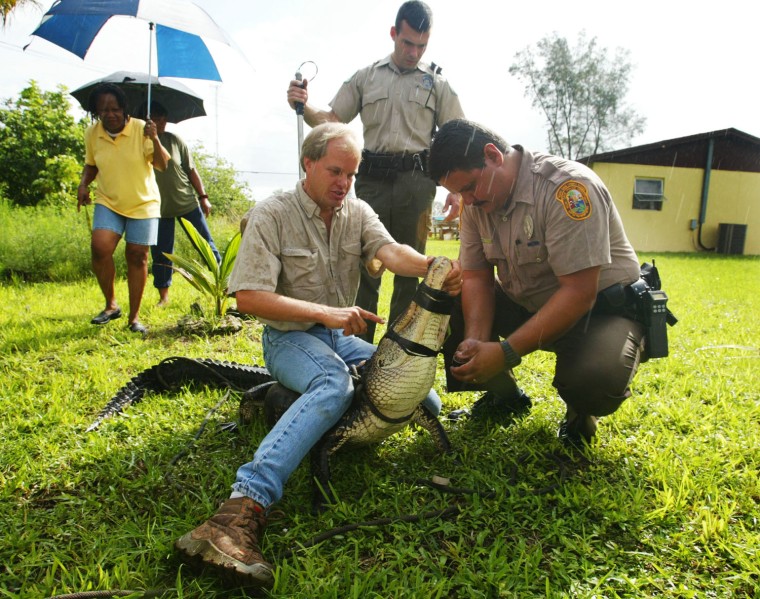 He recalls one specimen, now at the Florida Museum of Natural History, "that was collected from the drive-through of a local hamburger joint. It had been run over so many times it was basically flat."
So is there a proper ratio of alligators to humans that suits Florida?
"This is completely a matter of human tolerance," says Vliet. "I could easily tolerate many more alligators as I consider them a fascinating and ecologically and economically important part of our southern wetland ecosystems."
But, he acknowledges, "certainly the general public would not be comfortable with much higher alligator densities."