/ Source: The Associated Press
Israeli Prime Minister Ariel Sharon met Thursday with senior U.S. officials to brief them on his proposal to withdraw from most of the Gaza Strip and perhaps parts of the West Bank in the absence of an agreement with the Palestinians.
Sharon huddled with aides before the meeting with the high-level U.S. delegation, which began Thursday morning.
Sharon planned to give the visitors a broad overview of his "disengagement plan," which he has said would be implemented only if efforts to restart the U.S.-backed "road map" peace plan fail, Sharon adviser Raanan Gissin said.
The Israeli daily Haaretz reported Thursday that Sharon would not ask for financial assistance for the pullout — which could cost hundreds of millions of dollars — nor would he show the Americans maps of his plan.
The team arrived Wednesday on a mission to determine whether Sharon's plan to impose a boundary on the Palestinians would violate the road map, which envisions and end to violence and eventual Palestinian statehood. Sharon has said he would implement his go-it-alone plan if there was no progress in the coming months on the road map.
"They're here to listen," said U.S. Embassy spokesman Paul Patin. "We're not sure what's on Sharon's mind. We want to hear exactly what his plans are."
The U.S. delegation includes Assistant Secretary of State William Burns; Stephen Hadley, deputy director of the National Security Council; and Elliot Abrams, a Mideast specialist at the council. It was the highest-level U.S. delegation since Secretary of State Colin Powell's June visit.
The Americans met Wednesday with Sharon's top aide, Dov Weisglass, and are expected to see Palestinian Prime Minister Ahmed Qureia.
Palestinians question Israel's intentions
Palestinians have said that while they welcome any dismantling of Jewish settlements — Sharon said he'd remove as many as 17 of the 21 in Gaza — they fear his boundary is part of a plot to consolidate Israeli control over nearly half the West Bank.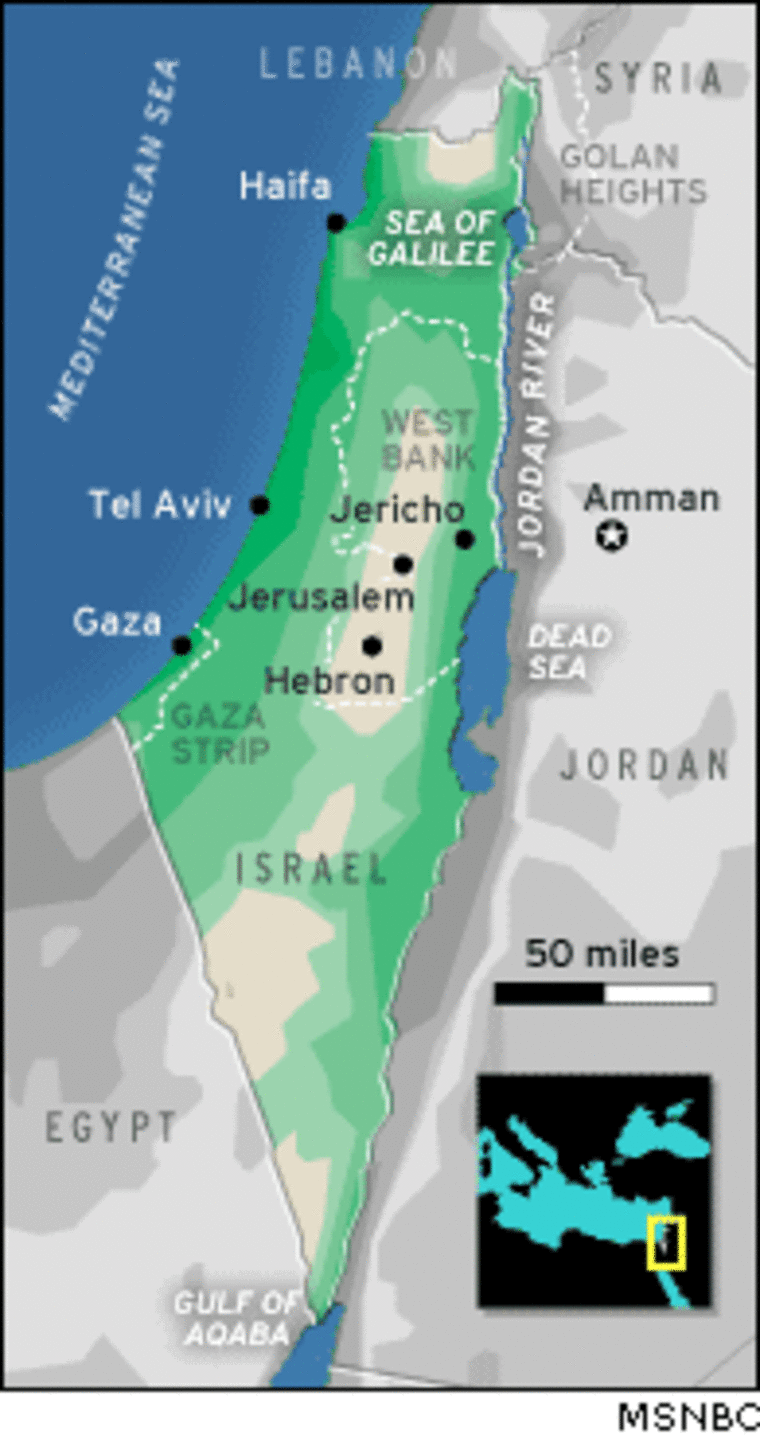 Palestinians demand a state in all of the West Bank and Gaza Strip with its capital in the Arab part of Jerusalem. Though Palestinians have indicated willingness to adjust borders as part of land swaps, they demand in principle that all Jewish settlements be dismantled.
U.S. officials insist the road map, stalled since its adoption in June, is still alive. However, they have also indicated support for dismantling Gaza settlements, in line with long-standing U.S. opposition to settlement building.
Israeli Foreign Minister Silvan Shalom said U.S. support for Sharon's plan is essential. Israeli media reported Gaza settlements would not be removed before the U.S. presidential election in November.
"There is no doubt that it (the plan) requires American support and international support, and that might lead to Palestinian support," Shalom said Wednesday.
Sharon's plan is not yet complete. Israeli media reported on a number of options under consideration, ranging from quick, simultaneous evacuation of settlements in the West Bank and Gaza to evacuation in stages. Also to be considered is whether to leave behind the settlement infrastructure or destroy it.
Settlers, supporters protest evacuation plans
On Wednesday evening, several thousand people demonstrated outside Sharon's Jerusalem residence, protesting his Gaza evacuation plans. They joined dozens of settlers from Gaza who marched to Jerusalem over four days.
Deputy Education Minister Zvi Hendel of the pro-settler National Union told the rally, "Jewish blood is not for sale," and said Sharon would be forced from office if he goes ahead with his plan. Hendel lives in a Gaza settlement.
While rejecting Sharon's proposals, several hawkish members of his coalition have come up with their own plans, offering the Palestinians much less than Sharon would.
The latest plan came from Housing Minister Effie Eitam, leader of the pro-settlement National Religious Party. He revived two long discarded concepts — tying the Palestinians in confederations with neighboring Jordan and Egypt, while giving them autonomy in local functions, like schools and garbage collection.
The road map requires Israel to stop construction in veteran settlements and remove scores of unauthorized outposts. The Israeli group Peace Now, which monitors settlement expansion, said in a report Wednesday it has counted 102 outposts, including 58 that should have been taken down under the peace plan. An official in Sharon's office said unauthorized outposts would be removed, but he did not say when.
Israeli troops Thursday morning demolished a house in the northern West Bank town of Salfit belonging to a member of Yasser Arafat's Fatah movement jailed for killing Israelis, Palestinian security sources said. Soldiers also razed the home of an Islamic Jihad activist near the West Bank town of Jenin, the sources said.