/ Source: msnbc.com news services
Spaniards began voting on Sunday in local and regional polls expected to deal heavy losses to the ruling Socialists, who are blamed for widespread unemployment that has off a wave of pre-election protests.
The elections are a key test of how much the party's support has crumbled due to soaring unemployment and its handling of the financial crisis, and are seen as a prelude to general elections next year.
Tens of thousands of Spaniards demonstrated in the past week in city squares around the country against austerity measures that have kept a fiscal crisis at bay but aggravated the highest jobless rate in the European Union.
More than 34 million people are eligible to vote while in the background the growing protest movement has illustrated the disillusionment felt by Spaniards toward both main parties and what they call a political system that favors economic interests over citizens.
The protesters have called on Spaniards to reject the Socialists and the center-right Popular Party, the main two political options in Spain.
"I don't like the policies of some of the parties," said Cristina, a 23-year-old student who declined to give her last name outside a Madrid polling station. She didn't want to say who she voted for but said: "You can also cast a blank ballot."
The protests are not expected to shift the outcome of the voting for 8,116 city councils and 13 out of 17 regional governments, where the center-right Popular Party is expected to make major gains.
Polls show the Socialists could lose strongholds such as the Castilla-La Mancha region, where they have controlled the regional legislature for decades, and the city of Sevilla, where they have been in power for 12 years.
Unpopular economic policies
If forecasts hold true, the outcome will be a rebuke for Prime Minister Jose Luis Rodriguez Zapatero, applauded abroad for his fiscal discipline during the euro zone crisis but unpopular at home as the economy stagnates.
The Socialists, in power since 2004, are also looking likely to lose the next general election, which is scheduled for March 2012, but could come earlier if big losses on Sunday spark a leadership crisis within the party.
After the euro zone debt crisis forced Greece, and later Ireland and Portugal, to take bailouts, Zapatero implemented round of measures to tackle a huge public deficit and persuade financial markets that it has the budget under control.
He is expected to maintain unpopular economic policies whatever the outcome on Sunday.
"Unless the government wants to run the risk of another episode of financial distress and the debt spreads sky rocketing again, it will have to implement another austerity package before the next elections," Fernando Fernandez, an analyst at Madrid's IE business school, said.
'We need a change'
On Sunday morning hundreds of protesters were sleeping in tents and under awnings in Madrid's Puerta del Sol after an overnight demonstration that drew an estimated 30,000 people, the biggest crowd in a week of protests.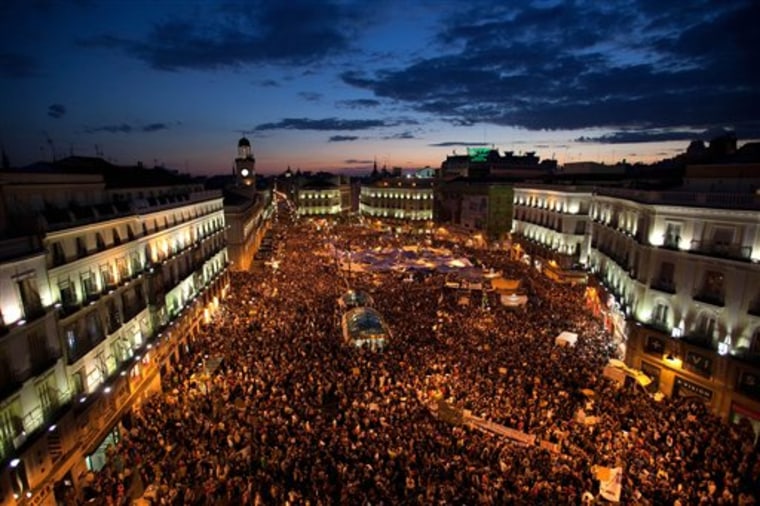 Political rallies are forbidden in Spain on election days and the preceding 24 hours but the government has not tried to break up the demonstrations, fearing violence after a week of peaceful protest.
Until now Spaniards had been remarkably patient with the economic crisis, as joblessness has been cushioned by traditionally strong family ties and by under-the-table work. But the patience seemed to run out this week.
"We need a change and I'm not surprised people have risen up, albeit belatedly," said one of the protesters, 38-year-old Robert, who works for an advertising production company.
Robert had brought along his three-month-old daughter "so she can start learning young," he said.
The demonstrations have attracted Spaniards of all ages but the bulk have been young people who have been hit especially hard hit by the crisis. Almost half of 18-25 year-old Spaniards are out of work, more than double the European Union average.