/ Source: msnbc.com contributor
Passion Parties, a company in Brisbane, Calif., that markets adult toys such as vibrators, oils and romance kits through home party "consultants," has been in the news lately. It seems the brave police in Burleson, Texas, sensing the danger of women armed with dildos, arrested rep Joanne Webb, 43, because she explained how to use a sex toy. She faces a year in jail for obscenity.
Nevermind that this is the height of hypocrisy at a time when former NFL coach Mike Ditka is constantly telling me to "stay in the game" with erection pills. It won't make the people of Burleson feel safer and the prosecutors are fighting a losing battle.
Women are hungry for sex toys and porn. Not all women, of course, but a lot more than you might think and they are flocking to women-owned businesses to get them. They are watching women-produced sex videos. They are gathering with other women in nice suburban homes and giggling at sex toy parties the way their mothers used to gather round, drink coffee and order Tupperware. In the process, they are throwing off the few remaining inhibitions against enjoying their sexual lives.
Sex for women sells
Passion Parties sold $20 million worth of goods last year, and expects to sell up to $35 million this year. Sales have been growing at a rate of 50 percent annually for the last three years.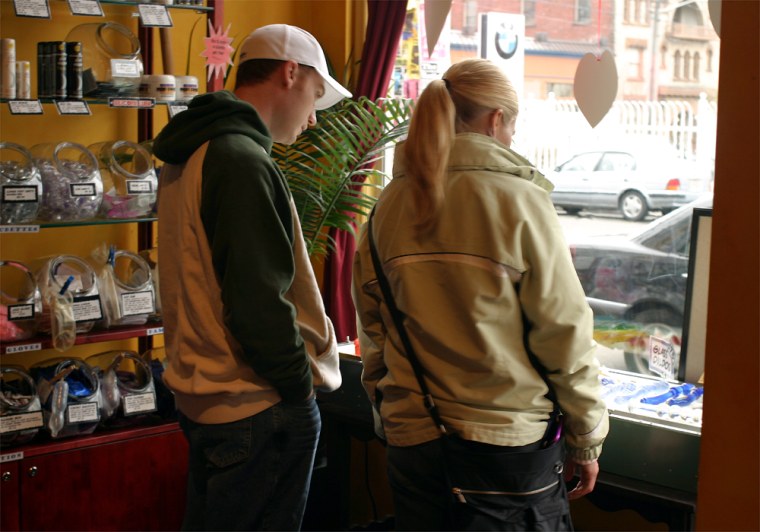 Meanwhile, retail stores catering to women are doing big business, too. Kim Airs is so darn happy to tell me that her two toy stores are raking in about $1 million per year that she starts breathing heavily into the phone, simulating an orgasm. Airs, 46, who looks something like a middle-class soccer mom, is an active member of the Chamber of Commerce in Brookline, Mass., and just happens to sell vibrators, dildos, sex how-to books and other grown-up goodies.
For her, it's a perfect business. She loves toys of all kinds and says she is proud to be something of a sexual omnivore, so her business combines her passions.
"I own a toy store!" she exclaims as if she is the luckiest woman on earth. Actually, she owns two, both called Grand Opening. One is located in Brookline and the other in West Hollywood, Calif.
Candida Royalle makes movies. Twenty years ago she transitioned from acting in porn films -- which she says were "boring and formulaic" -- into directing and producing "erotic adult movies from a woman's point of view." The idea that women are not turned on visually, she tells me, "is a myth" and it sure seems so. She has released 15 videos that now sell at a clip of about 10,000 copies per month. At retail, that's about $250,000. These days, most purchasers and renters of the videos are women.
So what's going on? I'll spare you a long socio-cultural explanation combining "Our Bodies, Ourselves," women in the workplace and phallic footballs flying through tires. The bottom line is that women have finally come to the conclusion that it's OK to like sex and to demand they get satisfaction even if that satisfaction comes with the aid of four AA batteries and wiggling silicone rabbit ears.
Boutique atmosphere
But until recently, sex products were sold in dank scummy places, mostly by guys needing a shave who always seemed to have a half-eaten hamburger sitting by the cash register and a cigarette burning in an ashtray. Worse, the stores were in the bad part of town.
Airs knows. She used to go into Boston's "Combat Zone" to shop at adult bookstores and hated it. "They made me feel dirty," she says. "There was always a full frontal assault of naked women posters."
Grand Opening, and other stores like it such as Good Vibrations in Berkeley and San Francisco, Toys in Babeland in Seattle and New York, and Good for Her in Toronto, are well-lit, non-threatening and positive.
Airs created her atmosphere by choosing soft color tones. She placed books at the front of the store so the first thing a woman sees is not a two-foot-long latex penis. "It's meant to be a comfortable place where sexuality is spoken out loud." She calls her stores "sexuality boutiques."
It works. About 65 percent of her customers are women, typically in their 30s but many well into their 50s and 60s. "And we get lots of couples in but the choices are almost always made by the women," Airs says.
She does a lot of education (which is what got Web arrested). What, for instance, is the difference between the "Sit-n-Spin" and the "Big Stiffy"? "I get countless women who stand in front of the 'Wall O' Toys' who say, 'I have no idea what any of this is.' I say, 'Well, you've come to the right place.'"
Most importantly, both Airs and the Passion Parties folks say that women return for more with both their gratitude and their check books showing. Many women have never had an orgasm until using the products. Many others have had unsatisfying sexual lives with husbands for years.
"I cannot tell you how many times I hear, 'This has saved my marriage, this has saved my relationship," Airs says. Sometimes women cry happy tears. "That is so incredibly empowering. I'm giving people permission to say, 'This is OK.' You do not have to feel shameful, degraded, bad, sinful. Sex is a beautiful part of life."
The police and prosecutors in Burleson may not think so, but women all over the country are proving them wrong.
Brian Alexander is a California-based journalist who writes about sex, relationships and health. He is a contributing editor at Glamour and the author of "Rapture: How Biotech Became the New Religion" (Basic Books, 2003).