/ Source: msnbc.com news services
In an address to a joint meeting of Congress, Israel's prime minister pledged to make "painful compromises" for peace with the Palestinians, but said he would not agree to any deal that threatens Israel's security or its identity as a Jewish state.
Netanyahu, who received a rapturous reception from lawmakers on both sides of the political divide, said Israel wants and needs peace but repeated his flat rejection of a return to what he called the "indefensible" borders that existed before the 1967 Mideast war. He also restated Israel's refusal to entertain the return of millions of Palestinian refugees and their families to land in Israel. And, he maintained that Jerusalem, claimed by both sides as their capital, could not be divided.

"Israel will never give up its quest for peace," Netanyahu said, adding that he is "willing to make painful compromises to achieve this historic peace."
"Now this is not easy for me. It's not easy, because I recognize that in a genuine peace we will be required to give up parts of the ancestral Jewish homeland,'' he said, referring to the occupied West Bank.
Netanyahu tells Abbas: Ditch Hamas In outlining his peace vision, Netanyahu said Israel would not negotiate with terrorists and urged Palestinian President Mahmoud Abbas to rip up a power-sharing agreement that his moderate Fatah faction has signed with the militant group Hamas — which does not recognize Israel's right to exist — and shelve efforts to win U.N. statehood status unilaterally.
"I say to President Abbas 'Tear up your pact with Hamas and sit down and negotiate, make peace with the Jewish state.'"
"The Palestinian attempt to impose a settlement through the United Nations will not bring peace. It should be forcefully opposed by all those who want to see this conflict end," Netanyahu said.
In response to the speech, a spokesman for the Palestinian president said Netanyahu's vision for ending the conflict put "more obstacles" in front of the peace process.
"What came in Netanyahu's speech will not lead to peace," Nabil Abu Rdainah, the spokesman for President Mahmoud Abbas, told Reuters.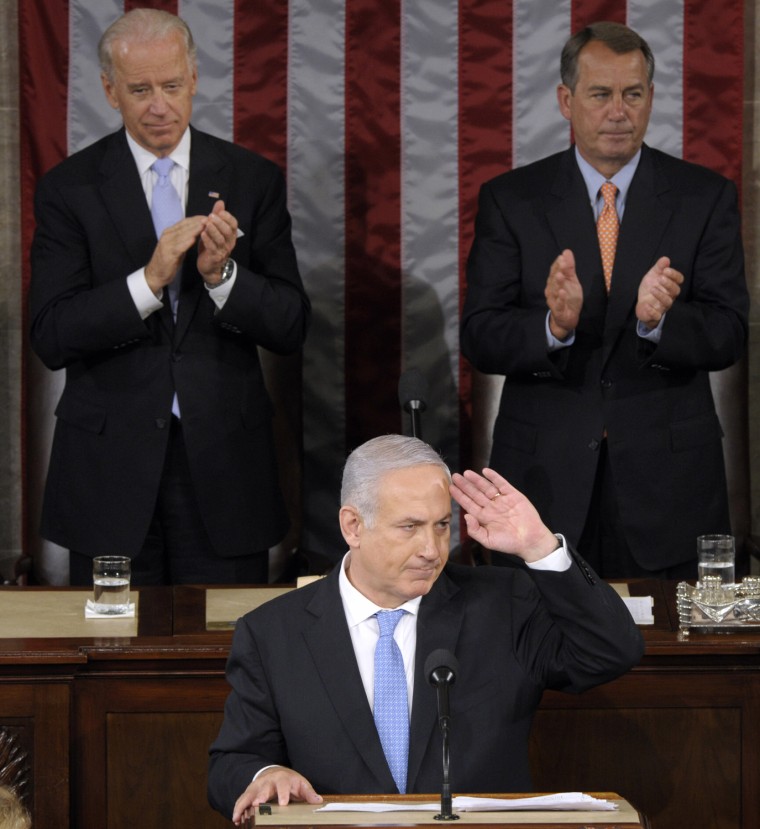 Another senior Abbas aide, Nabil Shaath, equated Netanyahu's parameters for a peace deal with "declaration of war" on the Palestinians.
Abbas is convening leaders of the PLO and his Fatah movement on Wednesday to decide on the next move.
Netanyahu also said Israel was prepared to be "generous" about the scope of the future Palestine, but it would have to be demilitarized and accept a long-term Israeli military presence in the Jordan Valley, Netanyahu said.
He also called on Palestinians to see their future "homeland," rather than Israel, as the place to settle refugees from the 1948 war that found the Jewish state whose national identity is still challenged by many Arabs.
"It's time for President Abbas to stand before his people and say, 'I will accept a Jewish state'," Netanyahu said to applause.
"Those six words will change history. They will make it clear to the Palestinians that this conflict will come to an end," he said. "And those six words will convince the people of Israel that they have a true partner for peace."
'Good riddance' to bin-Laden
Israel, which enjoys strong bipartisan backing in Congress, has been rattled by President Barack Obama's support for drawing the future borders of a Palestinian state and a Jewish state on the basis of Israel's pre-1967 war frontiers. Obama has also called for a full Israeli withdrawal from the West Bank, something that Netanyahu said is possible only in the very long term.


Obama has not called for a return to the exact borders that Israel held before capturing east Jerusalem, the West Bank and Gaza Strip in the Six-Day War of June 1967. He, like the Palestinians, is open to land swaps so Israel can hold on to settlements it built after the 1967 war. Obama has not, however, offered proposals for how to return the two sides to the bargaining table. The Palestinians are refusing to come back as long as Israeli settlement construction continues.

Netanyahu congratulated the United States for killing al-Qaida leader Osama bin Laden, wishing him "good riddance" and making the case that America and Israel are paragons of democracy. Netanyahu dismissed early shouts from a female protester as evidence that freedom of speech is alive and well in the United States and is respected in both countries, while it is punished in Arab states now going through upheaval.

He also repeatedly thanked Congress for its support of Israel, which he said supports true democracy throughout the Middle East and wants peace with its Arab neighbors.