/ Source: msnbc.com staff and news service reports
Seventeen lost pyramids are believed to have been found in Egypt by a team of space archaeologists from Alabama, according to a report.
Sarah Parcak and her team at a NASA-sponsored laboratory at the University of Alabama at Birmingham made the discoveries using a satellite survey, and also found more than 1,000 tombs and 3,000 ancient settlements in infrared images that show up buildings underground, BBC News reported.
The BBC said that two of the suspected pyramids had been confirmed by initial excavations.
"We were very intensely doing this research for over a year. I could see the data as it was emerging, but for me the 'aha' moment was when I could step back and look at everything that we'd found, and I couldn't believe we could locate so many sites all over Egypt," Parcak said.
She said it was likely that more buildings would be found.
"These are just the sites [close to] the surface. There are many thousands of additional sites that the Nile has covered over with silt. This is just the beginning of this kind of work," Parcak told the BBC.
"It just shows us how easy it is to underestimate both the size and scale of past human settlements," she added.
She said the techniques she used were "an important tool" in working out where to focus excavations on the ground.
"It gives us a much bigger perspective on archaeological sites. We have to think bigger and that's what the satellites allow us to do," she said. "Indiana Jones is old school, we've moved on from Indy ... sorry, Harrison Ford."
The BBC made a documentary about Parcak's work called "Egypt's Lost Cities", which is due to be shown in Britain on May 30.
New tombs opened
Meanwhile, the tombs of seven men, including several who served King Tutankhamen and his father, the pharaoh Akhenaten, were opened to tourists earlier this week after restoration.
Egypt's minister of antiquities, Zahi Hawass, said that two of the men who built tombs for themselves — Maya, the treasurer of King Tutankhamen, also known as King Tut — and Horemheb, a general under King Tut who later became king himself, "were very important men during one of Egypt's most tumultuous periods."
Akhenaten, who lived some 3,300 years ago, closed down the temples where Egyptians worshipped in Luxor and moved his capital to a site in the desert known as Amara.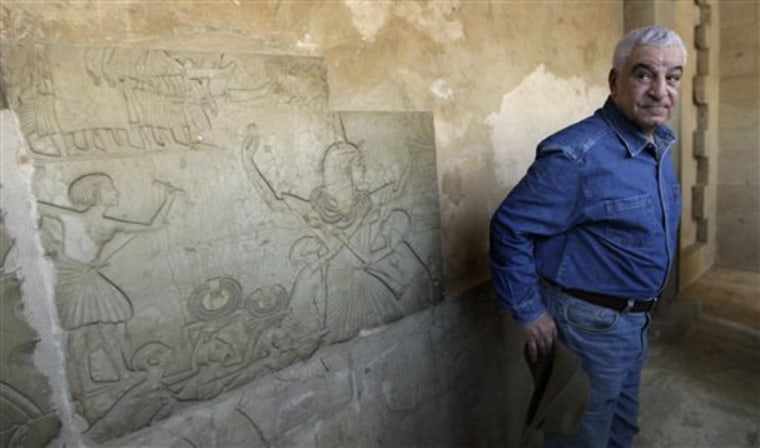 After he died, King Tut tried to restore order in Egypt by moving the religious capital back to Luxor and re-establishing worship of the traditional god, Amun.
Under King Tut, "Maya was responsible for restoring order in Egypt, while his colleague Horemheb restored order abroad," the antiquities ministry said in a statement.
A tomb built for Meryneith, who was temple steward under Akhenaten, was of mudbrick encased in limestone blocks. A scene on a rear wall shows metal workers plying their trade.
Other tombs were built for Ptahemwia, who was the royal butler to both Akhenaten and King Tut; Tia, a top official under Ramses II who ruled from 1303-1213 B.C.; and Pay and his son, Raia. Pay was the overseer of the harem under King Tut, and Raia was a soldier who later took over his father's post.
Some of these tombs were first discovered in 1843 by German explorer Richard Lepsius, but were not fully excavated until an Anglo-Dutch mission began excavating there in 1975. Now a Dutch team from Leiden University excavates at the site and has been restoring the tombs.