/ Source: msnbc.com news services
Not long after officials on Thursday released a list of 232 people unaccounted for after Sunday's devastating twister here, there was some good news: at least a dozen of those listed were quickly confirmed to be alive and well.
The Associated Press found 75-year-old Sally Adams, whose name was first on the list, sitting on a wooden chair and cuddling her pet cat. When told she was listed as missing, she laughed and said: "Get me off of there!"
Missouri officials had said they believed many of the missing were alive and safe but simply hadn't been in touch with friends and family, in part because cell phone service has been spotty.
The AP found that was the case with at least a dozen on the list. They included two survivors staying at a hotel, six that a relative said were staying with friends and one that a former employee said had been moved from his nursing home.
Stephen Whitehead, of the Red Cross' Safe and Well registry, which keeps track of the accounted-for, said that since the missing list came out earlier Thursday, he has learned that at least nine are people who are dead. Whitehead said he did not know whether those nine were among the known fatalities.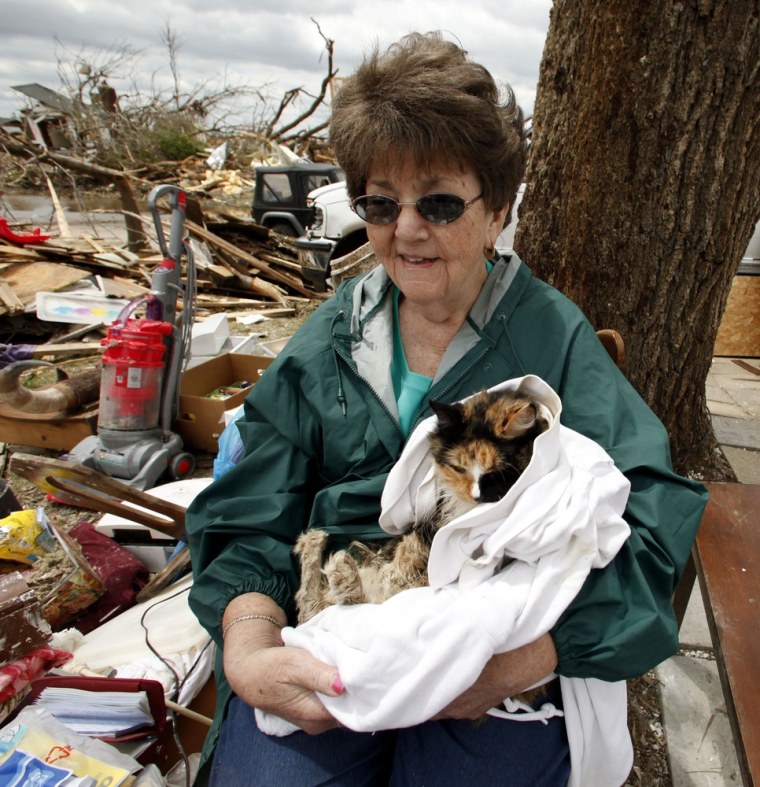 Neighbors had rescued Adams on Sunday after the storm destroyed her house and took her to a home nearby.

Her relatives had called a hot line and posted Facebook messages saying Adams was missing. Adams said she lost her cell phone in the storm and had no way to reassure family until recently.
Mike O'Connell, spokesman for the Missouri Department of Public Safety, said he wouldn't call Adams' listing a mistake and he said finding her is "a good thing." He urged other survivors to check the list and call if they see their names.

Two, Mike and Betty Salzer, were at a hotel being used by visiting journalists.

"Well, for Heaven's sakes," Betty Salzer, 74, said when the AP showed her the list.

The couple have been staying at the hotel since their home was destroyed Sunday. Betty Salzer said the couple's names might have come from a Facebook message her daughter posted before they reached her Monday morning.
Another example of the potential overlap: 12 residents of the Greenbriar Nursing Home are listed as missing. But nursing home administrators reported earlier that 11 people died in the tornado; only one resident was known missing.
Pamela McBroom said she and her daughter were hiding in a closet when the tornado tore their walls and roof away. Her walls gone, McBroom could see the mayhem at Greenbriar.

"I could see people flying out of the nursing home by my house," McBroom said. "I could hear them screaming. Just screaming. It was horrible."
Some families were just learning about the death of a loved one and others were still searching.
In one case, the body of a toddler whose disappearance drew an outpouring of concern when it was posted on Facebook was identified at the local morgue.
The boy's mother, Carol Jo Tate, confirmed the death of 16-month-old Skyular Logsdon. Tate, 18, remains hospitalized with severe injuries at a hospital in Pittsburg, Kan.
More than 10,000 people supported a "Bring Skyular Logsdon home" page set up after he vanished in Sunday's tornado. His blue teddy bear, red T-shirt and pants were found wrapped around a telephone pole after the storm.
Mike Hare has scoured the ravaged neighborhood where his 16-year-old son Lantz was seen last. He's called hospitals from Dallas to Kansas City and taken dozens of calls offering advice, prayers and hopeful tips.


Hare has been looking for his son since Sunday, when a six-mile stretch of this southwest Missouri city was leveled.

"We know he's hurt somewhere," Hare said Wednesday, his voice breaking. "We just can't sit and keep calling. You've got to be moving."

The deadliest single tornado in the United States in 64 years killed at least 126 people and left more than 900 injured. The death toll rose by one on Thursday, and three more bodies were recovered Wednesday evening.
This year has seen an unusually high number of tornadoes, with 1,168 as of May 22, compared to an average of about 671 by this time, according to Joshua Wurman, head of the Center for Severe Weather Research in Boulder, Colo.

The United States is on pace to break its record for deaths from tornadoes this season, the National Weather Service has said.
A wave of tornadoes roared across the Midwest Tuesday night, leaving 10 dead in Oklahoma, four fatalities in Arkansas and two in Kansas.
More twisters were reported Wednesday across the Midwest, destroying a scattering of homes and causing injuries but no deaths.
In Joplin, authorities are struggling to cope with the massive destruction. A system of permits to allow residents back to their damaged homes and prevent looting was abandoned Wednesday as long lines formed.
Officials decided instead to keep a strong police and National Guard presence while allowing people free access to the miles of damaged neighborhoods.
Residents looking for loved ones are scrawling signs in wreckage, calling in by the hundreds to local radio stations and posting online. They are inspiring city officials to continue search and rescue efforts.
"I am hopeful," Joplin Fire Chief Mitch Randles said. "We've had stories from earthquakes and tsunamis and other disasters of people being found two or three weeks later, and we are hopeful we'll have a story like that to tell."
Radio stations pitch in
With erratic cell phone service throughout Joplin and travel hindered by damaged cars and blocked streets, many residents have turned to local radio stations as a hub of information, sifting through around-the-clock reports of missing family members.
The Zimmer Radio Group, which operates seven radio stations in Joplin, abandoned its various music formats for 24-hour tornado coverage starting late Sunday afternoon. Newscaster Chad Elliot, whose home was destroyed, slept in his office when he wasn't on the air. His dog Rusty barked loudly behind a closed door.
"I thought we were going to do a normal severe weather broadcast," he said. "Obviously, that's not the case."
Calls flowed in — hundreds of them — from people looking for displaced loved ones, or calling in to say they were OK. By Wednesday, reports of missing friends and relatives were decreasing, replaced by updates of successful, tearful reunions.
"Folks wondering about Larry Allen, who was living near the Stained Glass Theater, he is fine," an announcer said Wednesday afternoon. "He's staying with friends."
Another listener reported, "I want everyone to know that Alice DuBois, 94 years old, is alive and well. We hadn't heard from her until yesterday afternoon. We thank everyone for their thoughts and prayers."
Pleas were rampant on social networks.
"This little boy was taken to Memorial Hall," one poster wrote next to a picture posted on KRGZ-FM's Facebook page. "His name is David and all he know's is that his mother's name is Crystal and his brother is Zachary. He was airlifted to Tulsa. Please help find his mom."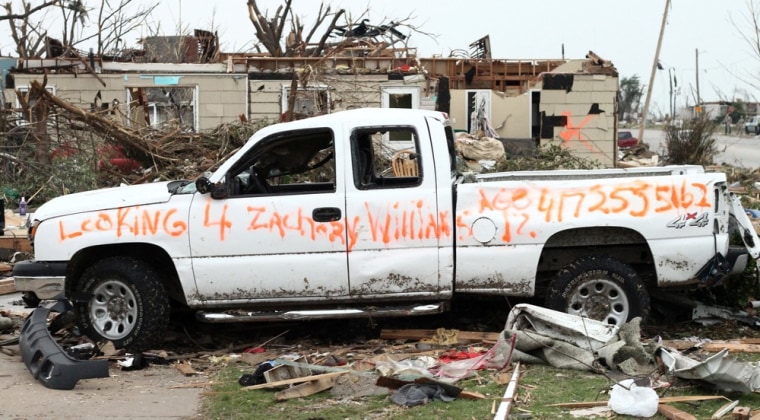 Missing children, seniors
Other cries for help were low-tech: A tornado-battered pickup truck was spray-painted with the message, "Looking 4 Zachary Williams Age 12," along with a phone number.
At the Red Cross shelter at Missouri Southern State University, a steady stream of people visited a table where Bill Benson took down the names of people for a "safe and well" database. Some people entered their names; others hoped to find the name of their loved ones in the database.
Benson has seen parents looking for missing children, saying "we had one where a 17-month-old infant was lost." He contacted police and had not heard if the child was found. But more people have come to Benson searching for seniors — more than 100 were listed as missing Wednesday.
At Freeman Hospital, Karen Mitchell waited Wednesday hoping for word on her missing son, Robert Bateson, or her grandson, Abe Khoury. Khoury was found and taken to Freeman, where he was in critical condition. But Mitchell and her family continued to search for Bateson.
When she arrived in Joplin on Tuesday, Mitchell walked through the wreckage of her son's apartment building. She recognized his mattress sitting in a pile. Her family continued to post Bateson's information online. She prayed for a miracle.
"I am waiting on God to tell me where he's at," she said. "God is going to take him to me."
Kathy Watson, a marketing team member and front desk volunteer at Freeman, said the hospital was deluged with calls and visits from searchers, sometimes in vain.
"You want to be able to say, 'Not only do we have your loved one, but they're fine,' but you can't say that," Watson said.
The evening of the tornado, Lantz Hare was driving with a friend who said the two tried to take cover in the parking lot of a grocery store. The tornado shattered the windows and crumpled the car, and Mike Hare found Lantz's backpack in the wreckage.
He said he would keep searching until he found his son, dead or alive.
"If you look at the ground, life will pass you by," he said. "I won't let life pass me by."