As the world's first celebrity polar bear, Knut used to spend his days feasting on raw meat, swimming in a black-bottom pool, and gazing at the hundreds—if not thousands—of visitors who flocked to see him every day at the Berlin Zoo. During his prime, candymaker Haribo churned out 1 million raspberry-flavored Knut gummy bears daily, and Berliner Volksbank issued tens of thousands of ATM cards featuring his furry face. There was also the 2007 book, Knut: How One Little Polar Bear Captivated the World, and the 2008 film, Knut & Friends. Along with Leonardo DiCaprio, he graced the cover of Vanity Fair.
Knut (pronounced Kuh-noot in German) achieved international fame hitherto unknown in the animal kingdom on account of his irresistible story. He was born into captivity in 2006, rejected by his mother, and raised by a zookeeper. To environmentalists, Knut was an emblem of the anti-global-warming movement; to business, he was a cuddly money machine. In its 167-year history, the Berlin Zoo—which is subsidized by the city and listed on the Berlin Stock Exchange—has been profitable for only three years, says Heiner Klös, its animal curator. Those were 2007 to 2009, the Years of Knut, when yearly attendance rocketed from 2.5 million to 3.5 million visitors, and the zoo made more than $30 million. In all, Gerald Uhlich, a former chief executive of the zoo and the architect of Brand Knut, estimates that the polar bear generated more than $140 million in global business.
Businessweek: Polar Bear Knut May Be Stuffed, Shown in Berlin Nature Museum
In 2010, however, Knut grew up and became less cute, and attendance waned. Then in March, he unexpectedly died. Zoo-dwelling polar bears usually live well into their thirties—Debby of Winnipeg made it to 42—but an autopsy revealed Knut had suffered from encephalitis, an inflammation of the brain that caused him to lose consciousness, tumble into the water, and drown in front of several hundred horrified fans.
Now the fate of Brand Knut—unprecedented in the history of brands and animals—is up for grabs. Scores of book publishers, moviemakers, marketers, advertisers, and manufacturers of stuffed animals, lunchboxes, and coffee cups hope to profit before the public's memory of the cuddly cub is replaced with that of a large, dead polar bear. There are already plans for a television documentary in Germany. The chinamaker KPM is issuing $315 commemorative Knuts that have Zur Erinnerung ("in memoriam") inscribed on them. Uhlich is writing a book about the untold story behind the rise of "der Icebear." And for good reason. "A dead Knut brand could still make millions," says Birgit Clark, a London-based trademark attorney who has studied the Knut phenomenon. What happens to Brand Knut in the next few months will determine if it stays profitable or, like Knut, dies too.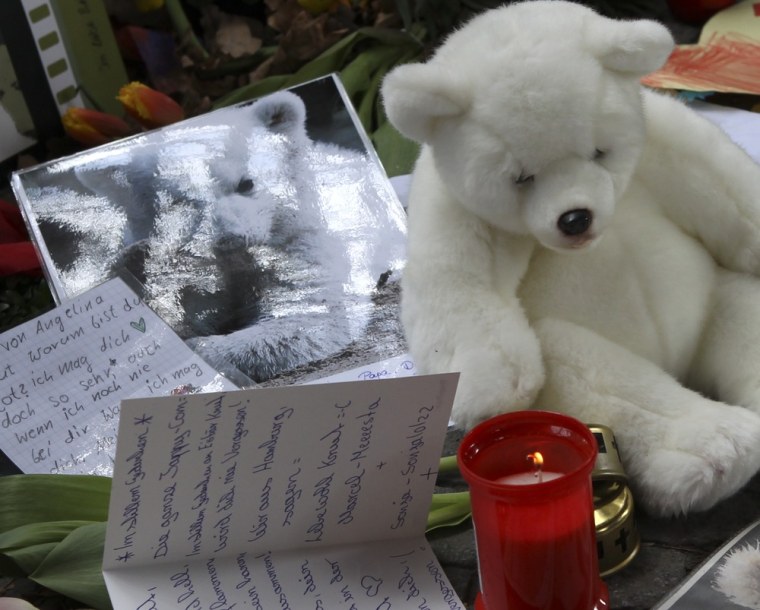 However, the greatest threat to the brand—and potential Knut profiteers—is actually its owner, the Berlin Zoo, which is reluctant to profit from a dead polar bear. Clark says the zoo licenses the Knut trademark only to outfits deemed environmentally sensitive—those that preserve Knut's image as "an ambassador of climate change," says Klös. This leaves Uhlich, the former zoo chief and aspiring Knut biographer, exasperated. "Brand Knut is established," he says. "There is still greater potential to use it for further products or services!"
Uhlich, who left the zoo in late 2007 amid a rather public philosophical dispute over, among other things, profiting from a baby polar bear, isn't alone. Udo Marin, the chief executive officer of the Berlin Club of Merchants and Industrialists, also believes the zoo failed to exhaust its moneymaking potential. "Knut presented the unique chance to generate so much money via marketing that the zoo could have become independent of state subsidies," Marin says. Yet ulterior motives, he says, led the zoo to resist that. "The traditional zoo director doesn't like the idea of being responsible for a positive net result," Marin says. "He is the head of an educational unit. Education is one of the basic jobs of government." The good thing about governments, Marin says, is that "generally they don't question the wisdom of visiting the umpteenth zoologist congress in Australia or buying a rare bird which no one is interested in."
BusinessWeek: Berlin Polar Bear Knut, Adored by Millions, Is Dead, DPA Says
But if the Berlin Zoo doesn't capitalize on the memory of Knut soon, the brand may be devalued for everyone. Bernhard Fischer-Appelt, the managing director of FischerAppelt, a public-relations firm in Hamburg that represents the Leipzig Zoo, says the zoo community is eagerly watching events in Berlin. Fischer-Appelt expects that, in a post-Knut landscape, museums will hedge their bets and embrace a new business model, shuffling in one or two celebrity animals per year—each of which, he says, is worth "a couple million dollars" in ticket sales and licensing deals. The Leipzig Zoo is already employing this strategy with Heidi the opossum, the star of an exhibit opening on July 1. Zoo spokeswoman Maria Saegebarth predicts Heidi could be bigger than Knut. "From our point of view," she says, "it's not possible to compare the cases of Heidi and Knut. The attention and interest in Heidi is huge—and no one has even seen her yet."
Other celebrity animals are also threatening to transform the modern zoo into a hotbed of merchandising—including Leo the Pakistani snow leopard at the Bronx Zoo; Miwa the baby monkey and her friend, Uribo, the boar, in Kyoto; and, until recently, Paul the octopus, who lived in an aquarium in Oberhausen, Germany. Paul, famous for predicting the 2010 World Cup winner, had a following—and an agent—when he died in October. His remains were cremated, and a shrine was erected in his honor.
BusinessWeek: Knut Mania Sweeps Globe
Yet future celebrity animals may walk a fine line that Knut—or, for that matter, Free Willy's Keiko or Sea World's Shamu—never had to worry about. Many zookeepers increasingly believe giving animals names, background stories, and cuddly personae is exploitative. Yet they also realize that branding them is the only way to make money off them through ticket sales, merchandising agreements, and licensing deals. Indeed, the tale of Knut was partly contrived by the same camp that supposedly opposes telling tales about animals. Ian Sterling, a polar bear expert at the University of Alberta, says it's more common for mother polar bears to spurn cubs in captivity than in the wild—meaning the sob story the Berlin Zoo used to market Knut was, to a degree, its own creation.
This doesn't surprise animal rights activists. "It's always business with zoos," says Ingrid Newkirk, the president of People for the Ethical Treatment of Animals. "Zoo visits are declining because people can see actual animals in the wild. They can see YouTube and National Geographic and the Discovery Channel. Zoos are struggling to make themselves sexy." Yet Klös doesn't see it that way. Knut, he says, remains "the most popular animal in the world, more popular than Mickey Mouse." It's no surprise, then, that the Berlin Zoo is going to erect a Knut statue, which is a good way to lure those who miss him. Still, Klös dismisses talk of a Knut 2.0. "The finance people say it would be wonderful to have another Knut," he says dismissively, before adding: "You can't do that again."