/ Source: The Associated Press
The mother of Casey Anthony broke down in tears on the witness stand Tuesday as prosecutors played a 911 tape in which she reported her granddaughter missing and said her daughter's car smelled like a "dead body" had been inside.
Cindy Anthony leaned forward with her face in her hands and sobbed as the 911 tape from July 2008 was played for jurors on the sixth day of testimony in the murder trial of her 25-year-old daughter, Casey Anthony.
Minutes before listening to the 911 call in the courtroom, Cindy Anthony recounted how she had overheard Casey Anthony telling her brother that her 2-year-old granddaughter, Caylee, had been missing for a month.

"I lost it," Cindy Anthony said between sobs. "I just went into the room and yelled at Casey, 'What do you mean she's been gone? Why didn't you tell us?'"

Cindy Anthony then called 911, saying her daughter had just told her that Caylee had been missing for 31 days.
Casey Anthony is charged with first-degree murder and could be sentenced to death if convicted. Defense attorneys say Caylee died in an accidental drowning in the family's swimming pool.
Cindy Anthony also testified that the vehicle had a terrible odor after it was retrieved in mid-July 2008 from a towing lot by her husband, George. The Pontiac had been driven by their daughter, Casey, but the Anthonys hadn't seen her or their granddaughter, 2-year-old Caylee, for several weeks.

In the 911 call, Cindy Anthony described the odor in the car as that of a dead body. But she said Tuesday that it was merely an expression she used and at that moment she didn't think a body had been in the car.

"I said 'Oh my gosh. What is wrong with the car?'" Cindy Anthony said from the witness stand. "The smell in the car was pretty strong."

Cindy Anthony said she opened the car's windows and trunk in order to air it out, and George took the battery out of the car because they feared Casey Anthony would return home and try to take the vehicle.

Cindy Anthony choked back tears as she described removing Caylee's favorite doll from the car and spraying it with Febreeze to remove the odor. She also removed Caylee's backpack and Casey Anthony's purse.

At the time the car was retrieved from the towing lot, Casey Anthony had refused to come home for several weeks, Cindy Anthony told jurors. Casey Anthony had told her mother in a phone call that she needed space, and that's why she was staying away.

Casey Anthony waited a month before reporting the girl missing.

Prosecutors contend the odor in the car came from human decomposition, but defense attorneys claim it was from rotting garbage
Prosecutors argue the 25-year-old mother suffocated Caylee with duct tape. Anthony's defense team says the child drowned accidentally in a family pool. If convicted, she could be sentenced to death.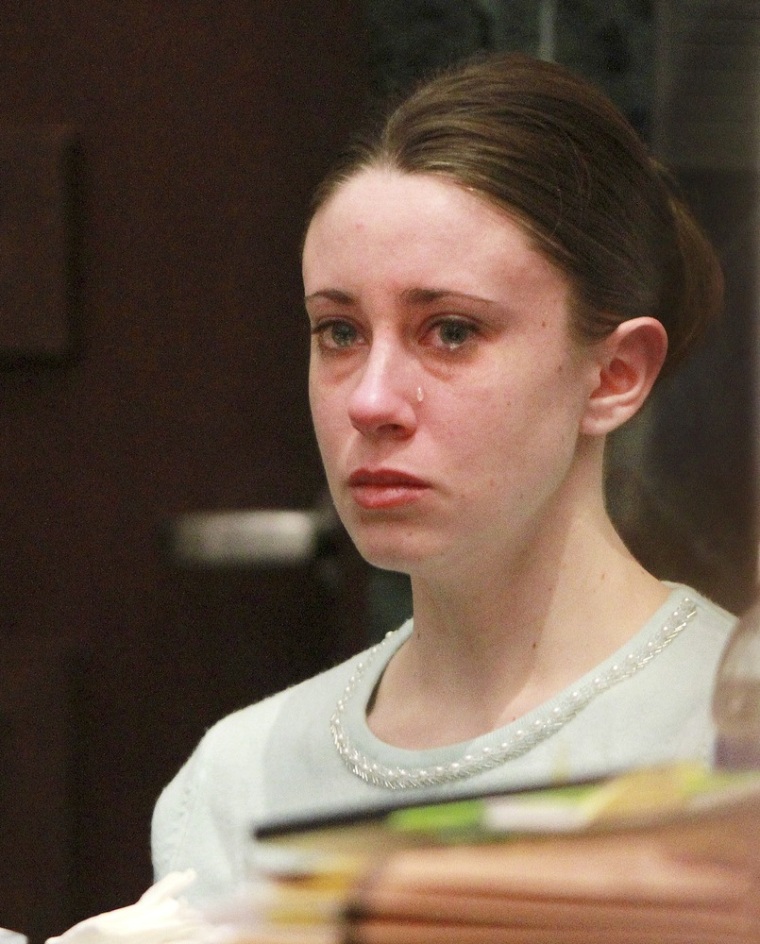 The prosecution is looking to refocus its case after experiencing its first setback in the murder trial. State attorneys must decide how to proceed after getting rebuffed late Friday in an attempt to introduce instant messages between Casey Anthony and an ex-boyfriend which they say go to her motive.
The state is portraying Anthony as carefree and cheerful in the weeks after the child was last seen alive in June 2008. The defense has suggested that George Anthony, Casey's father, found Caylee drowned and helped dispose of the body. He testified for the third time in four days Friday.
The prosecution on Friday did present its strongest witness against 25-year-old Casey Anthony, who is charged with first-degree murder in Caylee Anthony's death in the summer of 2008.
The manager of a towing yard where the defendant's car was kept for more than two weeks during that summer testified that he smelled an odor coming from her car consistent with decomposing bodies he'd smelled in the past.
The defense argued in its opening statement that the smell was actually from a bag of trash Anthony left in her car.
Birch said he has spent 30 years in the towing business as well as two years in waste management, and had come across deceased bodies at least eight times.
He said he first noticed the smell coming from the car on the fourth day her 1998 Pontiac was parked on his yard. The car had been towed after spending four days in an Amscot parking lot. It stayed there from June 30 to July 15, when Anthony's parents retrieved it.
"In my opinion and experience, the smell of decomposition is unique in comparison to rotten food or rotting garbage," Birch said.
His testimony went largely unchallenged by the defense.
However, late in the day, prosecutors failed to survive a defense challenge of their attempt to introduce computer instant messages between Anthony and an ex-boyfriend.
With the jury sent out of the room by Judge Belvin Perry, the state argued the messages, which included sexually laced chatter between Anthony and Tony Lazzaro, help establish the motive for killing her 2-year-old daughter.
What does that prove?
Judge Belvin Perry was shaky on that premise and initially requested extra time to review all of the content.
"What does that tend to prove or disprove?" Perry asked at one point.
But after a recess the prosecution withdrew its motion to introduce the evidence, though it could try to get it admitted later.
Prosecutors contend Anthony suffocated Caylee with duct tape. Anthony's defense team says the child drowned accidentally in a family pool. If convicted, she could be sentenced to death.
Her father, George Anthony, testified for the third time in four days Friday and said his mind was racing when he arrived to pick up the car and observed the smell in her car.
"That particular smell, whenever you smell it, is something you'll never forget," he said. "... I don't know if I said it out loud or whispered, but I said 'Please God, don't let this be Casey or Caylee.'"
Under cross-examination, defense attorney Jose Baez tried to shake the father on some details of the tow yard visit, including why he knew to bring a can of gas with him for the car and whether it was Anthony or Birch who first decided to open the trunk.
Anthony and Baez also clashed over if it was a bag of trash in the trunk or the trunk itself that was the source of the odor.
Repeated objections
Later state attorney Jeff Ashton became agitated at questions he repeatedly objected to as argumentative.
He also took issue with a suggestion to Anthony by Baez that the reason he might not have wanted to touch the bag of trash was because he knew its contents could be evidence of Caylee's death.
Part of the defense's theory is that George Anthony found Caylee drowned and helped dispose of the body.
On Saturday, Mallory Parker, the fiancée of Casey Anthony's brother Lee, was prosecutors' first witness of the day.
She described how she and Lee searched for Casey in Orlando bars in the summer of 2008 when her family hadn't seen her in many days.
But Parker also said that Anthony had a special relationship with her daughter and at one point broke down in tears under cross examination when Baez asked here to describe the interactions between them. Casey also wiped away tears during Parker's testimony.
"It was amazing," Parker said. "Casey and Caylee had a special bond."