At the pulpit of Friday's traditional prayers here, the slogan master warmed up the crowd with a familiar refrain. "Down with America! Down with Israel!" he chanted, readying several thousand mostly older Iranians for the main act, a sermon delivered by Ayatollah Ahamad Jannati, one of the country's hard-line leaders.
Across town, at the Computer Capital mall, Ali Reza Jafari, a 30-year-old computer technician, said he didn't see much wrong with America.
"I have an uncle in Tennessee and a cousin in California," said the 30-year-old with shoulder-length hair. "Iran needs relations with other countries."
Tehran's weekly prayer, and the capital's multiplying malls, offer a snapshot of this country's political and social complexity, as Iranians voted Friday in controversial parliamentary elections.
Under a tin-topped structure at the entrance to Tehran University's leafy campus, mullahs rail at the "colonizer" and "Great Satan" United States for interfering in the affairs of sovereign states around the world.
At the Computer Capital mall, a dozen stores owned and operated by a generation of Iranian twentysomethings sell the high-tech wares of the American devil: Dell, Apple, Palm and Hewlett Packard.
Rising population
More than half of Iran's population of 68 million is under the age of 25. The soaring birthrate was encouraged by Ayatollah Ruhollah Khomeini, the leader of the 1979 Islamic Revolution. But today its consequences are haunting Khomeini's clerical successors.
Mostly unemployed and increasingly connected to the rest of the world by the Internet and satellite television, Iran's youth is restless. Born after the revolution, which toppled the U.S.-backed monarch, many say they have more in common with America than with Iran's aging mullahs.
"The economy is bad. No one wants to invest in Iran. All we can offer is oil, carpets and maybe caviar," complained computer expert Jafari, who supports is family on $200 a month.
Iran's youth was the engine behind reforms introduced by President Mohammed Khatami, elected in 1997. Then, and again in parliamentary elections in 2000, the young population turned out in droves to elect the charismatic Khatami, and a parliament of reformers.
But seven years into Khatami's rule, for many the pace of reform has been too slow. Apathetic youths, also disappointed with the disqualification of more than 2,000 reform candidates, were expected to stay away from Friday's vote.
"They want change now, not when they're too old to enjoy it," said Reza Yousefian, a 36-year-old parliament deputy elected by the youth vote in 2000, but banned by clerical leaders from standing for reelection.
CONSERVATIVE SOLUTIONS
The conservatives have, at least indirectly, addressed some of the youth population's desires -- by ignoring them.
Police turn a blind eye toward satellite dishes bringing foreign broadcasts to Iran. At the SFC fried chicken restaurant here recently, amorous couples holding hands flouted clerical bans on the mixing of men and women. Headscarves worn by young Iranian women slipped to the extreme back of their heads, revealing colorful streaks of hair.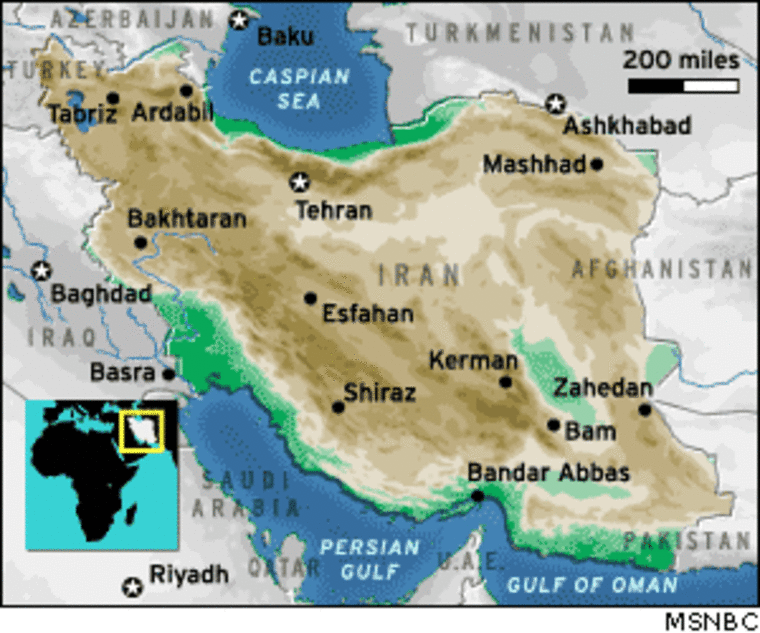 Badam Chian, the political director of the Islamic Coalition Party, an umbrella group for the country's hard-line political groups, denied that the conservatives were out of touch with the population.
"We have a very exciting, forward-looking platform that would modernize Iran's economy and provide jobs," he said without elaborating.
The U.S. Embassy here, empty since Washington cut ties with Iran during the 1979 revolution, when Iranians stormed the mission and held 52 Americans hostage for more than a year, has been turned into a symbol of that time. Murals with anti-American themes decorate the walls of the former compound.
Still, Iranians say many here apply for the U.S. "green card" lottery, printing out applications available online, and boarding flights to attend interviews at the U.S. mission in the United Arab Emirates.
"We have to look outside of Iran for our hope," said a 28-year-old woman submitting an immigration application at the Canadian Embassy in Tehran. She asked that her name not be used. "I haven't told anybody I'm trying to leave," she said.
At the Computer Capital mall, Ali Reza Jafari said, at 30, he was too old to emigrate to a foreign land. "I'm married, and it's difficult to start over with nothing. For now, we are just sitting here with nothing to do."