/ Source: The Associated Press
Hal Shimp didn't want a traditional send-off after death. He didn't want a big, somber service, and he certainly didn't want to be buried.
When the 91-year-old World War II veteran died in February after a cancer battle, his body tissue was dissolved using heat and lye, turning it into a liquid that could be poured down a drain and a dry bone residue given to relatives, who plan to scatter it when they plant a tree in his honor.
His family in Ohio saw it as a more environmentally friendly option than cremation and a fitting choice for a progressive-thinking guy who used to gather aluminum cans and cardboard for recycling.
"We thought this matched the kind of gentle soul that Hal was," said his daughter-in-law, Cathy Bregar.
Ohio is the only state where the method, called alkaline hydrolysis, has been used in the funeral industry, but others are increasingly allowing for it, spurred by a push from interested crematories and equipment manufacturers or by a desire to have regulations ready if the process comes to their regions.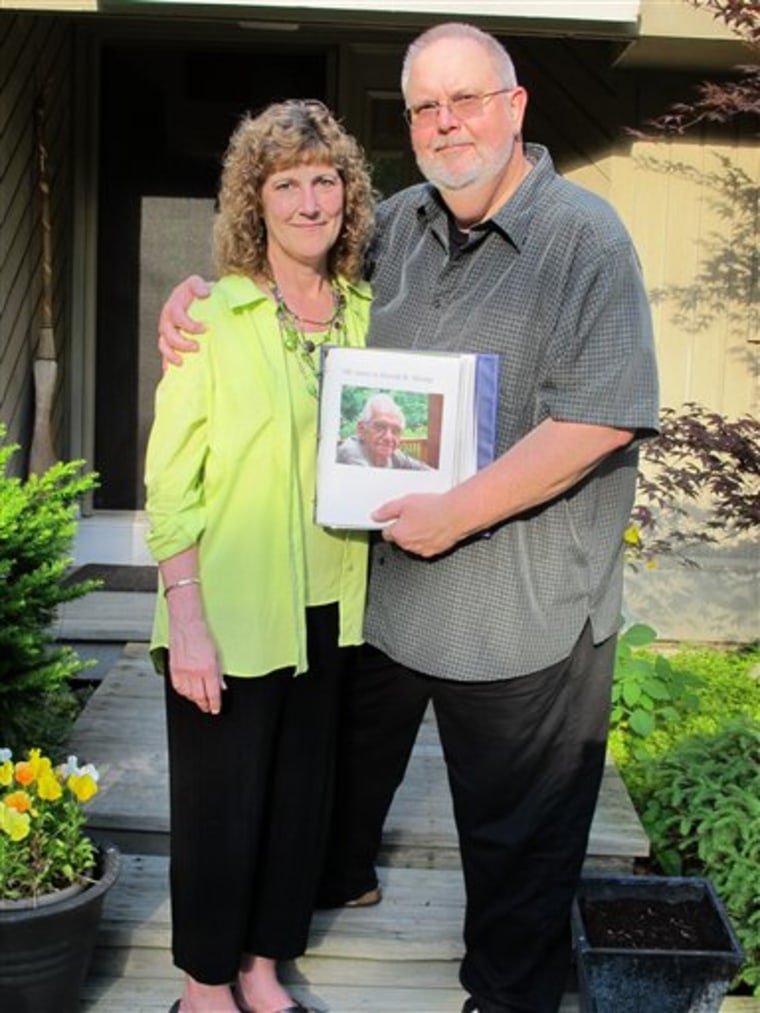 Proponents say it has lower operating costs and is greener than traditional cremation because it does not cause the emissions that incineration does, such as carbon dioxide and mercury from dental fillings. But skeptics question the social implications of sending someone's remains down the drain, and whether it's safe for the environment and public health.
A half-dozen states in recent years have opened the door for it, several by removing references to flame or direct heat from their definitions of cremation.
Changes taking effect this year will allow alkaline hydrolysis in Kansas, Maryland and Colorado, where the governor signed a bill into law April 6. It was already legal in Florida, Maine, Minnesota and Oregon. New York and California also are considering allowing it.
The Mayo Clinic in Minnesota and the University of Florida use it for human cadavers, and it's been used for two decades on animal carcasses.
Also known as resomation, the method uses lye — a type of corrosive chemical used to make soaps and cleaners — in combination with heat and sometimes extra pressure in a large metal cylinder. It breaks down a body into two main substances: a coffee-colored liquid of nutrients, sugars and protein parts that is discarded and a dry bone residue that can be given to relatives or buried, much like a cremation.
It is generating buzz in panel discussions and presentations at funeral industry association meetings, but regulatory hurdles have tripped up the few U.S. facilities that have seriously considered using it.
Some believe it's the next big thing in the industry as people increasingly choose cremation over burial. Both of those methods have been used for thousands of years, although cremation didn't catch on in the United States until the 20th century. Slightly more than one-third of all U.S. deaths annually resulted in cremations in recent years, and that number is projected to top 50 percent by 2025, according to the Cremation Association of North America.
Though legal in several states, alkaline hydrolysis is not in widespread use.
In Ohio, the only U.S. funeral facility to use the procedure has ended up in a legal battle with state regulators.
Ohio's Board of Embalmers and Funeral Directors doesn't consider the process to be legal under state law, a decision that blocked the facility, Edwards Funeral Service in Columbus, from using it.
The facility and its funeral director, Jeff Edwards, have responded with a lawsuit. Meanwhile, the Ohio Funeral Directors Association decided it was time to pursue legislative changes to legalize alkaline hydrolysis in Ohio.
"Jeff Edwards should be given a medal for actually finally breaking the ice and putting one of these in commercial service," said Joe Wilson, principal owner of Bio-Response Solutions, the Pittsboro, Ind.-based biowaste treatment system manufacturer that designed the metal cylinder Edwards uses. "Everybody has been talking about it for years."
Edwards said the machine sells for around $149,000, about double the initial cost of new equipment for traditional cremation. His total expense for alkaline hydrolysis for one body is about one-fourth the cost of a cremation. He installed the machine in January and was charging families the same price for both methods.
Edwards had used the process 19 times, including on Hal Shimp, whose family insists it was one of the many options they were given, not something pushed on them.
As Edwards views it, alkaline hydrolysis simply accelerates natural decomposition, shrinking decades into hours. For the squeamish or those who find it tough to understand, he compares it to digestion of a meal.
"Yes, it does go down the drain, but it doesn't mean someone is standing there behind the machine flushing," he said.
Disposal of the liquid is a key concern for regulators, who must determine whether it can be processed by water treatment facilities under their health and environmental guidelines. Proponents argue that it's sterile and safe.
One of the first cities to face the issue was St. Petersburg, Fla., where the Anderson-McQueen Funeral Home hopes to have a high-pressure alkaline hydrolysis system operating this summer. Last year, the city found funeral officials could dilute the liquid to make it more acceptable for discharge, public works administrator Michael Connors said.
The process also has raised religious concerns. Alkaline hydrolysis was allowed in New Hampshire for a few years, but the state banned it in 2008 amid opposition from the Roman Catholic Diocese of Manchester, which argued it "is undignified and disrespectful at the most basic level."
Even if alkaline hydrolysis were it to be commonly available and legal, the industry can't predict how many people would choose it.
The answer is at least a few, if Hal Shimp's loved ones are any indication.
Guests at a party to celebrate his life shared memories, grabbed bags of his favorite nuts and read alkaline hydrolysis information set out by his relatives.
People, they discovered, were quite intrigued.