The showdown between President Jean-Bertrand Aristide and rebel leaders showed no sign of being resolved peacefully this weekend.
The anti-government forces, who captured a series of northern towns this month, have declared they are willing to die for their cause – and Aristide has said the same.
Amid fears the crisis is poised to spill out of control, officials from the United States, Canada, France, and Caribbean nations will meet in the capital this weekend to try to resolve the differences.
But the challenge of formidable. Three years of diplomatic effort to resolve a standoff between Aristide and his main political opponents failed to solve a crisis sparked by a disputed election in 2000.
Also this weekend marks the start of celebrations for Carnaval, when Haitians celebrate the three-day run-up to the Catholic season of Lent.
Businesses will be closed and large groups will gather on the streets to celebrate. Some fear amid the growing unrest that the festivities could easily escalate into anti-Aristide rallies.
And while police here are under orders not to engage anti-government groups, they also recognize that the rebels are well-armed, and appear to be gaining even more support.
Opposition demands
As far as opposition groups are concerned, the first step needs to be taken by the Aristide, whose 2000 re-election was boycotted by opponents, who alleged fraud in municipal and legislative elections earlier that year.
"Mr. Aristide must leave," opposition coordinator Andy Apaid said. "He must step down for Haiti to have any hope of an electoral process."
Apaid's organization, the Group of 184, says it's committed to a non-violent solution to what it calls the collapse of democracy.  He is not part of the rebel movement that launched its campaign Feb. 5 with the capture of the city of Gonaives on Feb. 6.
"We don't want this to continue. We want a non-violent path and as such we ask the international community to very quickly understand that the more they wait, in order to tell Mr. Aristide to go … [it will be] a disaster.
"The police are politicized, the judicial system is politicized, all of that make it that Mr. Aristide should step down. It's too late," Apaid said.
Haiti is the poorest nation in the western hemisphere with more than half its 8 million people living on less than $1 a day. The rebellion has only worsened an already serious humanitarian problem.
Some former allies, such as Frankel Jean-Risca -- the leader of the largest peasant movement and a member of the Group of 184 – have now turned on Aristide.

Jean-Risca lives in Cite Soleil, the largest slum in Port-au-Prince and the bedrock for Aristide's support when he emerged as a priest-politician who won the U.N. organized presidential election in 1990. "Mr. Aristide has betrayed us all," Jean-Risca said this week.
And labor union leader Patrick Numa, speaking in native Creole, used a well-known expession to describe the situation,  "Aristide is like a fishbone stuck in ones throat."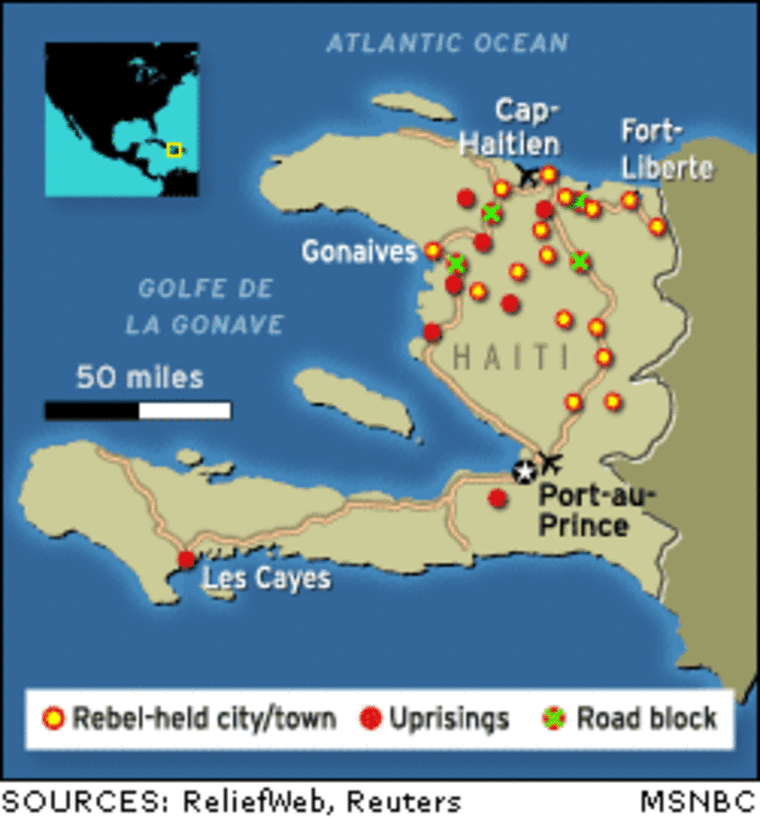 Aristide defiant
But at a memorial service Thursday for the families of 17 police officers killed in the uprising, Aristide was defiant, saying he would not step down from his elected position, and that his country should not be intimidated by what he calls "terrorists."
In his native Creole he told the 400 mourners, including a large contingent of the police force, that the police should take the lead in defeating the rebellion. 
"Our policemen are brave. Continue to use your intelligence, your brain to reinforce peace in St. Michel, in Gonaives, in Hinche, throughout the north," he said, referring to cities and town captured by the rebels.
"I ask you police to use your weapon of intelligence to counter the difficulties by uniting with the people.  Peacefully we can defend democratic principles."