/ Source: a href="http://www.washingtonpost.com/wp-srv/front.htm" linktype="External" resizable="true" status="true" scrollbars="true">The Washington Post</a
Makaila Purdy stood beneath a tree dripping with macadamias and the remnants of a passing rain shower, three felines at her feet and a hammer in her hand. As I clopped about in the mud, she waved me over to a dilapidated table encircled by a mound of discarded nut shells.
"Come, come. Don't be shy," she said, surveying the six travelers standing before her at Purdy's Nut Farm, a roadside blip with a dirt-caked sign and parking for three cars. "Such a rainy day, and such a large crowd."
Large crowd? Please. On Molokai, a half-dozen isn't a crowd. It's a mob scene.
My wife and I had been traversing the Hawaiian island, plunked between Maui and Oahu and within view of both, for four days. Now, just moments before our return to Maui, we were in the company of more camera-toters than just about anywhere else we'd stopped on the "Friendly Isle."
After a primer on how to liberate a macadamia with a mallet ("Whatever you do, watch your fingers"), Purdy made a few sales and the horde dispersed.
Rush hour, Molokai-style, was over.
A portrait of the island
At 38 miles long and 10 miles wide, Molokai is compact but dizzyingly diverse. It has the world's tallest sea cliffs (3,250 feet), one of the state's longest beaches (three miles) and a mountain-hugging ribbon of asphalt rivaling Maui's fabled Road to Hana. Father Damien famously ministered to the victims of Hansen's disease (or leprosy) on the isolated Kalaupapa Peninsula, while hula is said to have swayed into existence under the island's listing palms. And because its population of 7,000 includes proportionally more native Hawaiians than the other touristed islands, Molokai is the place to see Old Hawaii — and old Hawaiians.
But with few hotels, restaurants or decent places to swim, a commercial district that's more down-home than downtown and a paucity of pricey time-killers (sorry, no JetSkis, Don Ho or catamaran jaunts), it rarely makes the cut when travelers plot their Hawaiian getaways. In 2003, more than 2.1 million people visited Maui; fewer than 90,000 stopped off in Molokai.
A few days earlier, Daphne Socher, owner of the Big Wind Kite Factory, had spelled out the Molokai Doctrine for me. Her dog, a three-legged mutt named Lehua, lazed under a rack of billowing windsocks a few feet away.
"This place isn't for everyone. If you like great shopping and restaurants, big hotels and a crazy nightlife, go elsewhere," she warned. "You have to be willing to slow things down. And you have to be comfortable with yourself and your thoughts, because you'll be spending most of your time with both."
Late January is nearly the peak of Hawaii's annual whale season, when thousands of humpbacks return to the warm waters off Maui. We'd hoped to see one or two of the leviathans on the 90-minute ferry ride from Lahaina. Instead, we saw dozens.
Still, the sight on the dock in Kaunakakai, Molokai's sleepy hub, was even more welcome.
A slice of Eden
Kehau McKee and her husband, Lou, were waiting in the drizzly darkness as we scrambled off the ship. I'd found Hilltop Cottage, a rental unit on their property, during a Web search and had blindly sent them a $250 check as a deposit. For days, my East Coast cynicism had led me to doubt they'd actually show up to hand over the car that we'd also rented from them.
But here they were, greeting me like an old friend . . . a pale, weary old friend.
"Aloha!" Kehau shrieked, grasping my arm. "How was your trip? Did you see the humpbacks? Do you need to stop for provisions?"
Great, yes, no. She tossed us the keys to her ancient Ford Raider, and 40 minutes later on the island's southeast coast, we discovered that I'd Googled us into a little slice of Eden.
The McKees' place had a kitchen, a king-size bed and a whirlpool tub, as well as soaring whitewashed ceilings and satellite TV (yeah, I know). A huge deck overlooking the Pacific was cushioned by a bank of tropical flowers and vines.
For the next three nights, we'd drift off as the lights of Maui shimmered in the distance and wake to a duet by neighborhood roosters. From the deck, we'd see sunrises, sunsets, breaching whales, shooting stars, arcing rainbows. Throw in a singing mermaid and a talking angelfish, and you'd have a Disney cartoon.
So why, I kept wondering, had it taken us so long to return? We first visited Molokai in 1998, squandering a two-day sojourn by doing absolutely nothing. Admittedly, doing absolutely nothing had its charms.
The island's first fast-food restaurant, a KFC, had just opened, and there was word that a new resort at Molokai Ranch — a working 64,000-acre cattle ranch — would revolutionize the tourist trade. Locals were grumbling that the island's first traffic light was on the way, and perhaps the first cruise ship.
We'd spent most of the time poolside at a shabby oceanside resort, venturing out just once, to watch the remake of "Godzilla" at the island's new (and only) movie theater. The film reeked, but I treasure the memory: Dozens of Molokaians had opted to recline on the floor rather than sit in the hard plastic seats, turning the theater into a giant living room.
As last month's trip neared, I worried that progress had somehow tragically snuck up on Molokai. Fortunately, like most travelers, progress also decided to take a pass.
The island remains free of traffic lights. The KFC is closed, though there's a new Subway in Kaunakakai. The Sheraton Molokai Lodge at the ranch is impressive but small, and there are few signs of other development. The cinema survived, but the resort where I stayed is shuttered. And that cruise ship? Never made it.
Sea cliffs, jungles and roads
Time may have stood still, but we couldn't. During this visit, doing absolutely nothing was not an option.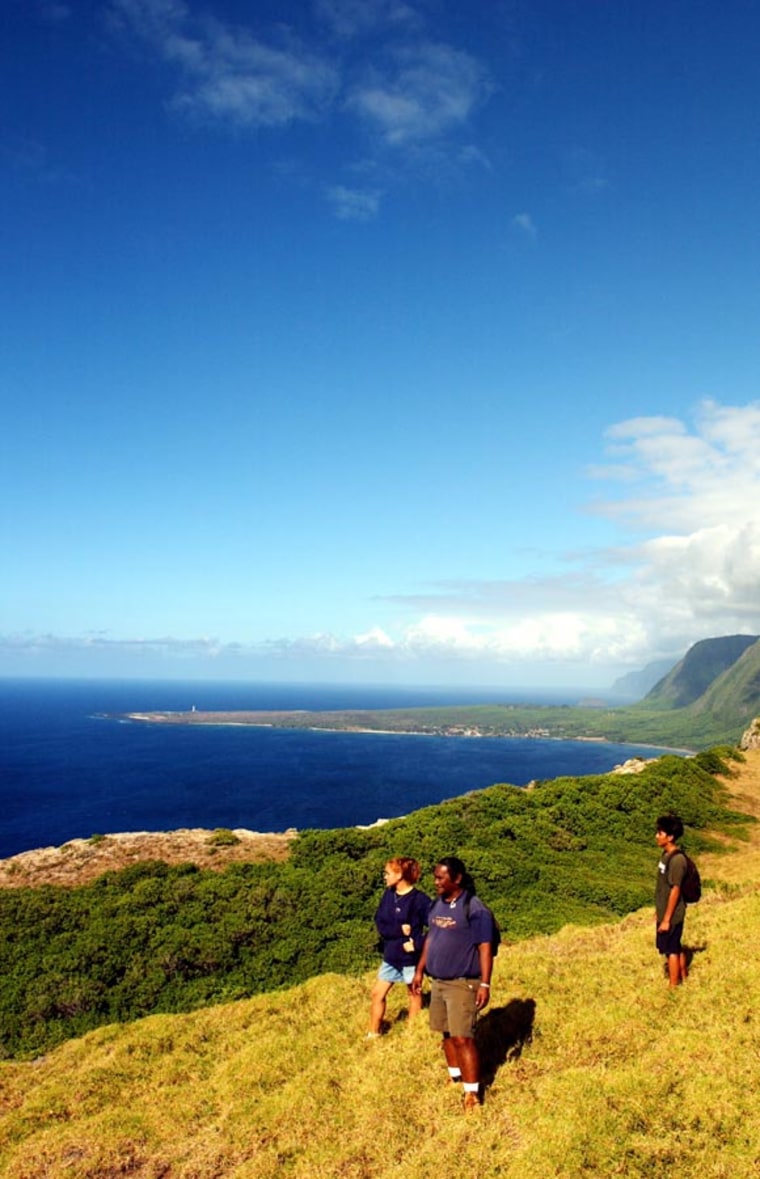 I've never been a big fan of the Road to Hana — too popular, I suppose. It's spectacular, for sure, but there's always someone puttering along in front of you.
That's not a problem on the Road to the Halawa Valley, its Molokai counterpart. Highway 450 clings to the island's southern coast, then becomes a one-laner as it climbs northeast over the mountains and snakes back toward the Pacific, ending at a beach. We saw only two other cars as the Ford Raider, whose performance belied the 200,000-plus miles on its odometer, ambled through farmland and rain forest, and rumbled along verdant cliffs topped by hairpin turns.
The valley, sadly, was draped in a heavy coat of morning mist and fog, though specks of jungle and spray from a waterfall appeared in spurts. Despite the foul weather, we weren't alone. An elderly couple happily walked hand in hand on the gray-sand beach, while a shirtless guy in his twenties paced next to a tree.
"Are you here for the 10 o'clock tour of the sea cliffs?" he asked me, nodding toward a small boat bobbing nearby. "And if not, do you want one?" He held out his card, stamped with the name "Black Jack" and the image of a snarling buccaneer. As appealing as the idea seemed, I had to say no.
"Okay, but if you see anyone looking for me," he said with a smile as he climbed into his SUV, "tell them I couldn't wait any longer."
Neither could we, inasmuch the clouds weren't breaking up. We backtracked toward town, stopping along the way at St. Joseph's Church, a roadside chapel built by Father Damien in 1876. Though it appeared locked, a heavy latch gave way easily, revealing a few rows of pews and a simple altar adorned with fresh protea. A sign asked visitors to close the door when they left.
In true Molokai form, a basket crammed with donations of one-, five- and 10-dollar bills sat unprotected — and undisturbed — on a table.
A few miles down the road was dusty Kaunakakai, whose weathered storefronts could have come from a John Ford western. Along with a few gift shops and galleries, two gas stations, a liquor store and some middling restaurants were, oddly, a bevy of places to buy groceries. Kehau had given us strict instructions on where to pick up supplies.
"Go to the Friendly Market for fresh produce and meat and Misaki's for canned and dry goods," she said. "And whatever you do, stop at Kanemitsu's for the best bread in Hawaii." Kehau, it turned out, was never wrong.
Treacherous beaches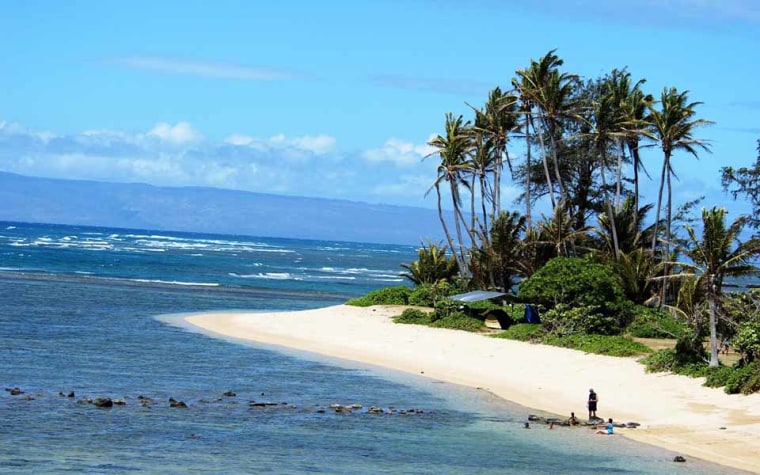 Despite the island's small size, the twisting roads and the other drivers' leisurely pace meant it took a long time to get anywhere. Since we'd vowed to be back at Hilltop Cottage before nightfall (otherwise, we'd never find the sliver of driveway leading to our digs), I eyed the dimming sky warily as we started walking Papohaku Beach in late afternoon, more than an hour from home.
Like many of Molokai's beaches, the three-mile Papohaku is no friend to swimmers. Rip currents and heavy surf are the norm in winter, and jagged rocks line the shore. I tried to stroll along the edge but quickly gave up, deciding that Papohaku must be the goddess of angry beaches.
After a few minutes we jumped back into the Raider, arriving at the cottage just as the setting sun slipped behind the mountains.
Visiting the "leper colony"
"Whoaaaaaa, let me help you there!" shouted Buzzy Sproat, co-owner of the Molokai Mule Ride, as I fumbled for the reins of Lokelani. He looked up at me and grinned. "Haven't you been on a mule before?"
Sproat, who looked like Kenny Rogers after spending too much time in the sun, moved on to the next person in crisis (there were 14 of us, and we all seemed to be having some sort of trouble). He asked her if she knew what "Buster Brown," her mule's name, meant in Hawaiian.
His response: "Shoes."
Ba-da-bump! Sproat probably had a million of 'em, but it was 8:30 a.m., time to begin the bumpy, muddy trek down to Kalaupapa, a lush peninsula with a heartbreaking past.
In 1866, Hawaii began to exile victims of leprosy to the sea-bound strip, which is cut off from "topside" Molokai by a 1,600-foot precipice. (The disease, treatable since the 1940s, is a bacterial infection that affects the skin, nerves and eyes, often leading to disfigurement and disability.) Many were forced to swim to shore, where they lived in deplorable conditions with little care. In 1873, Father Damien (born Joseph de Veuster in Belgium) arrived and built homes, hospitals and churches. Thousands of Hawaiians, torn from their families in an effort to isolate the contagion, died here, including Damien himself, who contracted leprosy in 1884 and succumbed five years later.
For nearly 25 years, the peninsula has been a national historical park, accessible only by plane, a grueling hike — or mule. The adventure has become synonymous with Molokai, though strict guidelines greatly limit visitation. Several dozen patients still live on Kalaupapa, and their privacy is fiercely protected.
Accompanied by several wranglers, we began our descent down the narrow dirt path, which was inset with steps and contained 26 harrowing — and numbered — switchbacks. Small clearings provided random, startling glimpses of the surf and turf hundreds of feet below.
Sproat had ordered us to let his highly trained mules do everything. Fine by me. For the next 90 minutes, I kept myself occupied by dodging tree branches, blocking kicks from the rearing mule in front of me and girding for spine-aligning jolts whenever Lokelani bolted down two steps at a time.
There was little banter. When one woman whined that the ride was rougher than she'd expected, a guide gently reminded her that 100 years ago, the residents of Kalaupapa had had it a lot harder. That became even more apparent when we finally de-muled and were introduced to Norman, a soft-spoken guide with Damien Tours. Norman drove us around in a ramshackle school bus, alternately recounting Kalaupapa's sad history and feeding the feral cats that scooted to his side.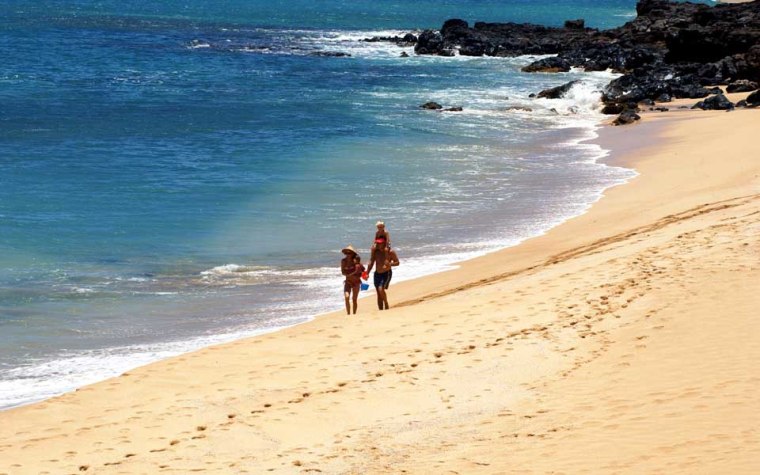 He had one rule. "Please don't take pictures of any of the patients," he admonished. "Not that you'll see any. They know we're on the way."
We saw no one and stopped infrequently, but the passing glimpses of Kalaupapa life through the bus windows — the pretty clapboard bungalows, the gardens, the library, the market, even the gas station — still made me feel like an intruder. I was relieved when we left this (barely) populated area and proceeded to Kalamao, an even lonelier outpost on the peninsula's eastern edge where Damien lived, preached, died and was buried.
In 1936, the priest's body was exhumed and sent to Belgium. The relic of his right hand was returned to Molokai in 1995 and reinterred in a grave beside St. Philomena's Church, one of the community's few remaining structures. Today, he continues on the road to sainthood.
As for the patients, they've been free to leave Kalaupapa since Hawaii abolished its isolation laws in 1969. Many did, but given the choice between the workaday hustle of Oahu or the ambient roar of the Pacific, it's not difficult to understand the decision of those who returned.
Several hours later, we were back in the workaday hustle of topside Molokai. On a beach near the cottage, we sat in the sand and watched as a pair of humpbacks took turns leaping out of the surf about a hundred yards from shore. A couple of locals who saw the commotion joined us, smiling and pointing.
No one said a word.
Details: Molokai, Hawaii
GETTING THERE: Connecting service from Washington to Molokai starts at about $1,000 round trip, but most visitors go à la carte from other islands. Island Air flies nonstop from both Maui and Oahu, for example, with fares starting at about $160 round trip. For a more scenic ride, consider the 90-minute ferry ($42.40 each way) from Lahaina, Maui, to Kaunakakai, Molokai. Details: 808-662-3355, www.molokaiferry.com
GETTING AROUND: You need a car. Dollar and Budget rentals are available at the airport. Island Kine Auto Rental (866-527-7368, www.molokai-car-rental.com) is a private company in Kaunakakai; it will pick you up at the airport or the ferry. Rentals start at $35 a day.
WHERE TO STAY: If you're looking for a mega-resort, you're on the wrong island. The big kahuna is the Sheraton Molokai Lodge and Beach Village, but I opted for the Hilltop Cottage, a bungalow on the island's southeast coast. With a full kitchen, washer/dryer, whirlpool tub and even a telescope for stargazing, it was a real deal at $125 a night (that's for stays of three nights or more; two nights are $395 total). I also rented the owners' old Ford Raider for $29.99 a day. Details: 808-558-8161, www.molokaihilltopcottage.com.
Other choices include the oceanside Hotel Molokai (Highway 450, 808-553-5347, www.castleresorts.com), a perfectly amenable spot close to Kaunakakai's main drag; some units have kitchens. Rates from $90. Nearby Wavecrest is a well-manicured condo complex with a pool and tennis courts. One-bedroom units with kitchens start at $70 a night, two bedrooms from $110. Details: 800-600-4158, www.wavecresthawaii.com.
Check with the Molokai Visitors Association (see below) for other hotels, private rentals and B&Bs.
WHERE TO EAT: Foodies won't be overjoyed, but the non-discriminating won't have problems finding a decent meal. The restaurant at the Sheraton Molokai is the sole spot for fine dining; locals suggested going on a Wednesday night for its all-you-can-eat pasta special (6 to 9 p.m., $14.95 a person). I had a great lunch of fish and chips at the Hotel Molokai's tiki bar-ish restaurant; lunch for two was about $20.
The diner-like Molokai Pizza Cafe (3 Wharf Rd., Kaunakakai) serves up burgers, pizzas and salads for about $18 for two. You may be the only out-of-towner there, so just sit and listen and soak in the atmosphere. Likewise, Kamuela's Cookhouse (102 Farrington Ave., Kualapuu) is as close to an institution as you'll find here; burgers and Hawaiian plate lunches are about $20 for two. For a good cup of joe, check out the Molokai Coffee Plantation in Kualapuu; it also offers daily tours.
Downtown Kaunakakai has several places to stock up on picnic or dinner fixin's, and prices are — believe it or not— reasonable. At Kanemitsu's Bakery and Restaurant (79 Ala Malama St.), most items are under $3.
WHAT TO DO: The mule ride to Kalaupapa is the island's big-ticket attraction. The cost is $150 per person, with discounts if you pay in advance. Details: Molokai Mule Ride, 800-567-7550, www.muleride.com. The company can also arrange a flight/tour ($119) to Kalaupapa from Molokai's airport or book day trips from Maui or Oahu (rates, including airfare and tour, start at $225 per person). You can hike down on your own, but you must tour the site via Damien Tours ($30, 808-567-6171).
Visitors can also snorkel, scuba,whale-watch in season (December through March) or go sport fishing.
Hiking to the waterfalls in the Halawa Valley is permitted, but only with a guide. Check with the Molokai Visitors Association (see below) for a list of outfitters and other activities.
Beaches throughout the island are well marked with ample parking — even it's just a dirt patch under a palm tree.
Papohaku Beach on the west end has restrooms and picnic groves. If you're jonesing to crack a macadamia, head to
Purdy's Nut Farm (Lili Pali Avenue in Hoolehua; keep a sharp eye out for the sign).
INFORMATION: Molokai Visitors Association, 800-800-6367, www.molokai-hawaii.com. Resident Jeffrey Jumper operates a top-notch Web site atwww.visitmolokai.com. For general info: Hawaii Visitors and Convention Bureau. 800-464-2924, http://www.go-hawaii.com.