/ Source: The Associated Press
"Narco Polo" is the new fashion trend sweeping lower-class neighborhoods in Mexico, inspired by seven high-ranking drug traffickers who were arrested over a three-month stretch wearing open-neck, short-sleeved jerseys with the familiar horseman-with-a-stick emblem.
The polo shirts are becoming ubiquitous in street vendors' stalls from the drug-war-ravaged state of Tamaulipas to the cradle of Mexican drug trafficking, Sinaloa.
Demand is so high that a Mexico City street vendor named Felipe stocks several colors, and names them after the drug lord who was wearing that color at the time of his arrest.
"This is the 'J.J'," he says, pointing to a blue one, "and this is 'La Barbie,'" indicating a green number. That was a reference to Jose Jorge ("J.J.") Balderas, who allegedly dealt drugs and shot soccer star Salvador Cabanas in the head, and to U.S.-born Edgar Valdez Villarreal, "La Barbie."
Despite their Ralph Lauren labels, the shirts on sale on Mexico City streets for 160 pesos ($13.50) are clearly pirated goods, sold by unlicensed vendors like Felipe who don't want their full names used for fear of attracting police attention.
But some of Felipe's customers have their first names embroidered on the back of the shirts, a service he offers for an extra fee, as a sort of dare.
It's probably not the demographic that designers at Ralph Lauren were thinking of for their polo shirts. The company did not respond to several requests for comment about the shirts' popularity in Mexican criminal circles.
The shirt La Barbie wore when captured appeared to be the only potentially authentic one of the bunch. The rest of the drug traffickers appeared to be wearing cheap knockoffs of the $98 to $145 Ralph Lauren "Big Pony" jerseys.
'You can't say anything to me'
The shirt is becoming so pervasive that it provoked public grumbling from Sinaloa Gov. Mario Lopez Valdez.
"Now you see how these shirts like La Barbie's have become the fashion," said Lopez Valdez. While he didn't suggest an outright ban, he told a local radio station that "I think we have to close off everything that promotes criminal behavior."
He complained that the fad glorifies traffickers.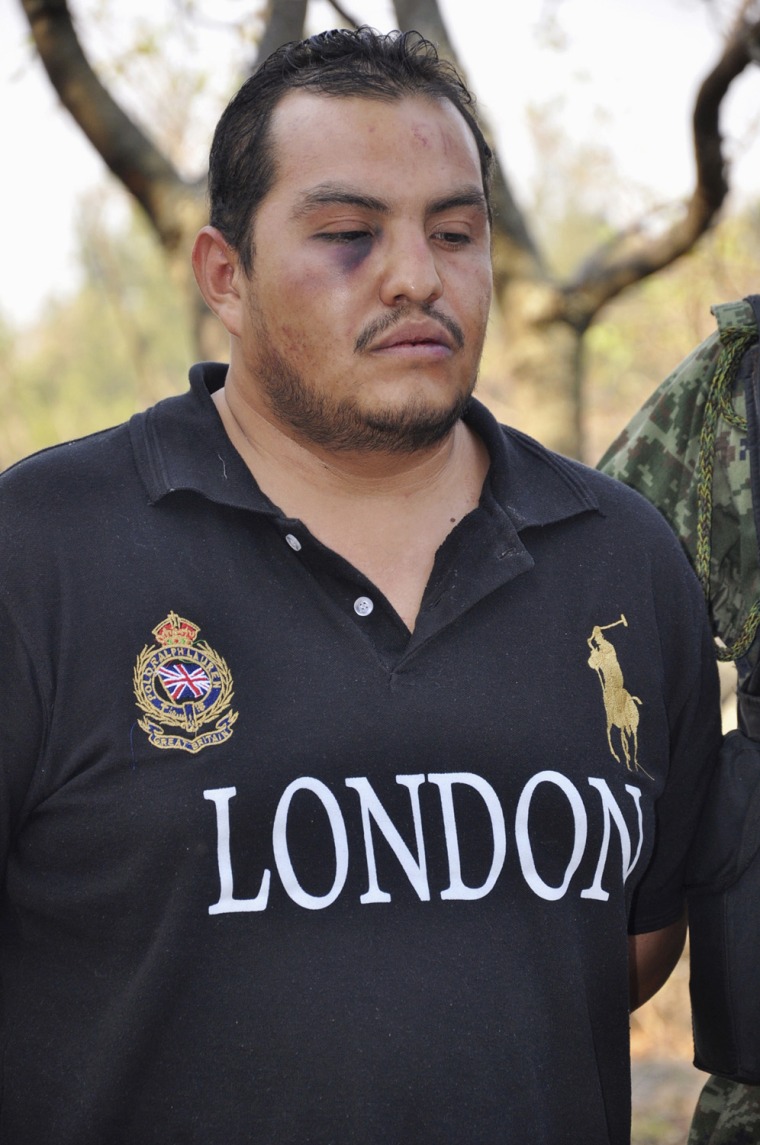 "Many young people want to emulate them as idols in some way ... and they want to be drug traffickers. And there are a lot of young girls who want to be the girlfriends of drug traffickers."
But it may not be sheer adulation; wearing the shirts may also be a way for youths to thumb their noses at authority, a time-honored pastime among young people around the world.
"To the police, it's a message that says 'I could be a drug trafficker and walk right in front of you and you can't say anything to me because I'm just wearing a shirt,'" said Oscar Galicia Castillo, a psychologist at the IberoAmerican University who studies prison inmates. "Many youths are also using it as a way of making fun of snobbish status markers."
For Pedro, who sells snacks at a stand on a downtown Mexico City street, his light blue polo shirt just represents an indefinable sense of cool. He said the shirts had become all the rage in his tough neighborhood of Tepito, and that his wife bought him one as a surprise.
"It looks good. It gives you class," he said. He declined to give his last name, saying police had recently caught him selling cigarettes to minors.
In some rough barrios, a shirt that conveys a vague sense of menace and a "don't mess with me" attitude may be helpful.
"The guys who buy them want people to think they're tough," said Cesar, a counterfeit-shirt vendor who said most of the customers at his downtown Mexico City stall are young males. "It's about putting on a look."
All about standing out
For at least two decades, Mexicans have fretted about youths emulating drug traffickers, from the days when narcos favored the designs of Versace and exotic-leather boots, or marijuana-leaf insignia on belt buckles, shirts and baseball caps. But such trends remained largely regional, and were derided as tacky.
But the new fashion trend has been helped along by a new, more urbane and sophisticated generation of drug traffickers, who dress more like Mexico's wealthier classes.
In 2010, Vicente Zambada Niebla, the son of drug lord Vicente "El Mayo" Zambada, was arrested in an upscale Mexico City neighborhood, wearing a preppy ensemble of sports coat, designer jeans and striped cotton shirt.
Vicente Carrillo Leyva, the son of another drug lord, was collared around the same time wearing a jogging suit emblazoned with the name "Abercrombie."
Media coverage also can promote the trend. Newly captured capos are paraded before television cameras wearing the latest narco-fashion, often with beautiful girlfriends at their sides. Authorities allow some, like J.J., to sit down for interviews looking self-assured, fit and unrepentant.
"My business improved. Everybody wanted to work with me," Balderas said of the notoriety he achieved while a wanted man.
It wouldn't be the first time designers have faced an unexpected market. Uber-preppy designer Tommy Hilfiger's clothes became a must-have item for inner-city youths a few years ago.
For Galicia Castillo, the psychologist, it's all about standing out, identifying oneself as a member of a certain sector of a crowded world, probably much the same reason people shell out $145 for the original: "That's why I wear it, so that everyone will look at me, will see that I can afford this. And I could be a narco, so don't mess with me."