/ Source: msnbc.com staff and news service reports
A white former San Francisco Bay area transit officer convicted of the fatal shooting of an unarmed black man on an Oakland train station platform was released from jail early Monday after serving 11 months of a two-year sentence, officials said.
Johannes Mehserle was set free from a Los Angeles County jail, where he served his time after his attention-getting trial was moved to Southern California, Los Angeles County Sheriff's Department spokesman Steve Whitmore said.
Whitmore told The Associated Press that Mehserle was released from custody at Twin Towers facility as of 12:01 a.m.
Mehserle's attorney, Michael Rains, told KTVU-TV on Monday that precautions were taken because there were too many safety concerns to let his client just walk out of jail.
When asked if Mehserle can go home again, Rains said sounded optimistic.
"Well, we don't know. We'll know more about that in the next 10 days to two weeks," Rains said. "We hope he will be able to go home because he has always called Northern California home and he really doesn't want to call any place else home.
"But if he can't go home, he's going to call another place home and he will go there with his family and he will live a productive life."
A judge ruled Friday that Mehserle should be given credit for time served and good conduct.
Mehserle, 29, was convicted of involuntary manslaughter last year in the shooting death of Oscar Grant on New Year's Day 2009. The incident was recorded by bystanders, and video posted online showed the Bay Area Rapid Transit officer firing a bullet into the back of Grant, 22, as he lay face down after being pulled off a train, suspected of fighting.
The videos were subsequently used as evidence during Mehserle's murder trial and posted online, further stoking the racial tensions brought on by the shooting.
Facing a second-degree murder charge and a maximum 14 years in prison, Mehserle tearfully testified at his trial that he meant to use his stun gun instead of his .40-caliber pistol.
Jurors found that while Mehserle didn't mean to kill Grant, his behavior was so negligent that it was criminal. He received a two-year sentence for involuntary manslaughter.
About 25 protesters gathered Monday at the downtown Los Angeles courthouse where Mehserle was tried. They walked to a nearby U.S. District Court building to demand that federal charges be brought against the former officer.
"We are here because there has been an injustice," protester Julia Wallace said.
A few federal police officers watched the protest, which remained peaceful.
Meanwhile, a group of demonstrators in Oakland on Monday filed a class action lawsuit against the police department claiming they were unlawfully arrested and jailed while protesting Mehserle's sentencing in November.
More than 150 people were arrested as police cited them with unlawful assembly, but no charges were ever filed.
The Oakland City Attorney's office declined comment as it has not reviewed the suit.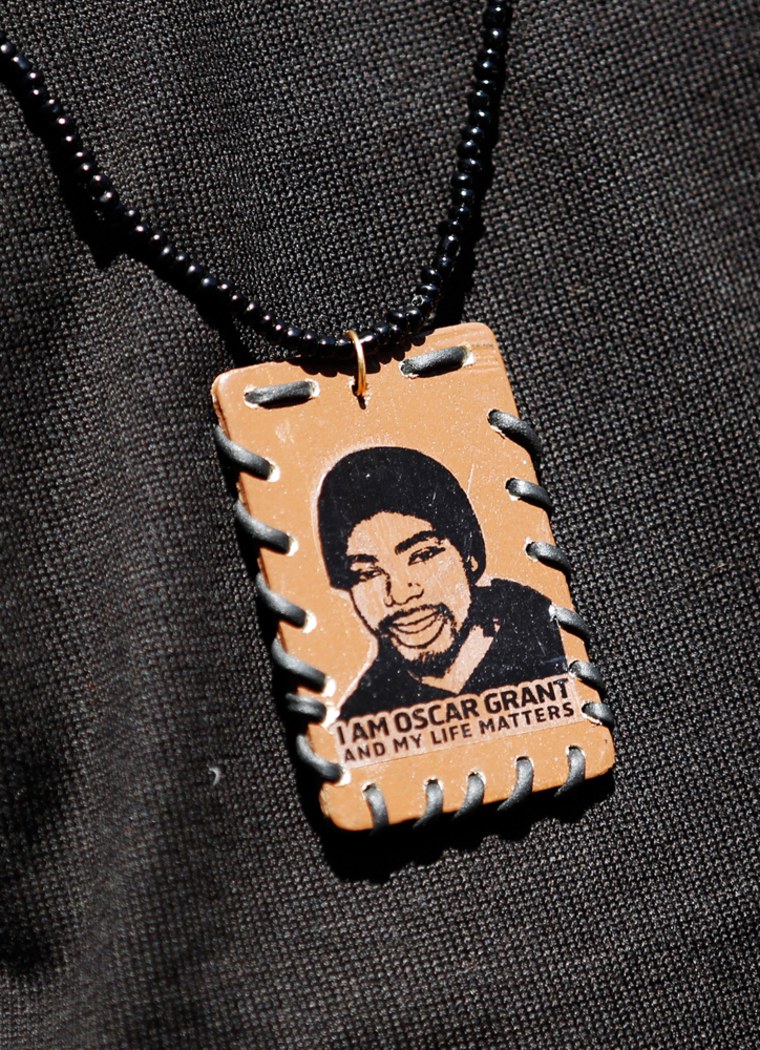 Civil case With Mehserle's appeal and the civil case making their way through the court system, Rains told the Oakland Tribune last month, "Things are still unsettled. [He] would just as soon fade into oblivion, find a job, support himself and his family and do so without fanfare."
On Sunday, about 300 protesters on Sunday held a fairly peaceful demonstration in downtown Oakland as they vented their continued frustration over Grant's fatal shooting.
"The people know it was wrong," said Jabari Shaw, 32, a protester who had also attended Mehserle's trial. "As much as we want justice, we're still not getting it."
The shooting continues to spark debate, racial tension and occasional protests that have turned violent. Last fall, more than 150 people were arrested in Oakland hours after Mehserle's sentencing.
On Sunday, the protesters first gathered at the train station where Grant was killed carrying signs as "Jail Killer Cops," and chanting, "We are all Oscar Grant!" Some protesters carried a mock casket symbolizing Grant's death as they marched downtown.
One person was arrested for spray painting graffiti, police said.
Grant's family attorney, John Burris, on Sunday urged the Oakland crowd before their march downtown to remain peaceful as they exercised their freedom of speech.
"There's still an opportunity for all of us to continue our sense of outrage, our sense of frustration at the (criminal justice) system and do what we can through public speaking, through organizing, community involvement to continue his legacy," Burris said.