/ Source: msnbc.com news services
Army soldiers are gleeful they can ditch the ill-fitting black wool berets they've worn for years and go back to their old, brimmed patrol caps.
Army Secretary John McHugh ordered the change to take effect Tuesday, which also happens to be the service's 236th birthday.
South Carolina Army National Guard Col. Pete Brooks says the change comes just in time to help soldiers deal with the heat. Brooks says the brimmed patrol cap is easier to put on and wards off the sun. The change is part of a wide range of changes being made to Army uniforms.
"It's the military equivalent of being able to wear a baseball cap to work," said Col. Pete Brooks of the S.C. Army National Guard. "Wearing the beret in 100-degree South Carolina heat was like wearing a wet piece of black wool on your head."
The change is one of several uniform adjustments, including allowing soldiers to either sew or use Velcro to attach uniform insignia, rank and name tags. In the past, badges had to be pinned on, a lengthy process that meant a ruler had to be used to keep them in line.
It affects all active duty, National Guard and Reserve forces. Soldiers will still wear berets with their dress uniforms, which they don for special occasions such as change-of-command ceremonies. But the caps can be worn for everyday duties.
Another switch will be a return to dressier uniforms for Army men and women in the Pentagon, a step ordered to spiff up the Army's image, said the Army's top enlisted man Sergeant Major of the Army Raymond F. Chandler III.
Army Chief of Staff Martin E. Dempsey asked him to take a look at soldiers' concerns, and the cap and Velcro were "changes in the field that they wanted to see," Chandler told the Army News Service.
, the shift was prompted by feedback from surveys and discussions with "thousands of soldiers," both online and in person.
gave servicemen the chance to speak frankly about the headgear. According to the report, more than 300 soldiers of varying ranks and specialties chimed in. The Army's takeaway: "Dump it."
"It was time to dump it 10 years ago," wrote Chief Warrant Officer 3 Mark Vino. "I hate wearing a wet sock on my head. Plus it makes my head/skin break out."
A number of soldiers felt the headgear — which took two hands to put on and couldn't be carried in a pocket" — did little to boost morale, as many hoped it would 10 years ago.
According to a report, then-Chief of Staff Gen. Eric Shinseki said the shift was not about recruiting or retention, but rather about "our excellence as soldiers, our unity as a force and our values as an institution."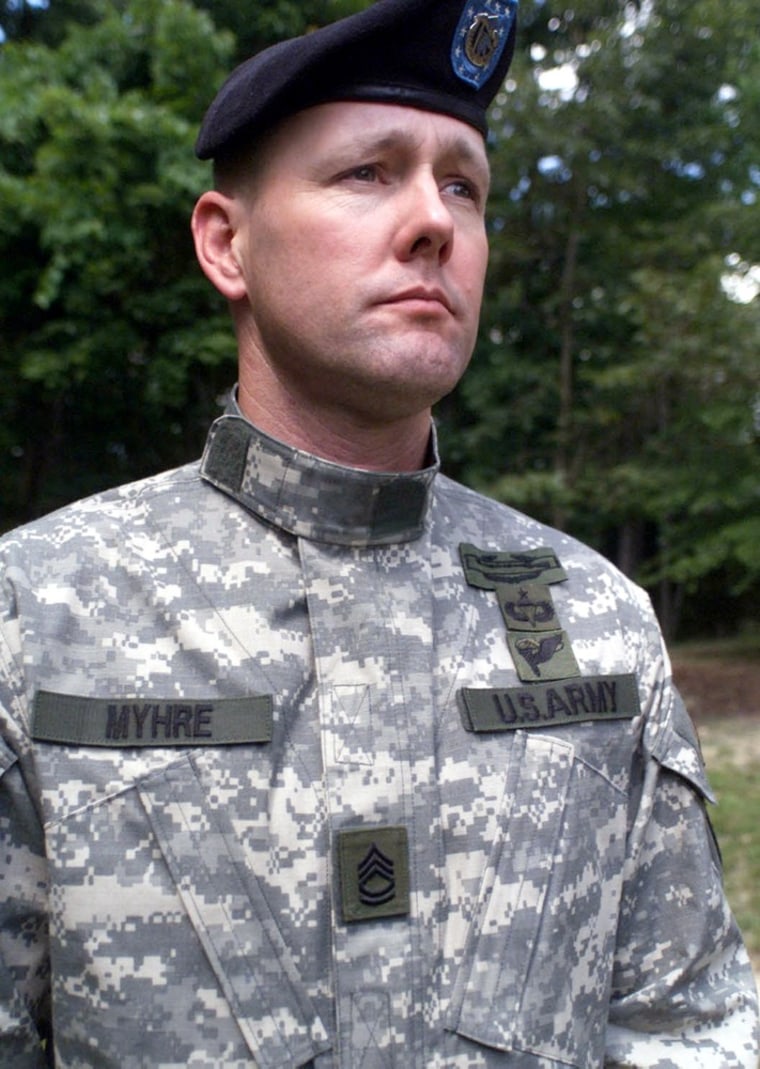 Brooks said in an interview that the change comes just in time to help soldiers deal with the heat and ward off the summer sun in the U.S. It's also a major issue when soldiers are working in desert environments such as Iraq or Afghanistan. In certain jobs, soldiers could wear caps, but they had to keep berets on hand as well in order to go on base.
The brimmed patrol cap is easier to put on with just one hand, Brooks said.
"You could reach in your pocket and flip it on, and just keep moving," he said.
The berets had to be adjusted with both hands, and many installations were forced to place mirrors at their entrances so soldiers could check their appearance, he said. It created special difficulties for female soldiers who had to adjust their hair styles to fit under the tight berets.
Former Army Chief of Staff Gen. Eric Shinseki surprised troops in 2000 when he announced a shift to the beret from the utilitarian cap as a "symbol of unity" and a way to boost morale. But it irritated elite units who were given tan, green or maroon berets as badges of honor.
Soldiers, of course, will still wear their helmets in combat.