/ Source: The Associated Press
NASA scientists got another look beneath the surface of Mars after the rover Spirit dug a trench in the martian soil Friday, while its twin, Opportunity, prepared to examine a rock dubbed "El Capitan."
The upper few inches of the martian soil were being studied by instruments on each rover's arm for evidence of water, which would suggest the dusty, frigid Red Planet could have been hospitable to life at one time.
Spirit, working in a crater, used one of its six wheels to create a trench 2.8 inches to 3.1 inches deep. Spirit had to work twice as long as Opportunity did earlier, when it dug down 3.5-3.9 inches into loose sand on the other side of the planet.
"The soil at (Spirit's) location was apparently firmer than at Opportunity's site," said Jim Erickson, mission manager for Opportunity, during a teleconference from NASA's Jet Propulsion Laboratory in Pasadena.
Spirit was to use its instruments to study the wall and bottom of the trench for two days.
Data from Opportunity's trench showed that the soil in the walls was different from that on the surface. Scientists said that sand grains in the wall appeared to be cemented together, a process that can occur when water vapor moves between the atmosphere and soil just below the surface.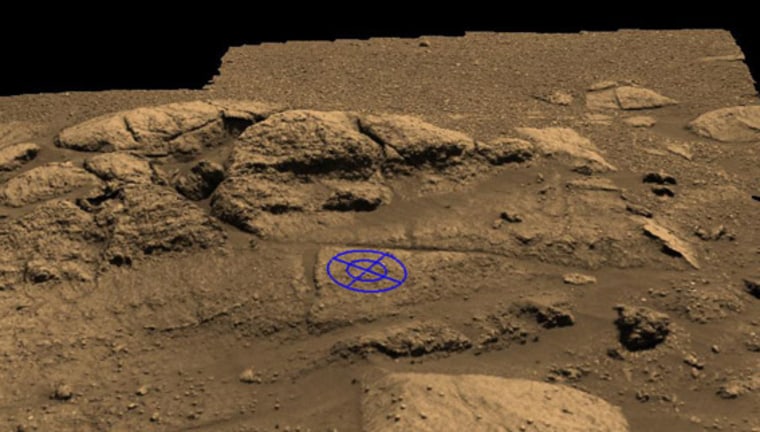 Before its Martian day ended, Opportunity made a final trench observation with a spectrometer and then stowed its instrument arm and made its longest drive yet, about 50 feet.
Opportunity was to study a rock named "Stone Tablet" and an area of soil, while also doing remote sensing of "El Capitan," which, unlike its towering namesake in Yosemite National Park, is probably about as high as a street curb. It was to then drive the remaining third of a yard to the rock.
Studies of "El Capitan" with instruments including the rover's rock abrasion tool, will occur over several days.