/ Source: NBC, msnbc.com and news services
As the FBI chased leads on two continents, Boston mob boss James "Whitey" Bulger spent nearly all of his 16 years on the lam in this seaside city, passing himself off as just another elderly retiree, albeit one who kept a .357 Magnum and more than 100 rounds of ammunition in his modest apartment.
Bulger — the FBI's most-wanted man and a feared underworld figure linked to 19 murders — was captured Wednesday after one of the biggest manhunts in U.S. history. His undoing may have been his impeccably groomed girlfriend.
Earlier this week, after years of frustration, the FBI put out a series of daytime TV announcements with photos of Bulger's blond live-in companion, Catherine Greig. The announcements pointed out that Greig was known to frequent beauty salons and have her teeth cleaned once a month.
Two days later, the campaign produced a tip that led agents to the two-bedroom apartment three blocks from the Pacific Ocean where Bulger and Greig lived, authorities said. The FBI would not give any details about the tip.
The 81-year-old boss of South Boston's vicious Winter Hill Gang — a man who authorities say would not hesitate to shoot someone between the eyes — was lured outside the building and captured without resistance. Greig, 60, was also arrested.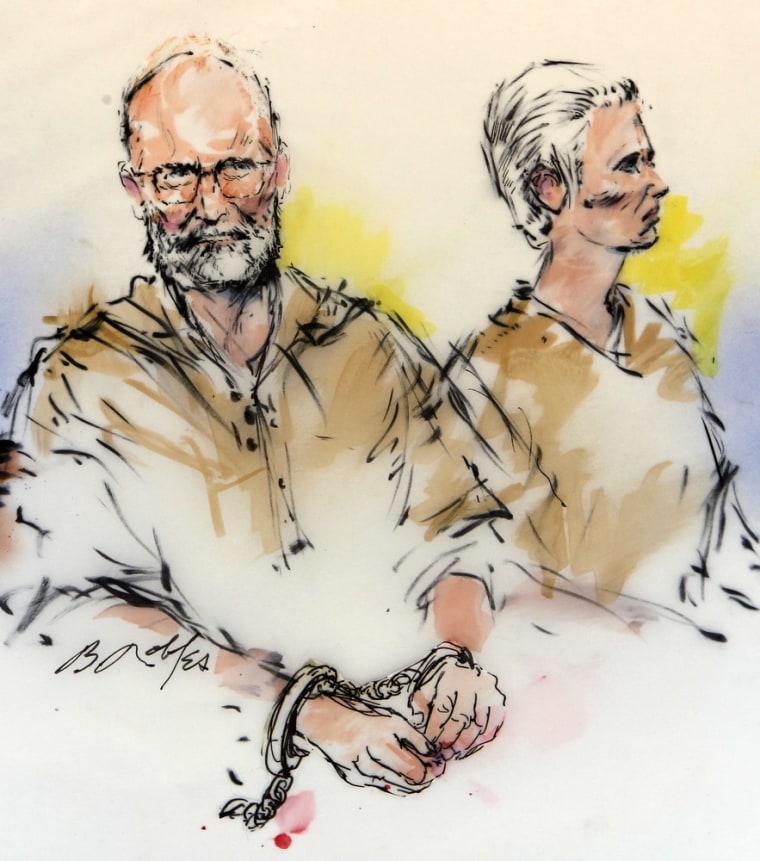 Hint of defianceOn Thursday afternoon, Bulger appeared with his girlfriend in federal court in Los Angeles and was ordered returned to Massachusetts to face charges after he waived his right to a hearing.
Bulger was bald with a snow-white beard, and was wearing glasses and a white, hoodie-style sweatshirt. Bulger and Greig looked concerned, but chatted with each other and smiled, an NBC News producer in the courtroom reported.
The judge asked Bulger if he had read the charges against him. Clutching court documents to his chest, Bulger replied, with a hint of defiance and sarcasm in his Boston accent: "I got them all here. It will take me quite a while to finish these. I know them all pretty well."
Bulger shuffled out of the courtroom and cracked a smile after a law enforcement officer patted him on the back and led him away.
He faces federal charges that include murder, conspiracy to commit murder, narcotics distribution, extortion and money laundering. Greig was charged with harboring a fugitive.
quoted one official as saying, "They got a confession from him."
Many people in the Southern California neighborhood where the crime boss lived were not surprised that Bulger could blend in in Santa Monica, a densely populated beachside suburb of Los Angeles where aging, ponytailed hippies, bike-riding environmentalists, Hollywood actors and others regularly rub shoulders with retirees, but usually exchange no more than pleasantries.
"This is the perfect place to hide," said Maura McCormick, who lives in an apartment building next door. "Nobody bothers anyone here."
Ads lead to the big tipThe arrests were based on a tip from the ad campaign begun this week, the FBI said. The campaign's strategy was based on finding Greig, 60, in hopes the two would be together, federal officials said.
The 30-second ad that started running Tuesday in 14 television markets to which Bulger may have had ties pointed out that Greig had several plastic surgeries before going on the lam and was known to frequent beauty salons.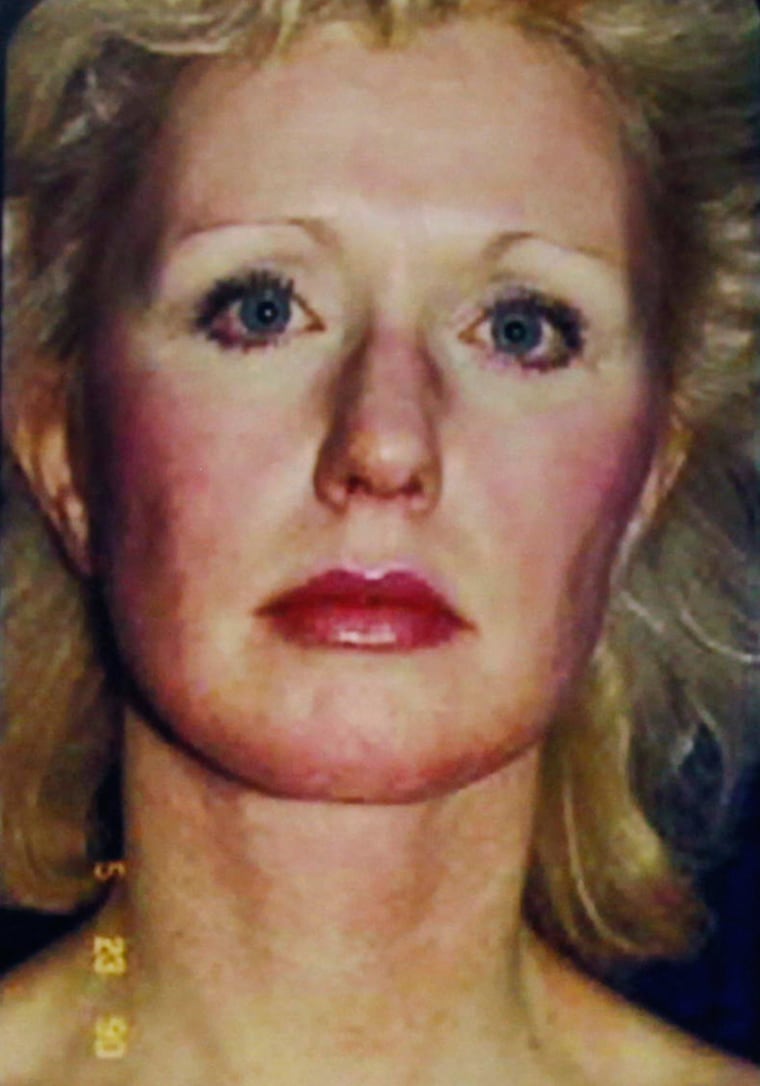 It noted that Greig, a former dental hygienist who is 5-foot-6, blue-eyed and blond, had impeccable oral hygiene and perfect teeth as a result of monthly visits to the dentist. It also noted that she, like Bulger, is an animal lover and mentioned that she had used the aliases Helen Marshal and Carol Shapeton.
The agency deemed the tip in California promising and began surveillance on the apartment complex just after 4 p.m. Wednesday, federal officials said. They said agents soon spotted Bulger and Greig, and using a ruse they wouldn't explain, lured Bulger out of his apartment. They then arrested him without incident, and then arrested Greig, officials said.
The FBI's Richard DesLauriers told it was "a standard ruse, nothing spectacular."
U.S. Attorney Carmen Ortiz said the pair were using the aliases Charles and Carol Gasko.
According to several reports, an FBI search of the apartment turned up as many as 30 guns and several thousand dollars in cash. Federal investigators declined to say how Bulger got enough money to live on.
Ideal tenantsBulger lived on the third floor of the Santa Monica apartment complex, three blocks from a bluff that overlooks the Pacific Ocean. 
The property managers at the Princess Eugenia, a three-story, 28-unit building of one- and two-bedroom apartments said Thursday that the couple moved in around 1996. The managers, who asked that their names not be used because they didn't want additional attention, recalled the couple as sweet people and ideal tenants who always paid their rent on time. Santa Monica property records show the apartment had a rent-controlled rate of $1,145 a month.
In one instance, the man gave a worker at the apartment building his flashlight because he was concerned about her crossing the road after she finished her shift at night. When the father of one the property managers' parents died, the man sent a card offering his condolences, and he periodically sent gifts to people at the complex.
Barbara Gluck, who lives on the same floor as Bulger and Greig, said she didn't know their names but recognized them from photos on the Internet after she heard about their arrest.
Gluck described Greig as "sweet and lovely" and said they would have "girl talk" when they ran into each other in the building. Bulger became angry whenever he saw the two of them talking, and would say, "Stop talking to her," Gluck said.
"He was nasty," she added. "At one point, (Greig) said (Bulger) has a rage issue," Gluck said.
Other neighbors told the couple seemed to live an unassuming, routine life.
"They've been here a while," screenwriter John Weiskopf told The Times. "I would see them out here walking their dog."
They "seemed normal," said an attorney who lived in the apartment complex. "It's a little surprising. It's a little disconcerting."
Embarrassment for agency
Bulger had a place near Osama bin Laden list, and a $2 million reward was offered for information leading to his arrest. A $100,000 reward was offered for details of Greig's whereabouts.
Bulger, who was an inspiration for the 2006 Martin Scorsese film, "The Departed," was wanted over an alleged role in 19 murders. Grieg was implicated with Bulger in the 1981 killing of Tulsa businessman Roger Wheeler outside a Tulsa country club.
Bulger's ability to evade capture embarrassed the FBI and exposed corrupt relationships between the agency and its underworld informants. And the FBI battled a public perception that it had not tried very hard to find Bulger.
Before their capture in California, the last credible sighting of the pair was in London in 2002. Bulger was thought to have traveled extensively in the United States, Europe, Canada and Latin America.
Bulger provided the Boston FBI with information on his gang's main rival, the New England Mob, in an era when bringing down the Mafia was one of the FBI's top national priorities.
Prosecutors said he went on the run after being warned by John Connolly Jr., an FBI agent who had made Bulger an FBI informant 20 years earlier. Connolly was convicted of racketeering in May 2002 for protecting Bulger and his cohort, Stephen "The Rifleman" Flemmi, also an FBI informant.
The Boston FBI office was sharply criticized when the extent of Bulger's alleged crimes and his cozy relationship with the FBI became public in the late 1990s.
The FBI late on Wednesday slapped "Captured" tags on the photos they had posted on its website of Bulger and Greig, including ones enhanced of him to account for the time that had passed. Greig had multiple plastic surgeries before fleeing.
Patricia Donahue, wife of alleged Bulger victim Michael Donahue, said she could not believe it when she heard the news of Bulger's capture.
"I actually never thought I would see this day. I thought the man was dead," she said. Her husband, a construction worker and truck driver, was killed in 1982 in a hit on an underworld figure who was cooperating with investigators. Donahue had given the target of the hit a ride home that day.  
Bulger, nicknamed "Whitey" for his shock of bright platinum hair, grew up in a gritty South Boston housing project, and went on to become Boston's most notorious gangster. He led the violent Winter Hill Gang, a largely Irish mob that ran loan-sharking, gambling and drug rackets in the Boston area.
Bulger, said to be an avid reader and history buff who liked to take long walks on beaches, was featured on the television show "America's Most Wanted" more than a dozen times between 1995 and 2010.
Bulger's younger brother, William, was one of the most powerful politicians in the state, leading the Massachusetts Senate for 17 years and later serving as president of the University of Massachusetts for seven years.
William Bulger had no comment on the arrest early Wednesday, the Boston Globe tweeted.