/ Source: The Associated Press
President Felipe Calderon made an impassioned defense of his military assault on organized crime in an unusual public faceoff Thursday with his biggest critics: sometimes weeping relatives of murder victims who blame the government for the bloodshed.
Poet Javier Sicilia, who lost his son to drug violence in March, opened the publicly televised exchange by demanding that Calderon take the military off the streets and apologize to victims for a failed strategy that he and others say have caused more than 35,000 deaths since Calderon took office in late 2006.
"Where are the benefits of this strategy?" Sicilia asked Calderon, ticking off a list of cases where people have gone unpunished, from drug violence to a 2009 day-care fire that killed 49 children. "You don't have anything to show us, and we are not politicians, we are citizens."
The meeting at Mexico City's historic Chapultepec Castle was emotionally charged, with a mother breaking down in tears as she demanded results into the investigation of her four missing sons, and a relative of two slaying victims of drug traffickers holding back tears while he asked for an update in their case.
Sicilia said that Calderon is "obligated to apologize to the nation and in particular to the victims."
Surrounded by grim-faced top Cabinet members and the first lady, the president pointed his finger and pounded the table to emphasize that with criminal gangs seeking to control Mexico, it would have been irresponsible not to act.
"I agree that we must apologize for not protecting the lives of victims, but not for having acted against the criminals," Calderon said. "One thing I regret is not having sent (the military) before."
Several people have been arrested in the March 28 slaying of Sicilia's son, Juan Francisco Sicilia, a college student who authorities say was in the wrong place at the wrong time.
Calderon repeated what has become the mantra for his administration: that criminals, not the government, are causing the violence. "Francisco was killed by criminals, not federal forces," he said.
While the face-to-face confrontation seemed dramatic, most observers expected little to come of it.
"It's the typical way the Mexican government has worked for decades," said John Ackerman of the legal research institute at Mexico's National Autonomous University. "They're open and willing to talk and have a meeting, but from that to actually taking things into account ... is another thing."
Some saw the public confrontation as benefiting Calderon, giving him a wide audience for his message, while Sicilia's proposals to focus on cleaning up institutions and attacking corruption are things the government says it's already doing.
One of the most concrete demands from his group is for a memorial that names all drug war victims.
"They don't understand the phenomenon of drug trafficking, so they have presented a package of proposals that have nothing to do with public policy," said columnist Raymundo Riva Palacio. "All of their proposals are emotional."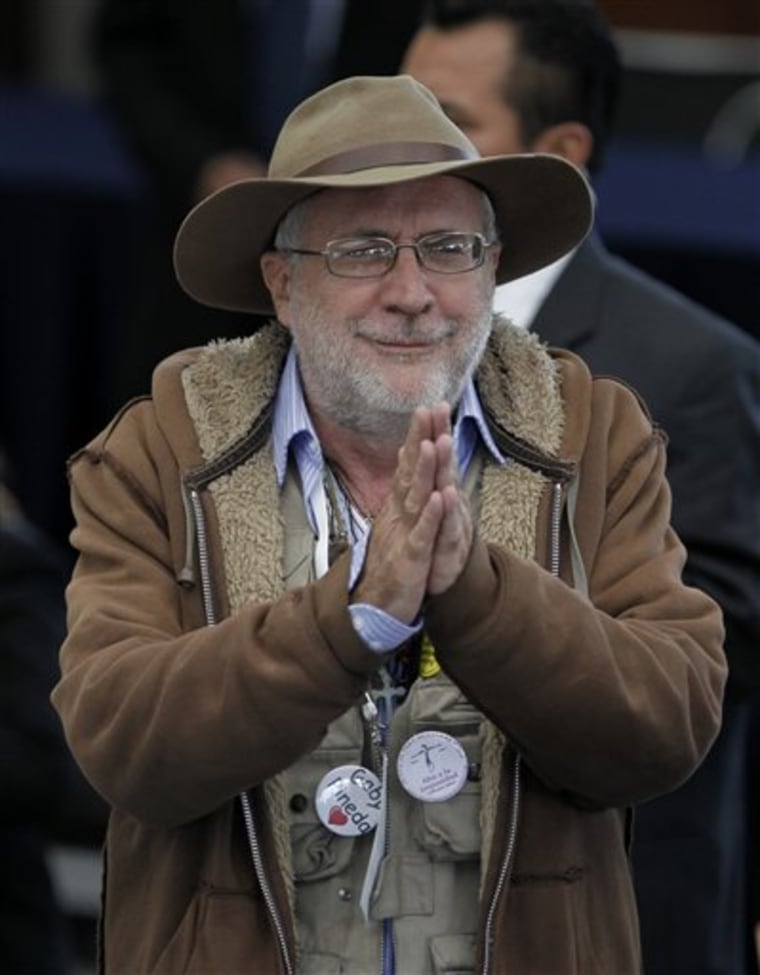 Sicilia has organized what he calls a civil disobedience movement for peace, leading protests in Mexico City and the nearby city of Cuernavaca and a caravan to the violent border city of Ciudad Juarez, where Calderon also had an emotional meeting last year with relatives of youths killed when gunmen burst into a party and opened fire.
Sicilia's movement announced it will send a new protest caravan to Mexico's border with Guatemala.
Previous marches organized by other victims-rights groups in Mexico have drawn more protesters, and violence has only increased.
Calderon gave a frank assessment of what is going on in Mexico: that cartels control some areas of the country, corruption is rampant, judges are paid to let criminals go and local police are in the employ of gangs.
But he said he couldn't wait to clean up institutions before launching an attack.
"If you can stop a crime and you only have stones, then you do it with stones," he said.
Sicily ended his remarks by giving Calderon a scapular he received from a victim's family along one of his marches, calling it "a sign that justice now rests with you."
Calderon agreed to meet with the peace activists in three months, after the two exchanged an awkward hug.