She can "deadlift" 240 pounds, and "snatch" more than 100. But, as Kulsoom Abdullah recently learned, she can do neither in a national competition unless she agrees to bare her arms and legs.
That is a non-starter for Abdullah, a 35-year-old Muslim-American who says that such exposure would violate her deeply held religious beliefs. But rather than giving up on her dreams of competitive weightlifting, she's pressing for a change in the sport's international rules.
Abdullah may be the only woman in the world who lifts in sanctioned competitions while wearing a hijab — the traditional Muslim dress that covers the head, arms and legs. But her dilemma is one that is cropping up in many organized sports in which Muslim women are seeking to compete, sometimes for the first time.
"I think it would just be nice that in any sport, if there's a lady who covers her arms and legs … they could still be involved," Abdullah said. Turning to her chosen sport, which is male-dominated, she adds: "With the dress code (as it is) Muslim women might think it's not something they should do."
Abdullah, whose parents immigrated from Pakistan, was born and raised in the Midwest. In her teens she chose to start wearing the hijab in keeping with her family's Muslim faith. The style, considered an expression of modesty and dignity in Islam, generally allows only the face, feet and hands to be exposed.
"I am a Muslim who tries to implement as many of Islam's teachings as possible in my daily life," she says. "Modesty is one of those teachings, and I choose to honor it when I cover in public."
Abdullah's wardrobe hasn't slowed her down. While she was in graduate school at Georgia Tech, getting a PhD in computer networking, she reached the black belt level in taekwondo, the Korean martial art. She started lifting weights about four years ago as part of her overall training regimen. It turned into a passion.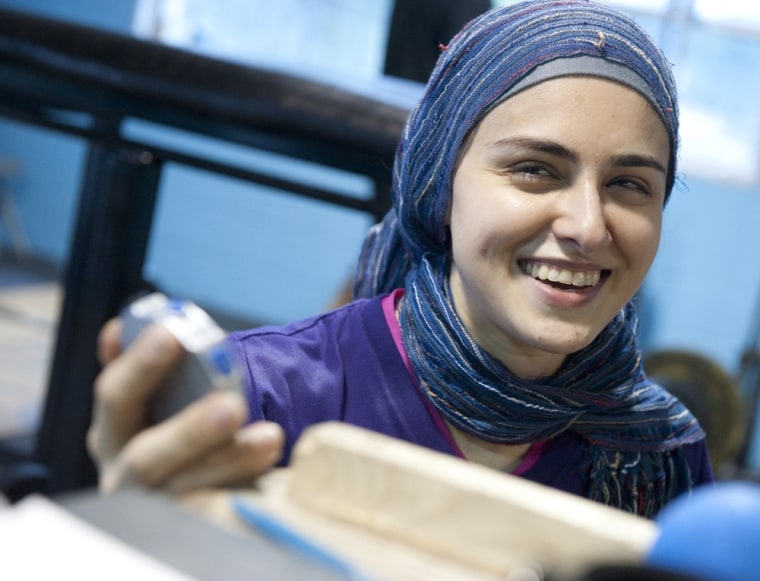 "I found it addictive … not just physically but also psychologically," said Abdullah. She has competed mainly in the 53 kilogram (116 pounds) weight class, working out and competing at lower levels in loose-fitting clothes that covered her arms and legs.
"I got to where it was enough (weight) to qualify for my weight class at the national level in October 2010," said Abdullah, but found that she could not compete with arm and leg coverings at the American Open competition in December that year. "That was the first time clothing came up."
International rules
At present, the rules require arms and legs to be bare so judges can see when elbows and knees are "locked" to determine if a lift is successful. Most competitors wear a form-fitting body suit with short sleeves and short pants called a singlet.
Abdullah argues that there are clothing alternatives — close-fitting sports gear with long sleeves and leggings — that could meet the requirements for modesty and fairness.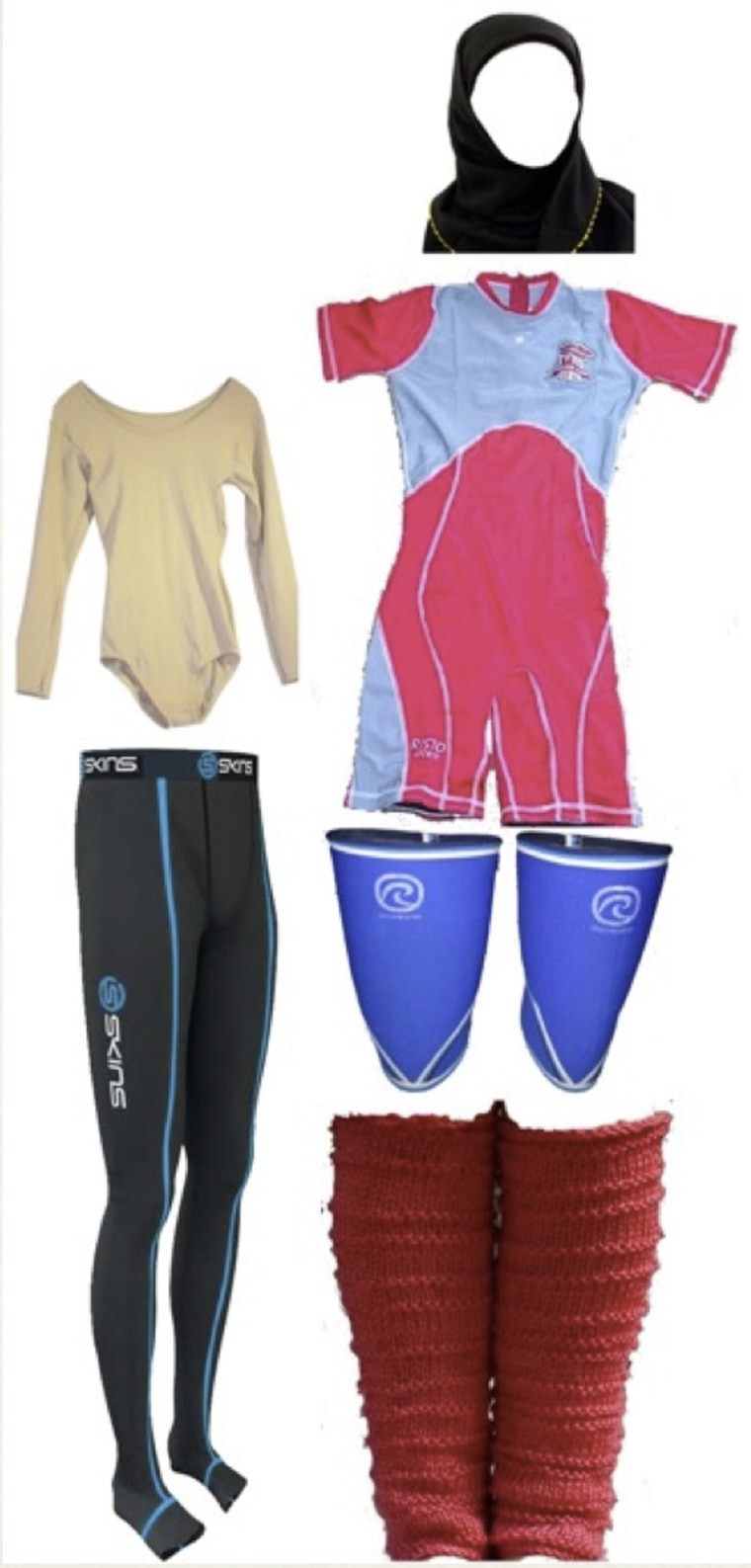 But when she sought to compete in the 2011 US National Weightlifting Tournament scheduled for July in Council Bluffs, Iowa, using a modified uniform, USA Weightlifting, the sport's national governing body, slammed her to the mat.
"As USA Weightlifting is governed by the rules of the International Weightlifting Federation, we must adhere to those regulations and therefore reject your request, as is, to modify your competition costume," wrote CEO John Duff in an email to Abdullah.
So Abdullah is taking her case to the IWF. She has created a 43-page presentation detailing clothing options that she says would meet her Muslim modesty requirements, allow competition officials to make clear calls and avoid concerns that she was obtaining any competitive advantage.
With the help of a lawyer, Muslim activists and the US Olympic Committee, her case is on the agenda of the IWF for consideration during its annual meeting in Penang, Malaysia, that began on Sunday. A decision could be announced within days.
Faith and sports
Religion and sports have often come into conflict, often resulting in some degree of accommodation.
In 1965, Los Angeles Dodgers pitcher Sandy Koufax refused to pitch in the first game of the World Series because it was scheduled on Yom Kippur, the holiest day on the Jewish calendar.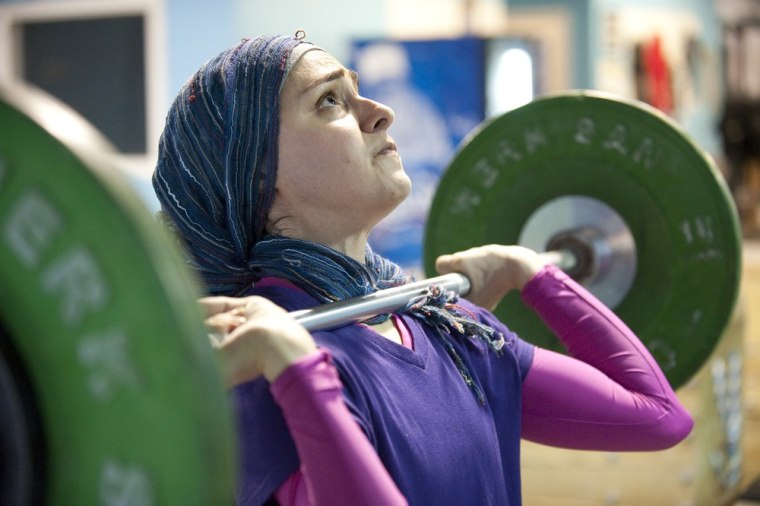 In 2009, the National Football League agreed to change its schedule after the New York Jets complained about games that conflicted with consecutive Jewish holidays.
NFL defensive back Husain Abdullah fasted from sunrise to sunset for Ramadan last year, when the Muslim holy month coincided with training camp, despite what Minnesota Vikings team doctors said were health risks.
The Women's Sports Foundation, a nonprofit advocacy group for women athletes set up by former tennis pro Billy Jean King, keeps an eye on controversies surrounding women's uniforms, including some involving hijab.
The WSF issued guidelines laying out legitimate reasons to impose restrictions on sports uniforms — including prohibiting garments that provide an unfair competitive advantage, present a safety hazard or create difficulty for officiating.
Beyond those guidelines, they urge decision-making organizations like the IWF to be flexible and inclusive.
Use a little ingenuity
"They have every incentive to broaden the reach of their sport … especially this heretofore excluded group," said Nancy Hogshead-Maker, the WSF senior director of advocacy, referring to Muslim athletes. "They should use a little ingenuity" to modify the uniform, she added. "This isn't rocket science."
Some Olympic sports including track and field, skiing, archery and taekwondo have put in place rules to allow Muslim athletes to compete in head scarves.
The invention of the "burqini" — a swimsuit with full-length sleeves and leggings —has allowed women to observe modesty and work as lifeguards, and may pave the way for Muslim women to compete in Olympic swimming.
Still, Muslim dress continues to be an issue, as occurred recently when the Iranian women's soccer team was barred from World Cup competition over uniforms designed to meet modesty requirements. Officials of the International Federation of Association Football, FIFA, said the head coverings posed a risk of strangulation.
The WSF called the decision discriminatory, comparing the form-fitting head scarves to hoods worn by bobsledders or helmets worn by some soccer players.
Similar debates have cropped up at high schools around the country, where Muslim girls are increasingly enrolled in sports, raising questions about permissibility of uniform modifications.
Modesty versus marketing
While Muslim women are making some gains in pushing for modest dress to be permitted, there is a simultaneous push in the opposite direction from marketing and sports promoters, said Hogshead-Maker of the WSF.
"Usually the promoters are frankly trying to take off garb," she said.
In one recent controversy, the Badminton World Federation attempted to force professional female players to wear skirts, in an attempt to make the players "look feminine" and have "more marketing value," according to a federation official. The BWF backed down when the proposal came under fire.
Inbeach volleyball, the International Volley Ball Federation lays out detailed specifications for allowable uniforms for women that include a one-piece swimsuit or bikinis.
"The top must fit closely to the body and the design must be with deep cutaway armholes on the back, upper chest and stomach," reads a section of IVBF regulations on the bikini. "The briefs should … be a close fit and be cut on an upward angle towards the top of the leg. The side width must be maximum 7 cm. The one piece uniform must closely fit and the design must be with open back and upper chest," reads a section of the IVBF regulations.
In exceptional weather conditions "such as cold temperatures below 16 degrees C… a technical delegate may authorize them to play with warm-up sportswear," that is tight-fitting and of the same color and fabric.
Most American players opt for the bikinis for ease of motion.
But in some cases, including the 2007 South Pacific Games in Samoa, the rules have been relaxed in order to assuage sensitivities in the host country. In that competition, beach volleyball players were allowed to wear shorts and sports tops, in a bow to conservative Christian values in the region.
Still, the skimpy uniforms don't offer leeway to meet many Muslims modesty requirements. At the 2006 Asian Games in Doha, Qatar, where 16 Muslim countries were represented, only one predominantly Islamic country fielded a beach volleyball team. That team, from Iraq, was made up of two Christian sisters.
Caught in such cultural cross-currents, Kulsoom Abdullah continues to work out — five or six times a week, from an hour to 90 minutes per session — and to await a decision by the International Weightlifting Federation. She said she's hopeful her appeal will receive a fair hearing.
But Hogshead-Maker, the advocate with the Women's Sports Federation, said the IWF should view the issue through a clear set of principles that focus on excellence with an eye to casting the widest possible net.
"In a contemplative world, we would think about how to come up with attire that would bring out the best in all competitors, regardless what their religious or personal level of modesty is," she said. "This is not a beauty contest, not a religious litmus test."
Click here to follow Kari Huus on Facebook
This story was originally published on msnbc.com on June 27, prior to the IWF ruling.