/ Source: NBC News and news services
A wave of pharmacy robberies is sweeping the United States as desperate addicts and ruthless dealers turn to violence to feed the nation's growing hunger for narcotic painkillers.
From Redmond, Wash., to St. Augustine, Fla., criminals are holding pharmacists at gunpoint and escaping with thousands of powerfully addictive pills that can sell for as much as $80 apiece on the street.
In one of the most shocking crimes yet, a robber walked into a neighborhood drugstore Sunday on New York's Long Island and gunned down the pharmacist, a teenage store clerk and two customers before leaving with a backpack full of pills containing hydrocodone.
"It's an epidemic," said Michael Fox, a pharmacist on New York's Staten Island who has been stuck up twice in the last year. "These people are depraved. They'll kill you."
Armed robberies at pharmacies rose 81 percent between 2006 and 2010, from 380 to 686, the U.S. Drug Enforcement Administration says. The number of pills stolen went from 706,000 to 1.3 million. Thieves are overwhelmingly taking oxycodone painkillers like OxyContin or Roxicodone, or hydrocodone-based painkillers like Vicodin and Norco. Both narcotics are highly addictive.
In New York state, the number of armed robberies rose from 2 in 2006 to 28 in 2010. In Florida, they increased nearly six-fold, from 11 to 65. California saw 61 robberies in 2010, Indiana had 45 and Tennessee had 38.
Most robbers don't hurt anyone, but authorities are worried the risk of bloodshed is increasing as assaults multiply. In September, a clerk was fatally shot in the chest and a pregnant woman wounded in the foot when a shootout broke out between a robber and an armed employee at a pharmacy in a suburb of Sacramento, Calif. In April, a gunman killed a pharmacist in Trenton, N.J., before stealing $10,000 in pills.
"There are doctors and pain clinics out there to help these patients, but unfortunately some of them decide to pull a gun on you instead of pulling out a prescription," said Mark Willliams, a pharmacist from Kansas City, Kan. In February, Williams told NBC News affiliate KSHB-TV that his pharmacy has been robbed at least four times.
The robberies mirror a national rise in the abuse of narcotic painkillers, DEA spokeswoman Barbara Carreno said.
"Drug addicts are always seeking ways to get their drugs," Carreno said. "Whenever there's an increase in a problem, you'll see it manifested in ways like this."
Prescription painkillers are now the second most-abused drugs after marijuana, with 7 million Americans using them illegally in the past month, the U.S. Department of Health and Human Services says. The number of patients treated in emergency rooms for prescription drug overdoses more than doubled between 2004 and 2008, from 144,644 to 305,885.
Drug dealers may be turning to violence as authorities crack down on other ways of getting painkillers, Carreno said. Many states have launched introduced computer systems designed to prevent "doctor-shopping" by addicts, and federal investigations have shut down several shady Internet pharmacies.
That is believed to have spurred addicts to target small pharmacies like Haven Drugs in Medford, about 60 miles east of New York on Long Island.
'He simply shot first'
Prosecutors say David Laffer, 33, walked into the drugstore on Sunday and opened fire without warning.
"He did not announce a robbery," Assistant District Attorney John Collins said. "He simply shot first after engaging the pharmacist in conversation."
Laffer shot 45-year-old pharmacist Raymond Ferguson once in the abdomen, then killed 17-year-old store clerk Jennifer Mejia before pumping two more shots into Ferguson, Collins said. Then he started pulling Norco and other hydrocodone drugs off the shelves, Collins said.
When customers Bryon Sheffield, 71, and Jamie Taccetta, 33, walked into the store, Laffer sneaked up behind them and shot them in the back of the head, Collins said.
Laffer is a former Army private who once worked as an intelligence analyst. He had recently lost his job as a warehouse worker. Both he and his wife, Melinda Brady, were high when they were arrested on Wednesday at their home about a mile and a half from the pharmacy, police said. Brady was charged with driving the getaway car; both have pleaded not guilty to the charges against them.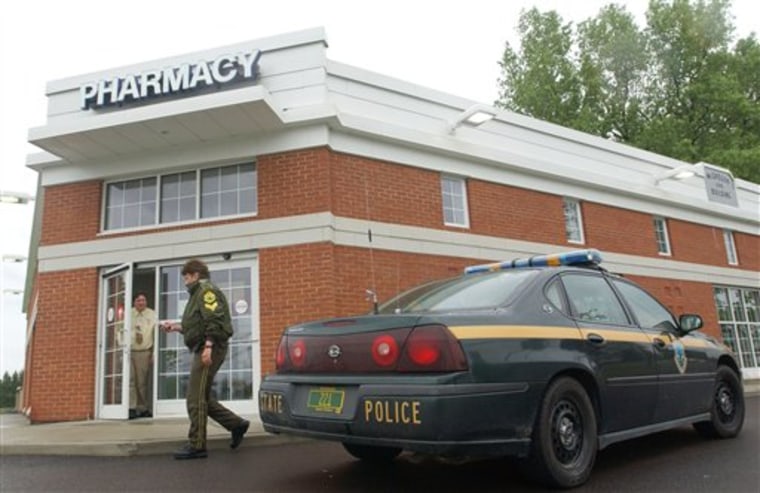 In posts on a wedding-related website, Brady said she had been taking different painkillers in the year before their January 2009 wedding because of several surgeries on her mouth. She added that it was taking a toll on her relationships.
It's a familiar pattern, said Andrew Kolodny, president of Physicians for Responsible Opioid Prescribing, which advocates for more cautious use of narcotic painkillers. Many patients get addicted while taking a legitimate prescription and turn to crime after they lose their jobs and the insurance coverage that comes with them, he said.
"People with addiction who could be perfectly good people will do all sorts of horrible things to maintain their supply," Kolodny said.
Signs and sword
Like Laffer, most pharmacy robbers are white males, said Richard Conklin, manager of RxPatrol.com, a website that tracks robberies. However, they come from all backgrounds and ages, he said.
In May, a 51-year-old man in a suit and tie approached a pharmacy counter in Boise, Idaho, and told the clerk he had something in his briefcase that he could "light the place up with" if the store didn't give him OxyContin. He left with hundreds of pills.
In Lynchburg, Va., a 27-year-old man used a 3-foot-long samurai sword to rob a pharmacy in March.
Fox said he had two customers in his drugstore in Eltingville, a middle-class neighborhood of Staten Island, when a man broke in a rear door and forced him to the floor at gunpoint in April 2010.
"He put the gun to my head, and I thought it was over for me," Fox said. The robber made off with about $4,000 of oxycodone.
In April 2010, another robber struck. Claiming he had a gun in his jacket pocket, he demanded bottles of oxycodone.
Fox handed over two bottles. The robber opened them to check the pills, then demanded more.
"I took a chance: I told him that was all I had," Fox said. The robber left without harming anyone, he said.
Robbers have also hit the nearby Annadale Family Pharmacy. A sign in the window there now says, "We do not stock oxycodone or Roxicodone."
Along with armed robberies, pharmacy associations say they are also seeing an increase in burglaries.
Keith Hodges, a pharmacist in Gloucester, Va., said his store has been broken into at least six times in recent years. One thief came through the roof by squeezing into an air conditioning shaft. Another used an electric saw to cut the knob off a steel door.
In April, a woman was caught in Billings, Mont., trying to smash in the bulletproof drive-through window of a Walgreens with a crowbar. Police said she had shards of glass on her clothing, a fresh cut on her head and her fingertips wrapped in bandages.
Rxpatrol.com, sponsored by OxyContin maker Purdue Pharma of Stamford, Conn., says it has tracked 1,258 pharmacy burglaries since 2002.
'Panic buttons'
"I get nervous at night," Hodges said. "I stay late a lot, and you worry about what could happen."
Hodges said he's installed security cameras and alarms that are activated by the sound of someone breaking in. His employees wear wireless "panic buttons" that they can push to alert police.
The National Community Pharmacists' Association, which represents 23,000 independent drugstores, is distributing "height signs" to help employees record the height of robbers as they flee stores.
The Walgreens pharmacy chain is experimenting with medicine safes that delay several minutes before opening, in hopes that robbers won't have the patience to wait.
Some pharmacies are even considering installing bullet-proof windows like those found in many banks.
But Hodges, the Virginia pharmacist, worries that the security precautions are harming legitimate customers by lengthening the wait to fill prescriptions and eroding the relationship between pharmacists and patients.
If pharmacists are forced to work behind bulletproof glass, it will discourage customers from asking questions about their treatments, he said.
"The more a patient knows, the healthier they're going to be in the long run," Hodges said. "They need to have access to their pharmacist."
The Associated Press and AP writer Frank Eltman contributed to this report from Medford, N.Y.